How do you want to learn about mortgage insurance?
How do I pay for MIP or PMI?
In most cases, the insurance premium will be added to your monthly mortgage payment. We'll keep the funds in an
escrow account
for you and pay the bills on your behalf when they're due.
How do I know if I have MIP or PMI?
You have MIP if you have an FHA loan, which is a type of government loan.
You have PMI if you have a loan that isn't under a government program and your down payment was less than 20%.
You can also sign on to Wells Fargo Online® and visit the Escrow Details page of your mortgage account to learn which type of mortgage insurance you have.
When can my MIP be removed?
Depending on when you either applied for or closed on your loan, your MIP may be automatically removed after a certain amount of time.
Learn more about removing MIP
.
When can my PMI be removed?
How do I find my home's original value or LTV?
Your home's original value is either the price you paid for it or the appraised value at closing, whichever is less.
To calculate your LTV, divide the amount you owe on your loan by your home's original value.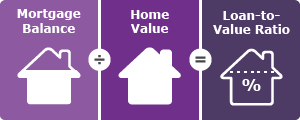 Do I need an appraisal to remove my PMI?
If you're requesting to have PMI removed when you reach 80% LTV through the
Homeowners Protection Act of 1998 (HPA)
, you'll need an appraisal (ordered through Wells Fargo) to confirm your home's value hasn't declined since closing.
Learn more about removing PMI
. If you meet the requirements and want to request to have your PMI removed, please call us at
1-800-357-6675
.
Why can't you accept an appraisal you already have on file for me?
There are different types of appraisals. We can't accept one we already have on file or that you recently had because the type of appraisal we need is specific to PMI — it's more detailed and takes into account any substantial improvements you've made to your property. Appraisals for PMI removal must be ordered through our PMI department.
What may be considered a substantial improvement?
Something that was not previously on the property. It may add extra living space, or be something that raises the home's value.
Examples may include:
Adding a deck, garage, in-ground pool, fence, or in-ground sprinklers
Finishing a basement
Remodeling living space
Cosmetic improvements are not considered substantial improvements. Examples of cosmetic improvements include new:
Flooring, siding, roof, carpeting, or windows
Paint
Light fixtures
Landscaping
Appliances or furnace/air conditioning unit
What if I don't agree with the appraisal?
You can dispute your appraisal if you don't agree with it. Please call us a
1-800-357-6675
for details and a copy of the form you'll need to fill out.