When you make your mortgage payment each month, it covers more than just principal and interest.

Apply online
Our simplified mortgage application will walk you through each step.

Get prequalified
Have us contact you to see how much you may be able to borrow.

Talk to a consultant 
What goes into a mortgage payment – a basic outline
There are 4 parts to a mortgage payment: principal, interest, taxes, and insurance, also called PITI.
Principal. The amount of your payment that goes to pay down your loan balance.
Interest. Cost to borrow money as a percentage of your principal loan amount.
Taxes. Collected monthly to pay your property taxes, held in an escrow account.
Insurance. Amount collected monthly to pay your homeowners insurance and mortgage insurance, if applicable, also held in an escrow account.
Information about escrow accounts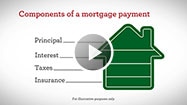 Video — The components of a mortgage payment
Learn more about what goes into your total monthly payment.
Did you know?

You can use our home loan shopping tools to help you find your home price range.