After depositing your check using Mobile Deposit, write "Mobile deposit on [date]" on the front of your check.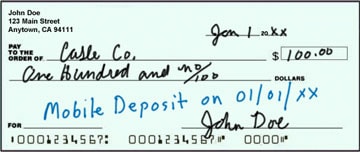 Securely store your check for 5 days after your deposit, and then destroy it. This allows sufficient time in case the original check is required for any reason.
For added security, always sign off completely when you finish using the Wells Fargo app.
Ready to download? Visit the app store for your mobile device and search for Wells Fargo Mobile: iTunes Store® for iPhone®, iTunes Store for iPad®, Google Play store for Android, or Windows Store for Windows Phone.
If you already have our app, update it with the most recent version.