With Wells Fargo Mobile Deposit, you can make a mobile check deposit directly into your eligible checking or savings account using the Wells Fargo Mobile App for supported Apple®, Android and Windows Phone devices.
Your deposit is secure and as convenient as depositing checks at Wells Fargo ATMs or banking locations and you can save time with fewer trips.
Take photos of the front and back of your check and submit. You'll get a confirmation on your device for each successful deposit. We'll also send a deposit confirmation to your primary email address and your Wells Fargo Online® secure mailbox.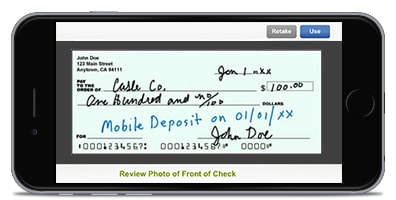 You'll need three things to get started:
An eligible checking or savings account – Mobile Deposit can be used with an eligible Wells Fargo checking or savings account.
Your mobile device – Mobile Deposit is supported on iPhone and iPads, Android mobile devices, and Windows Phones.  Please refer to Supported Browser  for mobile OS details.
The Wells Fargo Mobile app - Mobile Deposit is available in the Wells Fargo Mobile app. To download, visit the app store for your mobile device and search for Wells Fargo Mobile: iTunes Store® for iPhone, iTunes Store for iPad, Google Play store for Android, or  Windows Store for Windows Phone.
If you already have our app, update it with the most recent version. After you download the app, sign on to your account and agree to the Mobile Deposit Terms and Conditions.
Now you're ready to use Mobile Deposit.