Get help building your savings
The Wells Fargo Daily Change app is designed to help you grow your savings balance. Whether you're a beginner saver, or just looking to start a new savings habit, the app is a fun and simple way to help achieve your savings goal.
With the Daily Change app, you can take new steps toward managing your spending and turning saving into a habit. Here's how it works: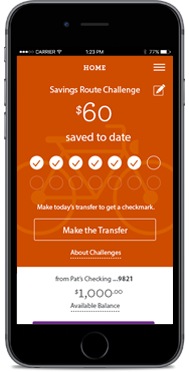 Download the free app to your supported iPhone® or AndroidTM smartphone.
Sign on using your Wells Fargo Online® username and password. Select one Wells Fargo checking account and one savings account to appear in the app.
Start with a simple Challenge — like brown-bagging your lunch for a week, or reducing your commute cost to see how quickly small amounts transferred every day from your checking to your savings can add up to big savings over time.
Create a savings goal — like creating an emergency fund or setting aside money for next year's vacation for whatever amount you select to add to your current balance.
Get notifications — we'll help with daily reminders, provide tips on saving, and track your progress.
The Daily Change app provides a simplified way to transfer money from your Wells Fargo checking to your savings account. The app uses your smartphone's features to provide an easy-to-use savings experience.
Both a Wells Fargo consumer checking and savings account is required to use the app.

Download Wells Fargo Daily ChangeSM app for your iPhone:

Download Wells Fargo Daily ChangeSM app for your Android Phone: