The Wells Fargo Wallet, for Android phones, is part of the Wells Fargo Mobile app. Just add your Wells Fargo Credit and Debit Cards to your wallet and you're ready to securely tap and pay at millions of stores and restaurants around the world using your phone. And Wells Fargo Wallet allows you to easily view your available balance, available credit and Go FarTM Rewards balance before you pay.
Get Started
Add your cards to Wells Fargo Wallet, using your Android phone and Wells Fargo Mobile app.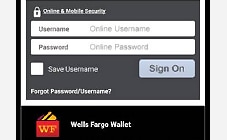 1. On the Wells Fargo Mobile app log-in screen, tap the Wells Fargo Wallet tile. Log in to the app and follow the simple instructions to register your wallet.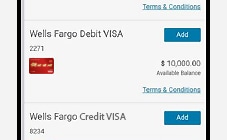 2. All eligible cards will display. Tap the Add button next to the cards you want to add.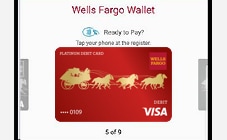 3. You are registered and ready to pay with Wells Fargo Wallet.
Peace of Mind

Use your Wells Fargo Cards with a mobile wallet and you have the added security of 24/7 fraud monitoring and Zero Liability protection.