Simplify with a Wells Fargo Private ConsolidationSM loan
Managing multiple loans can be challenging, but you may be able to combine all your private student loans into one loan, with one monthly payment, or refinance a single private student loan.

Other benefits may include: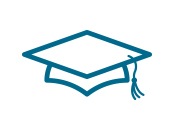 Lower your monthly payments.*
Reduce your interest rate with qualifying discounts.
Choose a variable or fixed interest rate option.
Pay no application, origination, or early-repayment fees.
*The payment reduction may come from a lower interest rate, a longer loan term, or a combination of both. By extending the loan term, you may pay more in interest over the life of the loan.
Ready to find out how consolidation can help you? Our Student Loan Consultants can help you complete the application and determine what your new monthly payments will be.


Apply for a consolidation loan| Or call 1-866-380-1726.