The Way2Save Savings account makes saving money easier with convenient options for automatically transferring money between your checking and savings accounts.
Watch your savings grow with one of the following transfer options:
Save As You Go®: Automatically transfer $1 of your funds from your linked Wells Fargo Checking account to your Way2Save Savings account when you make a debit card purchase, pay bills online, or make automatic payments from your checking account.
Automatic transfers: Set up monthly automatic transfers of at least $25, or daily transfers of at least $1 each business day.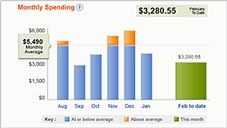 Learn how to avoid the monthly service fee.
Easily make saving money part of your daily routine.