Set monthly budget goals and track every purchase and payment you make with your Wells Fargo Credit Cards, Debit Cards, checks, and Bill Pay using My Spending Report with Budget Watch, Wells Fargo's free online money management tool.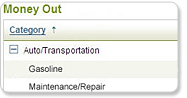 You do the spending; we do the math
Every dollar you spend is sorted into familiar categories automatically — no receipts to save, no spending to key in.
My Spending Report with Budget Watch also tracks your deposits, giving you a complete overview of your finances in one convenient spot.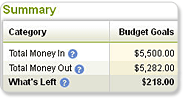 Create a budget in minutes
Create monthly spending goals using the Budget Watch feature — it's easy with your actual spending history on hand to guide you.
Your Budget Summary is updated each business day, so you always know how close you are to meeting your budget goals.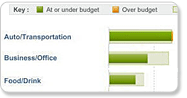 Tools to help you meet your budget goals
Periodic budget alerts keep you informed about your progress toward meeting your budget goals.
Graphs and charts provide insight into your spending with a snapshot view of your budget goals, averages over time, and more.
Get started today
To take control of your finances using My Spending Report with Budget Watch, please open a Wells Fargo checking account or apply for a Wells Fargo credit card.
If you already have an account and are enrolled in Wells Fargo Online®, simply sign on to your Account Summary and select the My Money Map tab to get started.
---