Life just got a little more convenient. Wells Fargo Mobile® Banking customers can now use Wells Fargo ATMs, even when they don't have their card handy. Card-Free ATM access is simple, free, and secure.
Here's how it works:
1. Securely sign on to the Wells Fargo Mobile Banking App.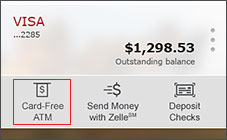 2. Select the Card-Free ATM option from the quick task bar at the bottom of the Account Summary page.
3. Select the Get Code button to get a unique, one-time code for the account you wish to use. The 8-digit code will appear on your mobile device, and you can request for it to be sent to you in a text message, as well. You'll have 30 minutes to use it at any Wells Fargo ATM.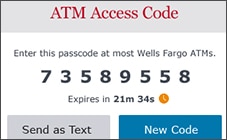 4. At the ATM, just select Use an Access Code on the lower right-hand side of the welcome screen. Enter your 8-digit code and your debit or ATM card Personal Identification Number (PIN).
Not a Mobile Banking customer?
Learn more about Mobile Banking

Or download the Wells Fargo Mobile Banking App