Our commitment includes helping make home ownership a possibility for veterans, career transition for separating active duty servicemembers and their spouses, and financial education for all those who serve.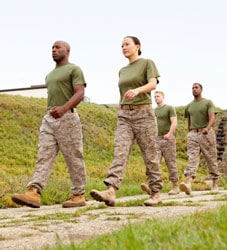 We are in your neighborhood, working with you to help improve and grow your community through various programs and sponsorships.
The SBA Veterans Pledge Initiative aims to increase the number of veteran small business entrepreneurs served by 2,000 or 5% annually through 2018. Wells Fargo is one of the lenders that supports the SBA's efforts to approve more SBA loans for military veteran small business entrepreneurs who seek financing and are ready to use credit for their businesses.
Wells Fargo is proud to renew and expand our relationship with nonprofit No Barriers USA by sponsoring the Warriors to Summits expedition. Warriors to Summits is a transformative experience that empowers veterans and servicemembers to overcome barriers and unleash their true potential.  
Wells Fargo is proud to support organizations working to strengthen communities. Since 2012, Wells Fargo has donated well over $12 million to nonprofit organizations serving the needs of the military, veterans, and their families. Organizations can learn more about Wells Fargo's giving and where to apply at: wellsfargo.com/about/charitable/.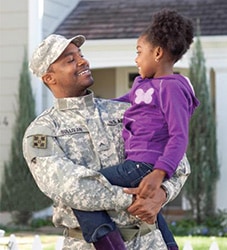 After years of living in on-base housing, barracks, or tents, having a place to call home should be a possibility. With the help of many dedicated organizations, we're developing programs to help make homeownership attainable.
We surpassed our goal of donating $30 million in property donations to qualifying nonprofits that serve veterans and their families. We donated more than 230 homes by the end of 2014. 
Those interested in applying for one of these homes should apply through these participating nonprofits: militarywarriors.org or operationhomefront.net.
To help keep veterans in their homes, we have hosted 5 military Home Preservation Workshops and created a Military Customer Service call center at

1-866-936-7272

.
Our Military Mortgage Express® program provides servicemembers and veterans home financing options with personalized service through our network of Wells Fargo Military Certified Home Mortgage consultants. Whether buying your first home, refinancing your current home, or responding to Permanent Change of Station (PCS) orders, your Wells Fargo Military Certified Home Mortgage Consultant is here to serve you. 
We are honored to be one of the nation's leading lenders in VA home loan originations.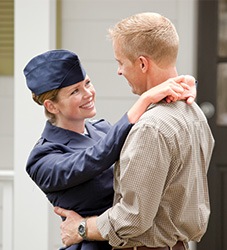 Wells Fargo strives to build and sustain a diverse and inclusive culture where all team members feel valued and respected for who they are, as well as for the skills and experiences they bring to the company. Recognizing the value veterans bring to our company, customers, and communities, Wells Fargo is committed to hiring and retaining military veterans, veterans with disabilities, National Guard members, and Reservists. As a result of this commitment, in 2014 Wells Fargo was rated 8th Best Company for Veterans in DiversityInc. The company supports veterans transitioning to the civilian workforce with a variety of career opportunities, confidential employee services, and professional development options. Wells Fargo also has an active Veterans' Team Member Network, with thousands of team members dedicated to promoting greater awareness of veteran matters and increasing support and career development within the veteran community.
To learn more about Wells Fargo and the many career opportunities the company has to offer, visit the Careers for Military Veterans page today.
Wells Fargo actively recruits at local, national, and virtual career events, resulting in more than 1,100 veteran hires in 2014. These newly hired veterans join Wells Fargo's existing team member population of more than 7,600 veterans.
Hiring America is a weekly employment TV show dedicated to supporting veterans and military families by providing career advice, job news, hiring prospects, and support from community organizations. This program is underwritten, in part, by Wells Fargo.
Through alliances with American Corporate Partners (ACP), 100,000 Jobs Mission, Hero2Hired, and Military Spouse Employment Partnership (MSEP), we are helping mentor, train, and hire veterans and military spouses. Through these same alliances, we are participating in regional hiring events.
Military Crosswalk software helps veterans easily translate their Military Occupation Codes (MOC) into available job openings within our company (wellsfargo-veterans.jobs/).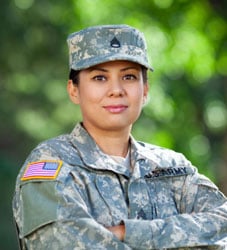 Financial planning is for everyone — the newly enlisted, when you have a change in assignment, or for your new life separated from the military. 
We offer a combination of detailed online classes, local seminars, and on-base forums to help veterans and active-duty servicemembers with everything from basic banking and money management to preparing for homeownership.
We've launched a customized version of the Hands on Banking® site (handsonbanking.org), our free financial-education program, tailored to the needs of veterans and active-duty servicemembers and their families. The program is available in English and Spanish.
Wells Fargo and the National Foundation for Credit Counseling (NFCC) have joined forces to provide one-on-one financial reviews and deliver Hands on Banking for Military workshops through the NFCC Member Agency network. To learn more, contact your local Wells Fargo banking location or our partner, the NFCC, at SharpenToday.org or 1-855-3-SHARPEN.
Visit any of our stores and talk one-on-one with a banker to help you better understand your financial picture.
For more information on programs for military servicemembers and qualifying veterans:
Hands on Banking® for Military
Worldwide Military Banking Program
Programs and support for military servicemembers
Wells Fargo's Servicemembers Civil Relief Act (SCRA) Commitments
News Release — Highlighting Veteran Employment