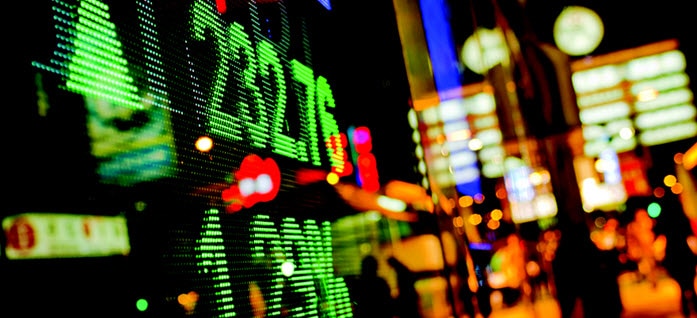 Annual Reminder: Earnings Are a Lagging Indicator
---
by Scott Wren, Senior Global Equity Strategist

Key takeaways
The market knows earnings results in the second quarter are going to be poor. We are slightly more optimistic than the consensus and see flat comparisons.
Keep in mind that earnings only tell us what happened in the very recent past. They do not tell us what will happen in the future.
We are in the very early stages of the second-quarter reporting season as less than 5% of companies have posted results. The reporting pace will pick up significantly next week in what will likely be a second consecutive disappointing earnings season. Consensus expectations are calling for a year-over-year decrease of 2% to 3%, but we would not be surprised to see an actual outcome similar to last quarter's virtually flat (zero) result. The market, at this point, doesn't appear to be overly concerned with another poor quarter of comparisons. So in other words, for the overall market, investors will likely be more focused on trade headlines and other more macro events (i.e., potential Federal Reserve rate cuts).
Of course, earnings season attracts huge media attention. But in a modest-growth economy that features low inflation, most individual company analysts have an easier time confirming the guidance their companies are giving out. Sure, there will be the usual big positive and negative surprises coming from a relatively small number of individual companies but not so much from the overall market. Remember that company guidance nearly always leans toward the conservative side. That is why, quarter after quarter, it is common for 65% to 70% of companies to beat the consensus "Street" estimate.
It is when the economy is meaningfully either ramping up or slowing down that earnings get tougher to predict, especially when things are moving quickly in a direction that is different from the recent trend. Under those conditions, even the companies themselves have a hard time issuing accurate guidance to the analyst community. And when the future is uncertain, you can bet that very few companies will go out on a limb and tell investors that everything looks good—even if they think it does. The modest-growth/modest-inflation environment could easily be with us for the next 12 months or more. Investors around the globe realize this. While growth here at home may be below trend, it looks to be dependable as companies have figured out how to make money in the current environment. And note that we look for earnings to grow just over 3% in 2019 to another record high.
Keep in mind that earnings do not tell investors what is going to happen in the future. They merely tell the story of what happened in the very recent past. We look at the current earnings season as more of a process of confirmation. Second-quarter earnings should confirm that our outlook for the economy is on track and below-trend growth is likely to continue over the next four quarters. As we have pointed out many times in numerous cycles, this is not the end of the world. Stocks can do well in a modest-growth environment. However, based on current valuations and uncertainties, we are not looking for much net movement in the S&P 500 over the coming 12 months. So do not get caught up in the earnings-season hype. A big earnings surprise, one way or the other, for the overall market is likely not in the cards this quarter. Focus on how the economy will drive corporate outcomes in the future because earnings are a lagging, not leading, indicator.
Investment and Insurance Products are:
Not insured by the FDIC or any Federal Government Agency
Not a Deposit or Other Obligation of, or Guaranteed by, the Bank or Any Bank Affiliate
Subject to Investment Risks, Including Possible Loss of the Principal Amount Invested
Risk Considerations
Each asset class has its own risk and return characteristics.  The level of risk associated with a particular investment or asset class generally correlates with the level of return the investment or asset class might achieve. Stock markets, especially foreign markets, are volatile.  Stock values may fluctuate in response to general economic and market conditions, the prospects of individual companies, and industry sectors.  Foreign investing has additional risks including those associated with currency fluctuation, political and economic instability, and different accounting standards. These risks are heightened in emerging markets.
An index is unmanaged and not available for direct investment.
General Disclosures
Global Investment Strategy (GIS) is a division of Wells Fargo Investment Institute, Inc. (WFII). WFII is a registered investment adviser and wholly owned subsidiary of Wells Fargo Bank, N.A., a bank affiliate of Wells Fargo & Company.
The information in this report was prepared by Global Investment Strategy.  Opinions represent GIS' opinion as of the date of this report and are for general information purposes only and are not intended to predict or guarantee the future performance of any individual security, market sector or the markets generally. GIS does not undertake to advise you of any change in its opinions or the information contained in this report. Wells Fargo & Company affiliates may issue reports or have opinions that are inconsistent with, and reach different conclusions from, this report.
The information contained herein constitutes general information and is not directed to, designed for, or individually tailored to, any particular investor or potential investor. This report is not intended to be a client-specific suitability analysis or recommendation, an offer to participate in any investment, or a recommendation to buy, hold or sell securities. Do not use this report as the sole basis for investment decisions. Do not select an asset class or investment product based on performance alone. Consider all relevant information, including your existing portfolio, investment objectives, risk tolerance, liquidity needs and investment time horizon.
Wells Fargo Advisors is registered with the U.S. Securities and Exchange Commission and the Financial Industry Regulatory Authority, but is not licensed or registered with any financial services regulatory authority outside of the U.S.  Non-U.S. residents who maintain U.S.-based financial services account(s) with Wells Fargo Advisors may not be afforded certain protections conferred by legislation and regulations in their country of residence in respect of any investments, investment transactions or communications made with Wells Fargo Advisors.
Wells Fargo Advisors is a trade name used by Wells Fargo Clearing Services, LLC and Wells Fargo Advisors Financial Network, LLC, Members SIPC, separate registered broker-dealers and non-bank affiliates of Wells Fargo & Company. CAR 0719-01463
© 2019 Wells Fargo Investment Institute. All rights reserved.