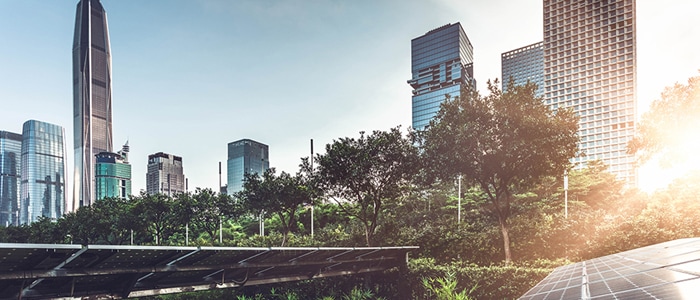 Investing with a purpose
Sustainable investing is gaining popularity as investors increasingly seek to align their investments with their personal values. One way to accomplish this goal is to use an investment approach that focuses on environmental, social, and governance (ESG) criteria. An ESG lens may consider issues such as climate change, pollution control, gender equality and diversity, human rights, or corporate board composition. 
You don't have to trade profits for principles 
One misconception is that investors must sacrifice performance to align portfolios with their values. A 2020 Wells Fargo/Gallup survey showed that only 11% of those surveyed already invest in sustainable investments, despite widespread interest. This discrepancy may stem from the misconception that these strategies underperform the market. Only one-third of those surveyed believed that sustainable investments match or outperform the market, on average. 
Our research indicates that investors do not need to forgo return potential to align their portfolios with their values. To the contrary, a growing body of evidence suggests that financial performance of companies using ESG strategies is commensurate with those that do not.  
ESG-related stocks have tended to keep pace 
Our research has shown that ESG-related stocks have shown comparable returns to non-ESG-related stocks over time, adjusting for fundamental differences such as style and sector.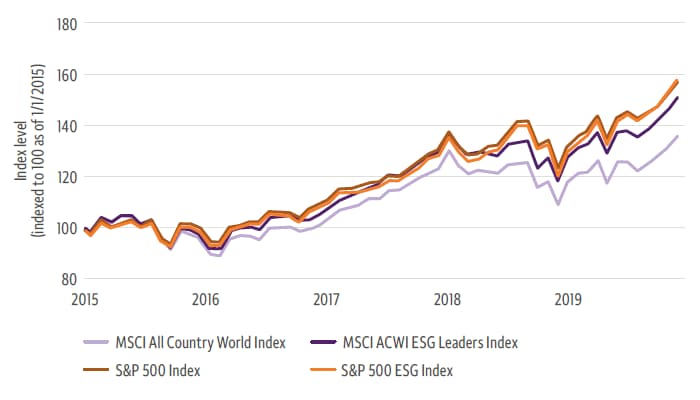 Sources: Bloomberg and Wells Fargo Investment Institute, as of December 31, 2019. Past performance is no guarantee of future results. An index is unmanaged and not available for direct investment. 
Please see the end of this report for the definitions of indices and descriptions of asset-class risks.
More companies are incorporating ESG factors
Beyond the interest of individual and institutional investors in sustainable investing, corporations are finding added value when they incorporate this focus into their business practices. Moreover, incorporating ESG factors could potentially help reduce operational expenses and improve the bottom line. Today, nearly 60% of U.S. institutional investors view ESG analysis as a fiduciary responsibility beyond meeting individual investors' interests
Take the next step
We expect that the popularity of sustainable investing will continue to grow — and that the number of investment choices to meet this demand also will increase. Many investors are taking a broader view of performance, assessing sustainability performance along with risk and return measures. They are learning that they can pursue financial goals while helping improve the broader world. For such investors, the question isn't "Why would I invest this way?" but rather "Why wouldn't I?" We encourage speaking with an investment professional about potential risks and opportunities of these investment strategies that are appropriate for designated investment objectives. Wells Fargo is committed to helping investors meet their interest in sustainable investments.