Politics
---
Key takeaways
Although the bill is unlikely to pass while Republicans maintain control of the Senate, adding a Medicare for All system would be negative for the Health Care sector, in our opinion. With increased talk of implementing a federal health care program, this sector had been the worst year-to-date performer (through mid-April). The elimination of private health care insurance would drive providers out of business, and the pharmaceutical industry could be negatively affected by lower, negotiated prescription drug prices from a single payer.
Higher federal taxes eventually may result in less household and business income to drive U.S. economic growth. Broad equity markets could suffer as revenue prospects decline, with sectors such as Consumer Discretionary and Industrials potentially being most adversely affected.
It is doubtful that a Medicare for All plan could be paid for entirely by higher taxes. An increase in federal borrowing may lead to higher U.S. deficits and debt levels, and also limit congressional ability to respond to unforeseen future circumstances (e.g., recessions or conflicts overseas).
What would "Medicare for All" really cost?
Senator Bernie Sanders proposed expanding Medicare to all U.S. citizens during the 2016 presidential campaign. While he was unsuccessful in achieving the Democratic nomination, he has been very successful in bringing progressive views to the forefront of the Democratic Party. He is again running for president, and he has sponsored the Medicare for All Act of 2019. As a gauge of support within the Democratic Party, there are 14 Senate cosponsors. Four of these cosponsors also are running for the Democratic nomination for president—Senators Cory Booker (NJ), Kirsten Gillibrand (NY), Kamala Harris (CA), and Elizabeth Warren (MA). 
The bill would expand Medicare to become the sole provider of health insurance for U.S. citizens. This would, in essence, have the federal government eliminate the private health care insurance industry in the U.S. Key provisions include:
Covering all medical care costs, including prescriptions, dental care, and vision care
Offering mental health and substance abuse treatments
Allowing patients to see any doctor of their choice, with no deductibles or copays.
Increased coverage may be viewed as a desirable goal, but as this analyst's eighth-grade social studies teacher used to say: TINSTAAFL—There Is No Such Thing as a Free Lunch. What is the potential cost for providing health care for all Americans? Estimates from the 2016 plan from Senator Sanders ranged from $2.5 trillion to $3.5 trillion annually over the next 10 years.  Those amounts are in trillions—significantly more than the $1.1 trillion spent on Medicare and Medicaid in 2018 and roughly 4 to 6 times the annual, $622 billion, Department of Defense budget for 2018. Savings in negotiated prescription drug costs and centralized administration likely would be offset by an increase in the number of individuals covered (Senator Sanders estimates this increase at 34 million uninsured individuals), along with expanded individual benefits. That is assuming hospitals and doctors would accept the nearly 40% less that Medicare currently receives for existing services. If this act were to pass, there could be hospital closures, due to revenue shortages—and fewer individuals entering the medical field due to lower income potential. 
Although Asia is quickly catching up, the U.S. still provides the majority of health care research and development that benefits the world. It is difficult to estimate the potential decline in research that would result from the implementation of a single-payer, federal health care plan.
To help pay for the Medicare for All plan, Senator Sanders has proposed additional, and increased, taxes. Table 1 highlights some of these proposed taxes and the potential implications. 
Table 1. Potential tax increases to pay for Medicare for All
---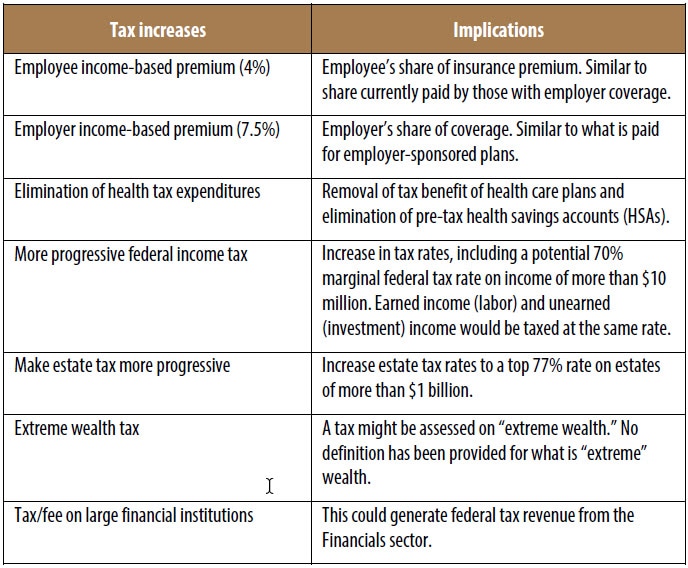 Sources: Senator Sanders' internet site, "Financing Medicare for All," https://www.sanders.senate.gov/newsroom/press-releases/sanders-14-senators-introduce-medicare-for-all; April 10, 2019; Wells Fargo Investment Institute; April 23, 2019.
According to a recent survey, 56% of the public favors a national health plan.  While this is not the highest level of support ever recorded (59% in March 2018), it remains higher than historical averages. However, when told that increased taxes would be required to pay for the plan, 60% opposed implementing a national Medicare for All plan. More respondents (74%) favored an optional plan administered by the federal government through which individuals may purchase coverage—but which would not eliminate private health insurance.
Trade
---
Key takeaways
The removal of non-auto industrial tariffs likely would benefit the U.S. and European Industrial sectors. The resulting increased trade would aid economic growth for the U.S. and EU.
The threat of higher U.S. import tariffs on autos remains. Increased tariffs on imported autos likely would benefit the U.S. auto industry. With less competition and higher prices, U.S. manufacturers may be able to increase prices and operating margins. This also could benefit the Industrials sector. Foreign automakers could suffer a significant decline in demand from tariffs of up to 25% on U.S. auto imports. Currently slow European economic growth could face additional downward pressure in the face of higher auto tariffs. Slower economic growth prospects could dent European investor sentiment, earnings growth, and equity markets. It also could act as a headwind for U.S. firms that operate in the EU.
Slowing growth brings Europe to the table
While trade negotiations with China remain ongoing, the U.S. and EU are looking to officially begin formal discussions toward improving trade. President Trump and European Commission President Juncker reached an agreement last July that would see the U.S. not increase tariffs on European auto imports in exchange for the EU buying more U.S. soybeans—and, potentially, liquefied natural gas. Additionally, negotiators discussed eliminating both U.S. and EU tariffs on nonautomotive industrial goods. In fact, the EU just agreed to begin negotiating with the U.S. on this last item. France was the only country to vote against opening trade discussions with the U.S. on the basis that the EU should only further negotiate with those countries that are part of the Paris Climate Accord.
Complicating the beginning of these negotiations is the roughly 15-year-old Boeing versus Airbus case on which the World Trade Organization (WTO) has ruled. The WTO has ruled against both Airbus and Boeing in the case. In response to the EU not altering the subsidies granted to Airbus, President Trump recently has threatened to impose increased tariffs on $11 billion worth of imports from the EU (e.g. aircraft, cheese, and wine). This led to a threatened retaliation by the EU. Whether this ultimately hampers the negotiations to reduce industrial tariffs or continues to be a separate issue remains to be seen.
The EU has rather quickly agreed to negotiations in the face of threatened higher U.S. tariffs on autos and parts, which were the two largest sources (almost 17%) of 2017 German exports. EU consensus 2019 year-over-year economic growth estimates have been lowered since the beginning of the year, from 1.8% to 1.4%  (our forecast remains at 1.6%). This may be related to internal factors (such as Brexit's potential impact) and external ones (e.g., slowing global growth). Chart 1 shows the dependence of the German export-driven economy on global trade, compared to the (generally) more domestically-oriented U.S. economy.  In the face of this slowing growth, we believe entering a protracted trade conflict with the U.S. would seem foolish. 
Chart 1. German growth slowing with global trade, while the U.S. holds flat
---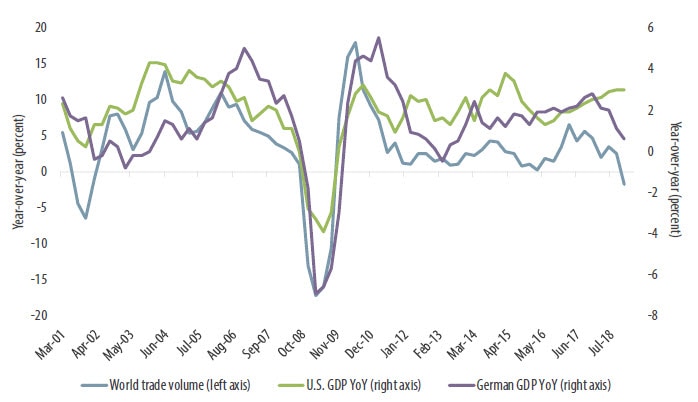 Sources: CPB Netherlands Bureau for Economic Policy Analysis, German Federal Statistics Office, Bureau of Economic Analysis, Wells Fargo Investment Institute, April 16, 2019. Quarterly data between 2001 and 2018. GDP = gross domestic product. YoY = year-over-year.
With significant resources dedicated to negotiations with China, it would make sense for the U.S. to finalize those arrangements before entering into discussions with the EU. We continue to believe that there will be a U.S-China trade agreement that is beneficial to the U.S. A successful conclusion to those negotiations would then allow the U.S. to address outstanding trade concerns with the EU. Currently, the average tariff on EU industrial goods entering the U.S. is 3.8%. The similar tariff on U.S. industrial goods entering the EU is 4.3%—a 13% higher tariff. Reducing these tariffs to 0% likely would increase trade volume in both directions and help to stimulate growth. This may even lead to further positive trade actions for autos, for which EU import tariffs are 10% and U.S. import tariffs are 2.5%.
This last item would help to shrink the $169 billion trade deficit in goods the U.S. reached with the EU in 2018. 
Fiscal Policy

---
Key takeaways
In aggregate, the federal tax cuts were expected to provide more disposable income for individuals. This supported our cyclical view that Consumer Discretionary would outperform, and we continue to believe this growth story remains in place for 2019.
Corporate tax cuts did appear to provide a slight boost to capital spending, likely benefiting the Industrials and Information Technology sectors. The tight labor market may drive increased capital spending to improve productivity in the face of higher wages. A large portion of tax savings also went to corporate share buybacks and increased dividends. This provided a boost to equity prices, and we expect that trend to continue in 2019.
The cap on the SALT deduction has increased already strong demand for municipal bonds, particularly in higher-tax states. This has led to solid year-to-date performance and lower yields. We hold a favorable view on municipal securities. We would use any signs of municipal market weakness as a buying opportunity for long-term investors.
Tax day cometh, tax day goeth
There has been a lot of discussion about how the Tax Cuts and Jobs Act of 2017 would impact taxes for individuals and companies, as well as revenues for the federal government. Although expectations had been for roughly two-thirds of American taxpayers to pay a lower effective federal tax rate, only about 20% believe their federal taxes paid have decreased.  This discrepancy likely is driven by politics, the media, and the way the tax cuts were implemented.
According to a recent survey, many Democrats (47%) believe their taxes now are higher as a result of the new tax law, while many Republicans think that they now are the same (40%) or lower (39%).  To help increase consumer spending and drive economic growth, the amount withheld from paychecks was changed fairly quickly. This resulted in paychecks being, for the most part, larger. Since many Americans use direct deposit and don't pay particularly close attention to their actual pay stubs, this pay increase may have gone largely unnoticed. It became more noticeable as tax time approached—and as refunds or payments were determined. Many individuals did not adjust their tax withholding; thus, they paid less tax throughout last year. This has resulted in a negative effect on federal refunds for the 2018 tax year. As of March 31, estimates were for the number of federal tax refunds to be down (-2.2%) and smaller (-2.9%) than in 2018. 
Other effects of the new federal tax law will take longer to determine. Of specific importance, the changes to the deduction of state and local taxes (SALT)—and the impact on state finances and housing markets—remain unclear. The tax cuts capped the SALT amount that could be deducted annually at $10,000. In higher-tax states, many of which lean Democratic, this reduction likely has had a negative effect for those individuals who itemized their taxes. However, the standard deduction also was doubled to $12,000 for individuals and $24,000 for those filing jointly. For Americans who do not itemize their taxes, this likely had a positive effect. In addition, nearly one-third of all tax returns are deemed "nontaxable." This means that the individuals owed $0 in federal income taxes or were owed money due to tax credits. 
The benefits of the federal corporate tax cuts have been a little murkier. Federal corporate tax revenues declined in relative proportion to the larger corporate tax-rate cut. As Chart 2 shows, the Congressional Budget Office forecasted a larger decline initially for corporate tax revenues following passage of the new tax law. Yet, this is expected to be recovered by 2025, earlier than the recovery in individual tax revenue in 2027. 
Chart 2. Corporate tax revenues have declined significantly

---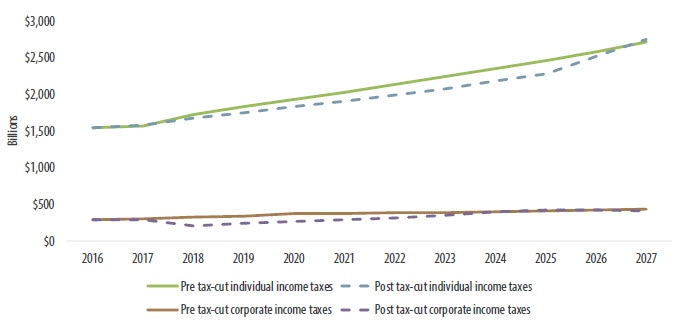 Sources: Congressional Budget Office, Wells Fargo Investment Institute, April 22, 2019.
The determination of whether tax cuts are ultimately beneficial differs for individuals and corporations. For individuals, the overall effective tax rate is key. This is measured by how much was paid in federal taxes divided by total income. Even though many individuals did not receive refunds that were as large as was previously the case, many paid less in overall taxes, resulting in a lower effective federal tax rate. What they do with this money also matters. Paying down debt or increasing savings is good for the long term, but increasing consumer spending should help to fuel a boost in economic growth.

Corporations were expected to increase bonuses and wages, and incentives were put in place to spur business investment. While wages have risen, the lion's share of the corporate tax cut benefit seems to have resulted in increased dividends and record share buybacks. Congressional Budget Office deficit projections already have been reduced as a result of stronger-than-expected gross domestic product (GDP) growth in 2018. If this fiscal stimulus from the tax cuts extends the current business cycle by even another year or two, it could provide more time to offset initially lost federal revenue (through greater economic growth).