Post-pandemic federal health care policy to expand
---
by Mary Rumsey, Investment Strategy Analyst
We believe that the federal government involvement in the health care industry will have a more direct effect on investment decision-making, as we see the government signaling an increase in research; regulation; and, especially, spending and publicly provided health care coverage.
Key takeaways
The government's increased involvement in the health economy seems very likely, with implications on health care access and spending, research and development, and policy changes.
These contributions signal the potential for the federal government to be a more explicit factor in health care investment decisions in the long term while supporting our current tactical guidance of neutral.
Policy changes and expanded spending likely
Over the coming decade, we believe that government spending in the health care industry will be a more explicit factor in investment decision-making, as we see the government signaling an increased involvement in the health care economy.
Increased health care spending — First, the Congressional Budget Office (CBO) predicts that the federal government's health expenditures will increase over the next few decades. In particular, the CBO projects that government spending on major health care programs, like Medicare, Medicaid, the Children's Health Insurance Program, and Affordable Care Act subsidies, will rise from 27.7% of federal outlays to over 40%. This increase comes at the expense of discretionary and other mandatory spending, which includes items like food stamps, tax credits, and defense spending, among other costs. The CBO also projects federal health program expenditures will increase to almost 10% of gross domestic product (GDP) by 2051.
Chart 1. Federal non-interest outlay projection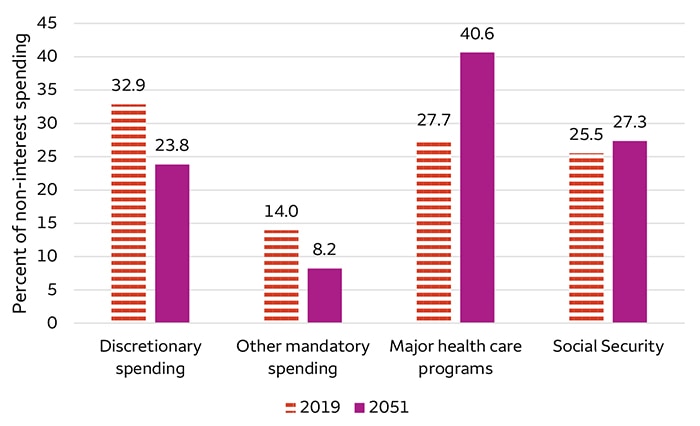 Source: Congressional Budget Office, The 2021 Long-Term Budget Outlook, data as of March 2021
Chart 2. Health care programs as projected percent of GDP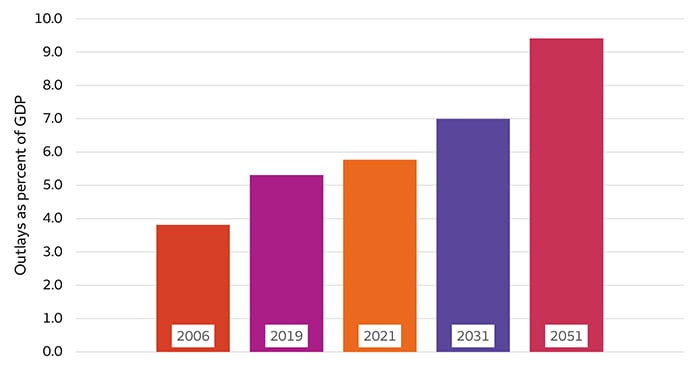 Source: Congressional Budget Office, The 2021 Long-Term Budget Outlook, data as of March 2021
Increased research — Outside of increasing insurance payouts, the federal government also has materially increased its spending on health care research and development. The distributions from the National Institutes of Health (NIH, the federally sponsored health research entity) have more than doubled in the two decades since 2001. In the past 30 years, the NIH has added five divisions, each with its own new research focus, and not one has been disbanded (though one has been restructured). This growth demonstrates the government's commitment to being involved in all aspects of health sciences — not just health care access.
Increased policy involvement — Over the course of the COVID-19 pandemic, the federal government has become more involved in health care policy. In his first year alone, President Biden published 12 executive orders about health care and COVID-19, while President Trump released 20 over his four years, with half released after the pandemic started. This is a significant increase from previous terms: President Barack Obama released six executive orders about health care over eight years, and President George W. Bush released one during his eight years. Legislatively, the pandemic has shed light on emergency supply shortages and debates over mandatory vaccinations, FDA approval processes, and access to affordable health care. While the COVID-19 crisis might have opened the door regarding government health involvement, we believe that the issues raised over the past year will remain policy focuses over the long term.
For now, we believe that investors should retain the full recommended allocation to the health care sector. As the government becomes more involved in all aspects of the health care sector, investors should watch the government's actions for potential investment opportunities. As it grows in involvement, we expect additional opportunities to emerge.
The government's debt of gratitude
---
by Michelle Wan, CFA®, Investment Strategy Analyst; Gary Schlossberg, Global Strategist
Market complacency in the face of a threatened congressional standoff over the debt ceiling and, more generally, an accelerated rise in federal debt traces back to investor expectations of compromise in the first instance and favorable financing conditions in the second.
Full faith and plenty of credit
Key takeaways
Compromise over the government's debt ceiling seems very likely and should allow further increases in those liabilities until investor confidence in the government's willingness and ability to repay truly is compromised.
Economic and financial market lubrication from the smooth flow of federal debt financing supports our favorable view toward stocks and other risk assets, keyed toward industrials, energy, financials, and other economically sensitive assets that do well in a maturing growth cycle.
Back on the front burner?
The federal debt-ceiling debate became heated since a $28.5 trillion cap was reinstated on August 1. The issue is the most contentious of four fiscal issues up for debate in Congress. The other issues include two spending bills and a funding bill to avert a government shutdown after the September 30 end of the fiscal year. Failure to raise the debt ceiling before the government exhausts cash and extraordinary measures in October could risk a debt default, suspended spending obligations, or both.
Investors thus far have responded with a shrug to a looming deadline to raise the debt limit. Complacency is rooted in past compromises that avoided defaults and other payment disruptions. The worst debt-ceiling impasse, in July and August 2011, caused market volatility and a downgrade of U.S. debt. Yet, consumer confidence and stock prices recovered shortly after the issue was resolved in early August 2011. Investors have come to recognize that crises like this are more political than economic, dependent on the government's willingness, not the ability to pay.
Additionally, the other issues on the docket provide avenues for compromise. Democrats have the option of raising the debt ceiling in a partisan budget reconciliation bill if Republicans are determined not to support bipartisan legislation. Alternatively, funding for emergency disaster relief related to Hurricane Ida and the upcoming deadline to avoid default in October or November could encourage Congress to combine a temporary debt-ceiling suspension or increase with a continuing resolution to fund the government beyond the September 30 end to the current fiscal year.
Explaining worry-free debt increases
Beyond the debt-ceiling debate is the more fundamental issue of investor complacency toward historically high federal debt. The answer partly lies with the greater concern over the Treasury's debt repayment burden than with the amount of federal debt outstanding. Low interest rates have kept government financing needs at just a fraction of their peak in the early 1990s despite the rapid buildup of Treasury debt. That point is underscored by Chart 3, showing that historically low interest rates have held financing expenses to less than half their peak in the early 1990s despite the more than tripling of debt as a percent of GDP since then. Higher interest rates and more burdensome interest payments created more of a stir in the financial markets in the early 1990s when the ratio of outstanding debt to GDP was just a fraction of what it is today.
Strong demand for Treasury debt by the Federal Reserve (Fed) and by foreign investors also explains the government's ability to sustain outsized budget deficits and a high rate of borrowing to finance them. Purchases of government securities by the Fed accelerated with the start of quantitative easing soon after the global financial crisis. The result was a near doubling of its share of Treasury debt in the past decade to 22% early this year. Beyond that, attractive interest rates; a large, highly liquid Treasury debt market; and the dollar's special role in the global trade and financial system have boosted foreign investment in Treasury securities.
Chart 3. Treasury debt worries overshadowed by a low financing burden
Sources: U.S. Treasury Department and Wells Fargo Investment Institute. Quarterly data as of June 30, 2021.
Investment implications: In the flow
The debt-ceiling debate is capable of causing short-term market volatility if the stalemate is not resolved until the eleventh hour in October or November. However, we believe that the potential political cost to both parties in causing a government shutdown or, worse, a debt default is enough to encourage a compromise on the issue. Political justification for agreement on the debt ceiling is given added urgency by midterm election campaigning likely to begin in early 2022.
A material increase in Treasury financing expenses or a loss of confidence in U.S. economic policies are the two biggest threats to the buildup of U.S. government debt. The smooth flow of financing has become even more important in an increasingly interest-sensitive economy and financial market. Our view is that moderating inflation will restrain future interest rate increases and financing expenses, bolstering investor confidence. That smooth flow of funds to Treasury debt and to other parts of the financial market also should assure adequate lubrication of above-average economic growth that we anticipate through much of next year. In this way, investor confidence in the Treasury debt market is an important ingredient in our favorable view toward U.S. stocks and other risk assets, particularly toward industrials, energy, financials, and other economically sensitive sectors of the market that do well in a maturing growth cycle. In the fixed-income market, subdued Treasury interest rates and support to corporate and other credit quality from still-ample financing support our favorable view toward yield-enhanced sectors of the bond market.
Unspent COVID-19 relief
---
by Michael Taylor, CFA®, Investment Strategy Analyst; Douglas Beath, Global Investment Strategist
Tens of billions of relief dollars sit idle in state reserves. This inaction raises questions: What is causing the holdup, can funds be repurposed, and what are the implications for investors?
Untapped resources
Key takeaways
The Government Accountability Office estimates that more than $1 trillion of $5.9 trillion in COVID-19 relief has yet to be spent.
Aid to states and municipalities comprises the lion's share of unspent dollars.
Overinvestment in municipal bonds could potentially distort the market. We do not see this happening and remain favorable.
The Government Accountability Office estimates that more than $1 trillion of COVID-19 relief has yet to be spent, including funds designated for state and local governments. Pandemic relief packages from eight legislative actions totaled $5.9 trillion (with $4.6 trillion already disbursed or committed). The American Rescue Plan Act of 2021 (ARP) provided $350 billion of funding for state, local, territorial, and tribal governments to bolster COVID-19 response efforts and economic impacts (see Sidebar 1).
Today, tens of billions of relief dollars, largely from the ARP, sit idle in state reserves. This inaction raises a series of questions: What is causing the holdup in disbursement, is there an expiration date for funds, can funds be repurposed, and what are the implications for investors?
Disbursement delays
Billions of dollars in COVID-19 relief intended for state and local jurisdictions remain unspent. Some states, like New York and California, have budgeted a fraction of their allocations, while others have yet to request allotments. Under current guidance, states and cities can commit the funding by 2024 and spend it by 2026. Federal lawmakers intended the funds to be spent over a longer time period to support immediate needs and the post-pandemic recovery in order to avoid austerity that states experienced after the 2008 financial crisis.
Part of the holdup stems from federal bureaucracy. Treasury officials did not release interim rules dictating how relief could be spent until May, and states are still awaiting final rules to be published. For now, few strings appear attached to the funds, so state and local lawmakers are taking their time.
Another factor is that state and local government finances have fared better than anticipated thanks to a stronger-than-expected economic recovery. Congress passed hefty relief packages for states despite only a 0.7% drop in state revenue from 2019 to 2020 coupled with a 7% increase in state revenue last quarter from pre-pandemic levels. State officials are now struggling to find ways to spend the stimulus as reserves are replenished from rebounding economies.
Table 1. Top 10 states' ARP funding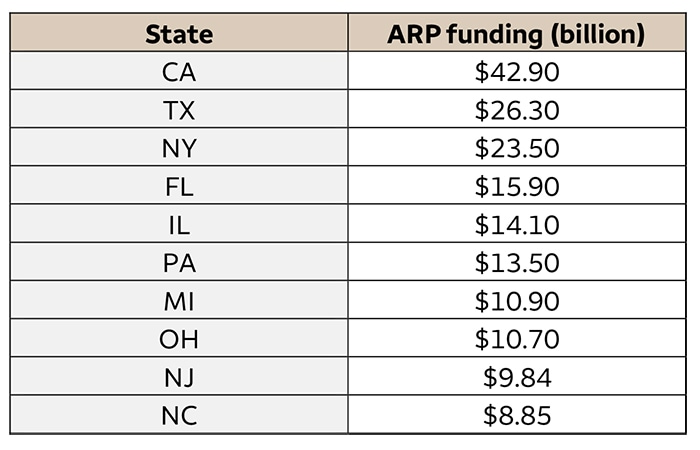 Source: Committee for a Responsible Federal Budget, August 25, 2021
To ensure relief dollars are spent effectively, policymakers could repurpose them to cover longer-term infrastructure investments. The ARP funds allow flexibility for jurisdictions to meet needs for households, small businesses, impacted industries, essential workers, and communities hit hardest by the pandemic. Funds may be used to invest in water, sewer, and broadband infrastructure; for public safety and crime mitigation; and to replace pandemic-related revenue losses.
Economic and investment implications
With state budgets flush with stimulus cash, state lawmakers are focusing on longer-term spending decisions. Many states are increasing their spending for 2022 by double-digit percentages, which could potentially lead to budget shortfalls during the next downturn should the dollars be spent on line items requiring ongoing funding. Infrastructure spending may be an added source of support for state and local governments going forward. Yet, significant amounts of unused stimulus for states and municipalities could impact the size and scope of spending legislation.
Investors injected a record $69 billion into municipal bond mutual and exchange-traded funds year to date through July, driving yields to historic lows. The S&P Municipal Bond Index yield slid below 1% for the first time ever. One potential risk of overinvestment is that the muni bond market could become temporarily distorted, resulting in a shortfall of new issuance. We do not see this happening. In fact, federal stimulus may help reduce muni bond risk. Illinois received its first credit upgrade in more than two decades with no change in spending. Several other states also experienced positive rating actions. As economic conditions continue to improve, this will likely be beneficial to state and local revenues. We maintain a favorable view on municipal bonds.