Taxing "where the money is"
---
by Michelle Wan, CFA, Investment Strategy Analyst and Gary Schlossberg, Global Strategist
Key takeaways  
Dual goals of the proposed Biden tax plan are to raise revenues for increased government spending and to lower income inequality by focusing the tax increases on upper-income families.
The most visible increases likely will be in corporate and upper-income personal tax rates, along with a higher capital-gains rate. Less likely is a controversial payroll tax bracket for families with incomes greater than $400,000 a year. 
We believe the effect of tax increases on investment returns for upper-income individuals would be largely offset by fiscal stimulus and other policy measures reinforcing our expected growth recovery as the threat from the coronavirus subsides.
More than just a revenue raiser
Attention soon will be shifting to the president's $3.3 trillion tax plan — the sixth largest since 1940 as a share of gross domestic product (GDP) — now that the pandemic-relief package is navigating the budget resolution process. The goal of the Biden tax plan laid out during the presidential campaign is twofold: partially fund a decade-long spending increase and help reverse U.S. income inequality by focusing tax increases on upper-income groups with annual earnings over $400,000. There have been reports that the tax bill may be uncoupled from a phase 2 spending package on infrastructure and climate change to gain Republican support for the added outlays. We believe any such move would delay, not cancel, debate over tax increases. The Tax Foundation estimates an initial increase in taxes (before taxpayer adjustments to the changes) of 11.3% for those in the top 1% of income and tax cuts for those in the bottom 80%.  
The focus on moderate proposals, reversing 2017 tax cuts set to expire in the mid-2020s, could make them more palatable to moderate Democrats needed for a simple-majority vote through a budget resolution. Among the most controversial of the Biden proposals is a new payroll tax bracket for those with incomes above $400,000, accounting for an estimated 25% of the revenue increase projected by the plan over the next decade from higher personal taxes. (By contrast, proposed increases in the top tax rate on personal income and capital gains would account for just 18.5% of projected revenues.) That still pales by comparison to the 46% share for corporate tax increases included in the Biden plan.
Key features of the Biden tax proposals are summarized in Table 1, along with our assessment of their likelihood of being passed. We believe that the top candidates are corporate tax increases and a return of the top personal rate to 39.6% from the current 37%. Taxing capital gains at the ordinary income tax rate for those with incomes of more than $1 million, long a Biden favorite, is viewed as less likely than an increase in the current 20% top rate to 28%. That rate is viewed as a sweet spot by the Joint Tax Committee and other policy groups in maximizing revenues through an optimal trade-off between higher rates and realizations of gains. Income tax increases were made retroactive to the start of the year in 1993 and in 2010, but there's no precedent for backdating a higher capital-gains rate. 
Table 1. Wells Fargo Investment Institute (WFII) assessment of Biden's tax proposals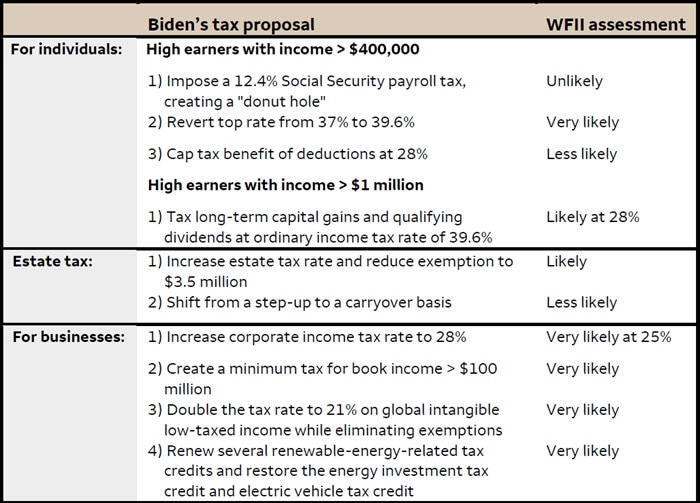 Sources: Tax Foundation, Tax Policy Center, and Wells Fargo Investment Institute as of February 23, 2021 
What the tax proposals mean for investors
Upper-income families facing the largest tax increases make up a disproportionate share of the investing public, exposed both to higher income and capital-gains tax rates. Upper-income families also would be affected most by a proposed change from the current $19,500 cap (plus an additional $6,500 for workers over 50) on before-tax deductions for 401(k) contributions to a fixed refundable credit. That would give lower-income families a proportionately larger tax break. 
Municipal securities and other tax-advantaged investments would benefit from an increase in the higher top personal tax rate, to 39.6% from the current 37%, adding to the value of each dollar of tax-protected income. That value could be enhanced further if the income threshold for the top tax bracket is lowered from the current $510,000 (for individuals), expanding the pool of potential beneficiaries of tax-sheltered income, or if capital gains for individuals earning more than $1 million annually are taxed at the ordinary, 39.6% rate. 
An increase in the corporate tax rate to 28%, or a possible compromise rate of 25%, would move the U.S. levy back above the global average of about 22%. However, we expect any headwind to the earnings outlook created by higher U.S. taxes to be offset by increased fiscal stimulus and other policy changes. That, we believe, will reinforce an earnings-supportive recovery of economic growth as the threat from the coronavirus subsides over the course of this year.
Reevaluating tech policy under a Biden administration
---
by Ken Johnson, CFA, Investment Strategy Analyst and Michael Taylor, CFA, Investment Strategy Analyst
Key takeaways

As Biden formulates his first-term agenda, revising technology policy is on the list of priorities.
It is unclear whether Biden will resume the course set by the Obama-Biden administration or take a tougher stance.
Headline risk could pose short-lived headwinds for the Communication Services and IT sectors with minimal effects on valuations. We remain favorable.

About face or stay the course? 
As President Biden formulates his first-term agenda, revising technology policy is a priority. Efforts to rein in large technology firms, or Big Tech, gained momentum under Trump, leading to a series of inquiries, hearings, and lawsuits. As Big Tech continues to expand its influence, public concern over the concentration of power wielded by a handful of internet and social media giants is growing. Yet, anticompetitive behavior is not the only grievance the industry faces, as tech-related concerns about net neutrality and Section 230 of the Communications Decency Act also have gained bipartisan support. 
As the new administration reevaluates technology policy, it is unclear whether Biden will resume the course set by the Obama-Biden administration or take a tougher stance. Meanwhile, market observers question whether busting up technology conglomerates is beneficial for smaller competitors and shareholders. 
Resetting priorities 
Technology was a priority for Obama. His campaign relied heavily on social media, and one of Obama's first executive actions directed government to use technology to improve transparency and effectiveness. The Obama-Biden administration established strong ties with Silicon Valley. Today, the dominance of Big Tech has lawmakers and regulators calling for more oversight. Congress held hearings to investigate allegations of anticompetitive behavior. In October 2020, the Department of Justice (DOJ) filed an antitrust lawsuit against a search-engine behemoth. 
Besides antitrust, immunity granted to social media sites under Section 230 is raising free-speech concerns (see sidebar 1). Although the repeal or modification of Section 230 has garnered bipartisan support, it is unlikely to be an immediate concern for the administration, as pandemic-related issues take precedence. Meanwhile, net neutrality was a priority for the Obama-Biden administration (see sidebar 3). One likely target for Biden is to reverse a 2018 order that repealed net-neutrality rules. With a Democratic-controlled Federal Communications Commission, we expect this order to be overturned. 
Breaking up is not so hard to do 
Like telecommunications in the early 1980s, Big Tech conglomerates could face breakups or stricter regulations under Biden. Yet, the effect of a Big Tech breakup may differ from busting up a telephone conglomerate when considering fixed-cost structures. Today intangible assets like intellectual property account for 84% of the S&P 500 Index's enterprise value.
Replicating social media or internet companies may not incur the same set of capital expenditures. We believe spin-offs could increase shareholder value. 
Chart 1. Intangible assets continued to grow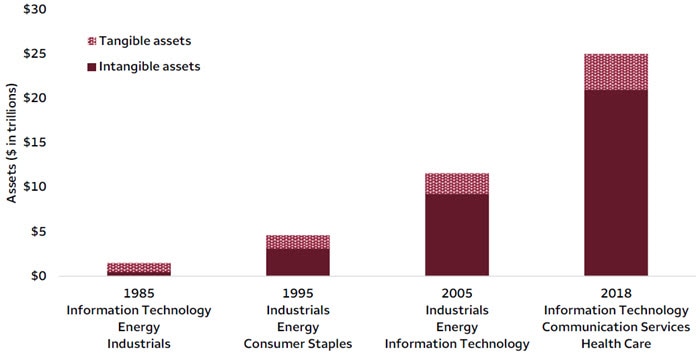 Sources: Aon and Ponemon Institute, February 22, 2020. X-axis shows sectors for top three S&P 500 companies by intangible assets on balance sheet. Aon uses company PP&E (Property, Plant, and Equipment) data to determine tangible assets. Aon uses survey and company financial data to identify and calculate eight major categories of intangible assets: Intellectual Property, Business to Business Rights, Brand, Hard Intangibles, Public Rights, Data, Non-Revenue Rights, and Relationships. 
Additionally, many tech titans have grown through acquiring smaller competitors. Yet, many have not been fully integrated; we believe spin-offs would be relatively easy to undertake. 
If regulators were to impose tighter controls, smaller firms — which antitrust laws aim to protect — may fall victim to unintended consequences. The regulatory requirements could become cost prohibitive and impair smaller firms, as the General Data Protection Directive did in Europe. Another unintended consequence is stifled innovation, the driving force of technology. 
Implications for the markets
Headline risk could pose short-lived headwinds for the Communication Services and IT sectors (we are favorable on both) with minimal effects on valuations. Longer term, revising technology policy would likely have a nominal impact on sector growth. 
A repeal of Section 230 could force firms, large or small, to invest heavily in monitoring content or to eliminate user posts altogether. Enterprises, from restaurants to travel sites, with business models that rely on user reviews could be disrupted. However, a full repeal is unlikely. 
Successful antitrust litigation is a remote possibility but is slow in coming and difficult to achieve. The DOJ suit filed last fall is scheduled for September 2023, demonstrating the snail-like pace of litigating cases. Should the DOJ prevail, we would expect a hefty fine over a full-scale breakup. Longer term, we believe such action could be beneficial for the industry, consumers, and markets. 
A sector in the balance 
---
by Tony Miano, Investment Analyst and Paul Christopher, CFA, Head of Global Market Strategy
Key takeaways 
Direct legislative action on green energy seems unlikely. President Biden is more likely to make his impacts through regulatory agencies and executive orders.
We expect that Biden's efforts will help renewables gain further market share — but with fossil fuels remaining as the backbone of U.S. energy production. Energy in transition 
President Biden has announced a wide-ranging plan for clean energy, with two goals. The first goal targets net-zero emissions by 2050. To this end, on his first day in office, the president announced that the U.S. would rejoin the Paris Climate Agreement. Considering the agreement's lack of a binding enforcement mechanism across countries, the step seems largely symbolic. More concretely, the administration also targets a roughly $500 billion investment in green energy over 10 years. 
Biden's second major goal is increased regulatory action against pollution in energy production and transportation, including a more hawkish Environmental Protection Agency (EPA) and regulatory appointments (both of which require little in the way of congressional approval). A good archetype for this may be President Obama's approach during the later years of his presidency, where he faced a hostile Congress. President Obama's Clean Power Plan for the EPA was implemented without the approval of Congress. Other options would be direct negotiation with major actors in the Energy sector, similar to Obama's implementation of greater fuel efficiency standards in 2012.  
What may limit the administration's plans 
One constraint that all new presidents face is consistency in implementing campaign promises. Two policies may dovetail or conflict with one another in their various dimensions. In the case of energy policy, a global solution to carbon emissions must reduce emissions in China, which still relies heavily on coal-fired power plants. If the White House wants Beijing to concede on trade, however, it may be necessary to compromise on another policy, possibly energy policy. 
More significantly, even with the president's 10-year program for renewable energy, natural gas and petroleum are likely to remain the principal sources of U.S. energy for the next several decades. We do believe the future is green, but that will require a slow and gradual transition away from fossil fuels. Clean-energy technology is improving, but hydrocarbons still enjoy a cost advantage and account for more usage than renewables — 40% to natural gas in power generation versus 14% for clean energy, as of mid-2020.  
Finally, even executive orders and tougher regulations on hydrocarbon industries may face obstacles — not in Congress but in the federal courts. A rising political trend during the past 20 years is the use of lawsuits by opponents of executive orders. Federal judges can issue national injunctions against presidential orders. The number of such injunctions has increased since 1999, and opponents of White House executive orders lost no time: A Texas federal judge last month issued a nationwide injunction against a Biden executive order to stop deportations of undocumented immigrants. We expect similar tactics to limit the negative impact of executive orders on job creation in hydrocarbon industries. 
Patience while the trend develops 
We do not believe that energy investors should avoid alternative energy exposure, but it is important to keep two ideas in mind. First, we believe those investors who want to increase this investment exposure should focus on potential opportunities in the Utilities and Industrials sectors. For a variety of reasons, we currently hold an overall rating of unfavorable on Utilities but favorable on the Industrials sector. 
Second, looking past the ebb and flow of political pressure for or against promoting alternative energy, some traditional energy producers in the Energy sector are making inroads in alternative energy, in order to compete with alternative firms. These changes may take time, however, and are not occurring at all energy companies. We have a neutral view of the Energy sector, but investors seeking alternative energy exposure may need to be selective. We note also that investors with interest in environmental, social, and governance (ESG) investing may find opportunities in this sector. ESG investing focuses on finding companies with stronger or improving ESG scores, which may include traditional energy firms that are transitioning to alternative energy.