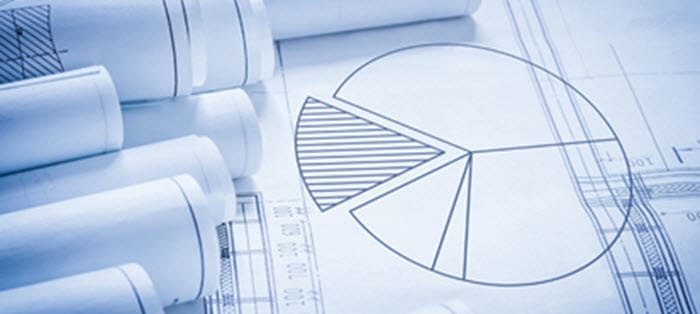 Weaker dollar in 2021 — but against what?
---
Fixed Income spotlight
by Peter Wilson, Global Fixed Income Strategist
We believe that the main driver of dollar weakness in 2020 has been a revaluation of the euro, reflected in a lower U.S. Dollar Index (DXY). We expect these dynamics to continue in 2021.
In the near term, the dollar may not be as weak against other developed market currencies, such as the yen or pound. It also should be well supported against many emerging market (EM) currencies.
There has been much discussion this year of the trend change in foreign-exchange markets, from U.S. dollar strength to weakness. Yet, this weakness has been apparent mainly in the DXY, which has declined from its highs near 103 to 2-year lows around 92-93. The chart illustrates the relatively narrow nature of the dollar's 2020 fall. While the DXY is at 2-year lows, the Federal Reserve's (Fed) Trade-Weighted Nominal Broad Dollar Index (a wider measure of dollar value against all major trading partners) remains slightly above the 2018-2019 trading ranges.
As the euro represents 58% of the DXY, we can say that the euro's appreciation — from lows near 1.08 to 1.20 in early September — has been the principal driver of the weak dollar in 2020. Other DXY constituents, like the yen, are scarcely stronger. And while the British pound has had periods of strength, it has weakened recently as Brexit risks have resurfaced.
Despite DXY weakness, the Federal Reserve Trade Weighted Broad Dollar Index is little changed from 2019's levels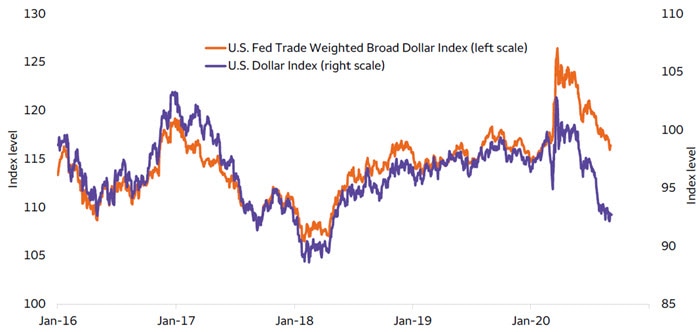 Sources: Bloomberg, Wells Fargo Investment Institute, latest data as of September 14, 2020. Past performance is no guarantee of future results. See disclosures for index definitions.
Structural supports for the dollar have weakened
There have been good reasons for euro strength this year. Although COVID-19 caseloads have been rising recently in many eurozone countries, investors viewed the region's initial response to the first wave of infections positively, and it raised hopes of a stronger 2021 economic recovery. The COVID-19 emergency also led to greater solidarity between national policymakers, and this bore fruit in the 750 billion euro ($890 billion) Recovery and Resilience Facility, involving mutualized debt issuance and transfers between nations.
Yet, we believe that it would be wrong to see 2020's dollar weakness as solely a euro/dollar phenomenon. The COVID-19 crisis and the U.S. policy response have removed or weakened several factors that were strong dollar supports last year. For example, the Fed's recent policy changes have opened avenues for a weaker dollar. Lower short-term rates and bond yields have slashed the U.S. securities rate advantage that existed until early 2020. In parallel with this, lower short-rate differentials have cut overseas hedging costs to zero in many cases. This has made it cheaper to sell dollars in forward-exchange markets and neutralized any potential dollar boost from inflows into longer-maturity bonds driven by a steeper yield curve or higher U.S. credit-market yields.
The dollar is now less prone to upward squeezes since the Fed's aggressive liquidity response to the COVID-19 market shock has tranquilized fears of future dollar shortages. Further, the Fed's late-August introduction of its average inflation targeting policy should tend to lower U.S. real yields and raise inflation expectations relative to the rest of the world. Both of these factors likely have contributed to a weaker dollar.
Implications for 2021
In summary, we find that 2020 has seen a reversal in dollar sentiment, with the balance of factors now pointing to a lower dollar. We believe that this dollar-negative environment will extend into 2021, and we expect further dollar depreciation. However, since we see the euro/dollar exchange rate as the line of least resistance for this weaker dollar sentiment, we don't expect a very broad-based dollar collapse or a large cyclical decline as in 1985-1993 or 2002-2008. We expect a 2021 year-end range of 1.21–1.29 dollars per euro. This suggests further euro appreciation of approximately 4%–5% from current levels, and it is consistent with a DXY ranging between the mid-80s and low 90s. We expect only mild yen appreciation, and we believe that Brexit-related trade dislocations could push the pound lower against the dollar next year.
Finally, the dollar continues to hold attractions for investors. It should remain the largest and most important reserve currency for global central banks, and the dollar's existing preeminence in commercial trade and finance should erode only very gradually. Further, investors and traders looking to sell the dollar must consider what they will buy against it. The list of attractive foreign-exchange purchase candidates may be shorter than it was previously. Despite the dollar's decline on a DXY basis, it is holding up well against many EM currencies. (The Chinese yuan is a notable exception.) Although the dollar's fall may relieve some pressure on EM currencies, we do not expect EM currencies to stage a broad, sustained recovery (outside of Asia). Emerging economies face headwinds that predate the coronavirus crisis, including slow global demand growth and an end to the buoyant global trade recovery that supported much of their strong performance following the 2008-2009 global financial crisis.
Equities
by Chao, Ma, Ph.D., CFA, FRM, Global Portfolio and Investment Strategist
We expect that an eventual COVID-19 vaccine should be a tailwind for the broad equity market, especially for industries that have been hurt most by the pandemic.
Over the longer term, we expect some of the recent trends and market leadership to continue. This reinforces our preference for U.S. large-cap equities and the Information Technology, Consumer Discretionary, Communication Services, and Health Care sectors.
Looking toward a post-pandemic world
2020 has been quite a journey for the stock market — with its roller-coaster-like volatility starting this spring. As we look toward a post-pandemic paradigm, a logical question is how the stock market may look once we find a COVID-19 vaccine.
Once a vaccine finally is found, we believe that the pandemic will cease to be a major stock-market risk factor. Yes, vaccinations may take time. But the news generally should be a global-equity tailwind. Yet, the impact may not be the same for all stocks. We expect the industries that were most impacted by the pandemic, including travel, leisure, and department stores, should benefit the most from vaccine news. We believe that previous dynamics observed on days when positive COVID-19 vaccine trial data was released provide a good guidepost (see chart). A COVID-19 vaccine also could pave the way for a substantial recovery for these industries. Similarly, small-cap and value stocks may have an opportunity to catch up.
Looking through these shorter-term dynamics, we also believe that some of the trends which the pandemic accelerated potentially will continue. These could include the virtual-experience economy and investments in technology, innovation, and health care, along with supply chain reshoring. Companies that have succeeded relatively more during the pandemic may have the potential to retain their leadership over the long run. Our recent U.S. small-cap equity upgrade to neutral recognizes this equity class' shorter-term economic and earnings improvement tailwind, while we maintain our preference for U.S. large-cap equities and the Information Technology, Consumer Discretionary, Communication Services, and Health Care sectors.
Stock returns on the day of positive COVID-19 vaccine news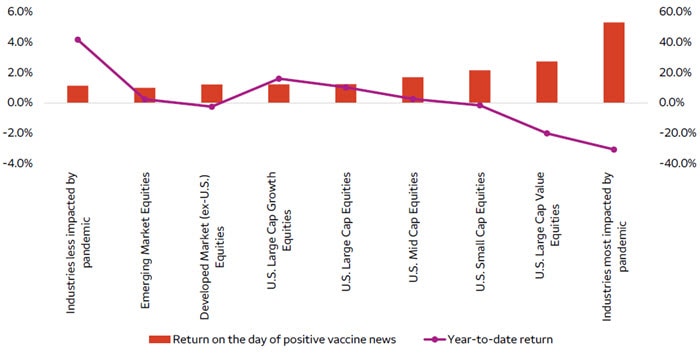 Sources: Wells Fargo Investment Institute, Morningstar, September 16, 2020. See disclosures for index definitions. Chart reflects our view that S&P 500 industries that are less impacted by the pandemic include internet retail, air freight and logistics, application software, homebuilding, and home improvement retail. It also reflects our view that S&P 500 industries most impacted by the pandemic include airlines, hotels, resorts, cruise, casinos and gaming, apparel accessory and luxury goods, and department stores. Past performance is no guarantee of future results.
Real Assets
by Austin Pickle, CFA, Investment Strategy Analyst
"Success is not final, failure is not fatal: it is the courage to continue that counts." — Winston S. Churchill
The significant underperformance of Office, Retail, and Lodging real estate investment trusts (REITs) has prompted some investors to ask if it is time to "bottom fish" in this space.
Our answer is "not today."
Is it time to "bottom fish" Office, Retail, and Lodging REITs?
Our least-favored REIT subsectors — Office, Retail, and Lodging — have underperformed the REIT benchmark by 22%, 30%, and 50%, respectively, since we initiated our unfavorable guidance (through September 15). This significant underperformance has prompted the question: "is it time to bottom fish?" Our answer is "not today." 
We are always ready to change our guidance if the weight of the evidence argues to do so. But, in our view, the evidence does not support bottom fishing in this space. We are still confident in our view that these subsectors will underperform over our tactical time frame (6-18 months). Each still has serious questions. When will the pain in brick and mortar retail end? When will leisure and business travel rebound to pre-pandemic levels? How quickly will the job market recover? How many of us will end up working from home full- or part-time? These questions have the potential to materially impact Retail, Lodging, and Office REITs for years to come. 
It is important to remember that we believe investing is a relative game — is my $1 better invested here or there? For REIT investors, we still believe that $1 is better invested in our favorite subsectors: Industrial, Infrastructure, and Data Center REITs. The evidence may change down the road — as the above questions may be answered, price dislocations could occur, or new trends could emerge. But for now, we say "leave your poles at home." For more details on our REIT subsector ratings, please see our Real Assets Quarterly Guidance report.
Office, Retail, and Lodging REIT relative performance
Sources: Bloomberg, Wells Fargo Investment Institute. Daily data: February 26, 2019 – September 16, 2020. Relative performance is measured as the FTSE NAREIT Subsector Index divided by the FTSE NAREIT All Equity REITs Index. Indexed to 100 as of the start date. Past performance is no guarantee of future results.
Alternatives
by Ryan, McWalter, CAIA, Global Alternative Investment Strategist 
Over the past year, the Merger Arbitrage strategy's sensitivity to global equity markets has risen sharply. We believe that this has resulted from pandemic-fueled volatility.
While this strategy's performance during the March equity market downturn was disappointing, we believe that this was a short-term, technically driven outlier. We continue to believe that this strategy presents qualified investors with an attractive alternative to traditional stock and bond allocations.
Evaluating the Merger Arbitrage strategy in 2020
The Merger Arbitrage strategy historically has exhibited low beta (sensitivity) to global equity markets. From January 1990 through July 2020, the average rolling 12-month beta to global equities has been just 0.12. Yet, for the 12 months ended on July 31, its equity market beta was 0.47 — as the coronavirus pandemic drove a historic equity market sell-off and pushed Merger Arbitrage spreads to all-time highs.
Market participants have attributed the aggressive spread widening to large, multi-strategy hedge funds that used their Merger Arbitrage allocations to raise cash during the market decline, raising selling pressure.
While this strategy's performance was disappointing during March's pandemic-fueled market downturn — as it captured approximately 70% of global equities' downside — we believe that this was a short-term, technically driven outlier that isn't indicative of the strategy's long-term diversification benefits. With fixed-income yields near all-time lows and equity markets near all-time highs, we believe that Merger Arbitrage can generate meaningful returns that are not dependent on broader markets' direction, but rather on merger and acquisition (M&A) deals closing successfully. Currently, we believe that the average merger spread level above 5% presents an attractive alternative for qualified investors.
An abrupt spike in equity market sensitivity: Merger Arbitrage strategy beta to global equities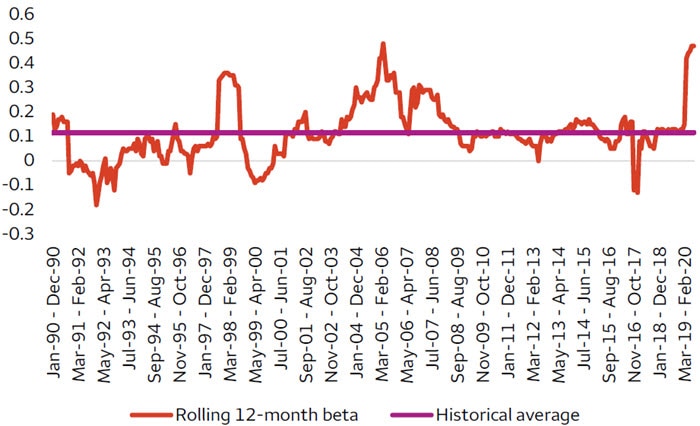 Sources: Markov Processes International (MPI) and Hedge Fund Research (HFR), Wells Fargo Investment Institute, September 2020. Chart compares the Merger Arbitrage Strategy's rolling 12-month beta to the MSCI All Country World Index of global equities from January 1990 through July 2020.