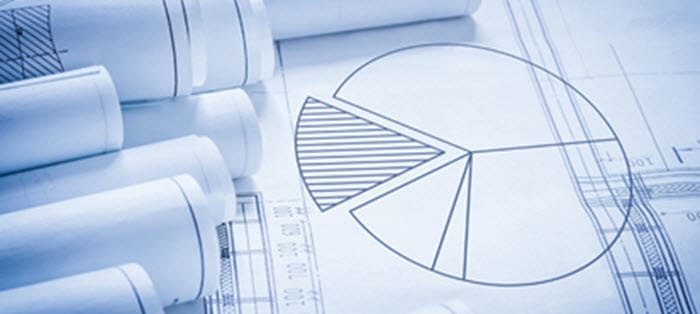 Fixed Income spotlight
---
Brian Rehling, CFA, Head of Global Fixed Income Strategy,
Federal Reserve (Fed) Chair Jerome Powell told the Senate banking committee last week that achieving a soft landing could be difficult.
We believe the Fed will continue an aggressive path of rate hikes, despite an increasingly challenging economic narrative.
Full steam ahead for the Fed
In the weeks before the June 15 Federal Open Market Committee (FOMC) meeting, markets were expecting a 50-basis-point increase (100 basis points equal 1 percent), but a year-over-year Consumer Price Index print of 8.6% the Friday before the Federal Reserve (Fed) announcement forced the Fed to rethink its planned pace of monetary tightening. By Monday, the Fed had upshifted, and began to prepare the markets for a 75-basis-point increase. The Fed followed through with a 75-basis-point hike when the decision was announced. This marks the first time the Fed had increased the federal funds rate by 75 basis points since 1994, and signaled that the Fed is going all in on its attempt to bring inflation trends down to more acceptable levels.
Not only did the Fed increase rates by 75 basis points (bps), but it also meaningfully increased its rate hike projections as members plot a more aggressive path of monetary tightening. The urgency for the Fed is high, and investors should expect the Fed to focus on bringing inflation trends down to acceptable levels above all else. We believe it is unlikely that the Fed will allow liquidity to deteriorate to a point that causes extreme financial stress. It is also unlikely, in our opinion, that the Fed will pause rate hikes as growth moves into negative territory, absent an acceptable moderation of inflation.
Given new incoming data, we believe inflation will remain elevated through the remainder of the year and into 2023, pushing the Fed to continue with its aggressive tightening policies. While we acknowledge the ultimate path of Fed decisions is data dependent, with inflation appearing more elevated and stickier than expected, we recently increased our rate hike forecast projections. We expect an aggressive path of rate increases will be necessary if the Fed is going to restore its market credibility and exert control over inflation. Our current base case path is for the FOMC to raise interest rates by an additional 75 bps in July and September, and by 25 bps in November and December. Our year-end 2022 federal funds target rate range is 3.50% – 3.75%. We also expect two additional 25 bps interest rate hikes early next year; our year-end 2023 federal funds target rate is 4.00% – 4.25%.
Median forecast of FOMC rate projections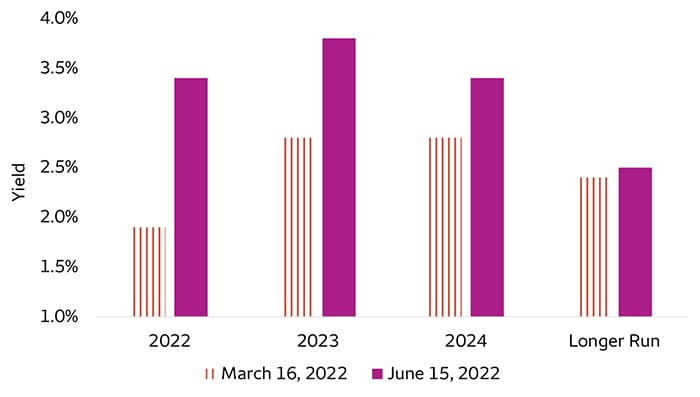 Source: FOMC summary of economic projections as of June 15, 2022.
With inflation likely to remain elevated, we see longer-term rates also nudging higher until there is evidence that the Fed will be successful in its inflation fight. We do think the Fed will succeed, but until the data confirms this likelihood, there remains risk that longer-term rates will continue to rise. However, once inflation begins to moderate, we expect longer-term rates will move lower in acknowledgement of both a more moderate inflation picture and what is expected to be a slowing growth outlook. With this in mind, we recently upgraded long-term bonds to neutral from most unfavorable. Still, it is conceivable that long-term rates move into the high 3% area or even flirt with 4% as the market tests the Fed's will.
For now, short- and intermediate-term maturities are our current maturity preference for investment-grade fixed-income investors. However, we emphasize that we are now favoring investors to bring long-term maturity allocations up to a benchmark (neutral) level. While this positioning retains a defensive posture in our overall fixed-income positioning, we view this as a step toward a more constructive view on duration (duration is a measure of a bond's interest rate sensitivity). Our duration guidance remains unchanged at neutral. Once we have confidence that we have turned the corner on inflation, we will likely shift into a more offensive duration posture and anticipate that longer-term bonds could be further upgraded at that time.
Equities
Chris Haverland, CFA, Global Equity Strategist
After growing by 9% in the first quarter of 2022, S&P 500 Index earnings are expected to have grown by 5.7% in the second quarter of 2022.
The Energy sector is expected to lead growth for the quarter. However, excluding the Energy sector, overall S&P 500 Index earnings likely contracted.
Second-quarter earnings preview
After growing by 9% in the first quarter of 2022, S&P 500 Index earnings are expected to have grown by 5.7% in the second quarter of 2022. If actual second-quarter earnings are in line with estimates, it would be the slowest quarter for growth since the fourth quarter of 2020. Although growth rates have declined from 2022 highs, the median historical earnings growth rate is 6.5% — close to the second-quarter forecast.
The Energy, Industrials, and Materials sectors should lead the way, with Energy earnings expected to grow by a remarkable 205%. Excluding the Energy sector, overall S&P 500 Index earnings are expected to contract by 2%. Financials likely saw earnings fall in the quarter on tough comparisons to last year, which included the release of loan loss reserves. Consumer Discretionary also could see earnings decline as costs rise.
Forward guidance will be key as many companies continue to deal with rising input prices, a tight labor market, and continued global supply-chain constraints. These factors likely will lead to modest margin compression in the quarter. Despite the difficult environment, consensus earnings estimates for 2022 have been steady, with upward revisions to the Energy and Materials sectors offsetting downward revisions to the Consumer Discretionary and Communication Services sectors.
Looking forward, we expect earnings growth to slow and potentially contract as recession risks rise. In this environment, we suggest focusing on high-quality companies with consistent earnings growth, low debt levels, and high return on equity.
S&P 500 Index second-quarter earnings-per-share (EPS) growth estimates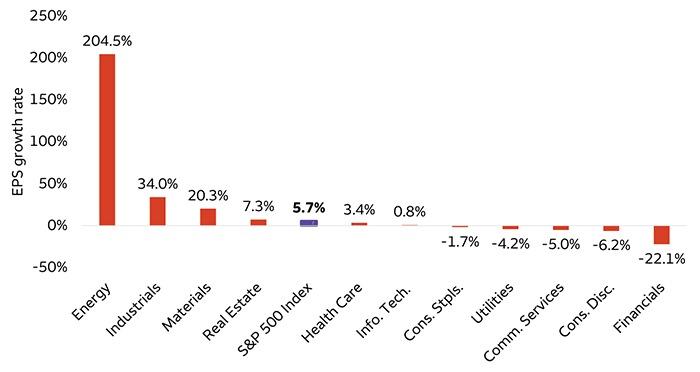 Sources: Wells Fargo Investment Institute, Bloomberg as of June 21, 2022. Forecasts are not guaranteed and based on certain assumptions and on views of market and economic conditions which are subject to change.
Real Assets
John LaForge, Head of Real Asset Strategy
"Wherever we look upon this earth, the opportunities take shape within the problems." — Nelson A. Rockefeller
Politicians have begun to consider gas tax solutions for relief at the pump.
Tax-related gasoline solutions are more likely to lead to higher gasoline prices in the long term, not lower.
Messy gas tax solutions
Consumers are going through a rough patch with energy inflation, similar to the 1970s. Like in the 1970s, energy prices are grabbing a larger and larger portion of consumers' incomes. Over the last two years, oil prices have essentially tripled, with Brent crude oil, the global oil benchmark price, moving from the high $30s-per-barrel level to $112 per barrel today.
High gasoline prices are never particularly welcome. This is especially the case for politicians during a midterm election year, like 2022. In our view, this is why Washington, D.C. has been floating numerous potential short-term tax-related solutions to high gas prices. Everything from gas rebates, gas tax holidays, to windfall profit taxes on oil companies have been discussed.
While many of these answers can sound enticing, none are likely to help lower gas prices in the long term. In fact, most will likely lead to higher prices. Gas prices are high today mainly because of a lack of global supplies (Chart 1). We believe tax breaks will not drive demand down, but up. And a windfall profits tax on oil producers will likely lead to less oil supply, not more.
U.S. petroleum inventory levels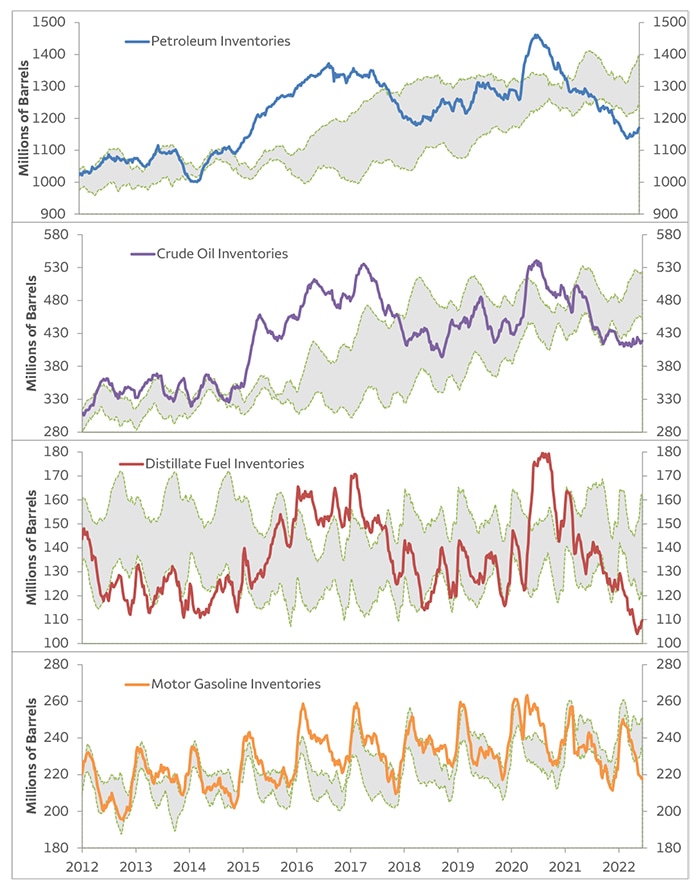 Sources: Bloomberg, Energy Information Administration (EIA), and Wells Fargo Investment Institute. Weekly data: January 6, 2012 – June 10, 2022. The shaded area represents the 1 standard deviation differences (+ and -) away from the average line.
Alternatives
James Sweetman, Senior Alternative Investment Strategist
Given our forecast of an expected mild recession, now is not the time to use hedge fund strategies to dial up risk or increase market exposure, but rather to provide diversification.
We are favorable on the Global Macro strategy, which has limited the downside of this recent economic downturn and provided strong absolute returns.
Global macro providing diversification benefits
After the global economy worked through initial complications due to the pandemic, the combination of a subsequent wave of COVID-19 outbreaks in China, fallout from the war in Ukraine, rising interest rates, and inflation have presented new challenges. With these factors as a backdrop, we believe a mild recession will likely occur by year-end and into 2023. Therefore, as we enter the second half of 2022, we maintain our conviction that the greater role of hedge funds is to provide non-correlated returns with lower beta (market sensitivity).
Through most of the first five months of 2022, global markets have experienced the triple threat of depressed equity and bond returns, heightened market volatility, and elevated inflation, making it a difficult start to the year for many investors' portfolios. But our favorable guidance toward non-correlated hedge fund strategies, especially the Global Macro strategy, has proven particularly additive.
2022 performance through May 2022
| 2022 year-to-date | Global Equities | Global Bonds | Commodities | Relative Value | Global Macro | Event Driven | Equity Hedge |
| --- | --- | --- | --- | --- | --- | --- | --- |
| Jan - May 2022  | -12.6% | -11.1% | 32.4% | -0.3% | 9.4% | -4.5% |   -8.1% |
Source: Bloomberg, MSCI, and Hedge Fund Research (HFR). Data as of May 31, 2022. Asset classes are represented by the following indexes: Global Equity (MSCI All Country World Index), Global Bonds (Bloomberg Global Aggregate Credit Total Return Index Value Unhedged USD), Commodities (Bloomberg Commodity Index), Relative Value (HFRI Relative Value Total Index), Global Macro (HFRI Macro Total Index), Event Driven (HFRI Event Driven Total Index), and Equity Hedge (HFRI Equity Hedge Total Index).
This non-correlation benefit has continued into June as both global equity and fixed-income markets experienced continued difficulties, while the Global Macro strategy has benefited from strong technical trends that have them positioned long commodities and the U.S. dollar while short equity and fixed income. The result has been the strongest performance we have seen from the Global Macro strategy since the 2008 global financial crisis, and continues the trend of providing absolute returns and diversification through periods of uncertainty and heightened volatility.
We expect Global Macro to continue to benefit from several drivers, including: higher-than-expected inflation and the impact on commodity prices, divergent global gross domestic product growth, higher interest rates, and heightened volatility.