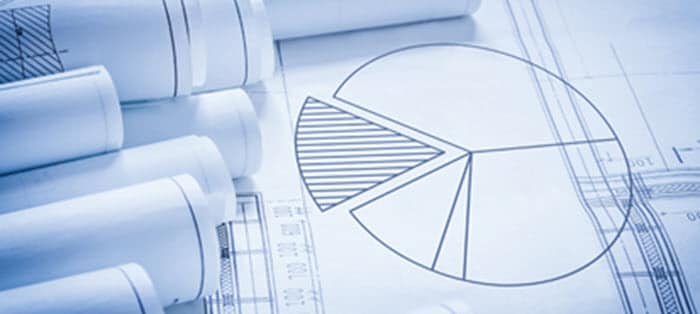 ---
Fixed Income Spotlight
Luis Alvarado, Global Fixed Income Strategist
"Inflation is always and everywhere a monetary phenomenon..." — Milton Friedman, 1970
There is investor uncertainty around Federal Reserve (Fed) policy actions in the near term; however, we do not believe that Fed officials will back away from raising policy rates at their next meeting on March 22.
Monetary policy affects the broader economy with long and variable lags, hence the importance of managing interest-rate and liquidity risks in portfolios.
All eyes on the upcoming Fed meeting
Better-than-expected U.S. economic data over the past two months has raised investor speculation about the Federal Reserve's (Fed) prospective course of action and monetary policy changes. Most of the attention has centered on estimating the size of future rate hikes and the potential effects on financial markets and the broader U.S. economy. Despite growing uncertainty in the U.S. banking system, we do not believe that Fed officials will back away from raising policy rates at the next Federal Open Market Committee (FOMC) meeting on March 22.
We also expect to gather more insight about the progress (or lack thereof) that the economy has made toward the Fed's goal on inflation. We anticipate this to be reflected in the updated summary of economic projections, along with policymakers' forecast of the federal funds rate for the next few years. Another topic that will likely surface during the post-meeting press conference will be the newly created program — the Bank Term Funding Program — that aims to provide an additional source of liquidity for financial institutions and mitigate contagion risks from bank failures.
Money supply drain
Behind the scenes and away from the attention of rate hikes, some market participants have been concerned about the rapid decline in monetary supply over the past 10 months. The argument essentially boils down to the view that the Fed has been targeting the wrong issue (wage growth) and using an inadequate tool (rate hikes). Instead, they argue that the Fed should be focusing on growing monetary supply.
Although it is true that the Fed did not reduce monetary supply during the 1970s and early 1980s while it was fighting high inflation, we must acknowledge that back then the Fed was acting under a "scarce reserve" regime, meaning that the Fed could influence interest rates by adding or draining reserves. After the 2008 – 2009 financial crisis the Fed switched to an "abundant reserves" regime, where it floods the banking system with excess reserves, while paying interest on those funds.
In our opinion, it remains unclear how this will unfold, especially since we have never seen the Fed fight inflation under an abundant reserve's regime coupled with an abrupt increase in monetary supply that was quickly followed by a sharp decline. It is important to remember that monetary policy affects the broader economy with long and variable lags, hence the importance of managing interest-rate and liquidity risks in portfolios.
The historical relationship between inflation and money supply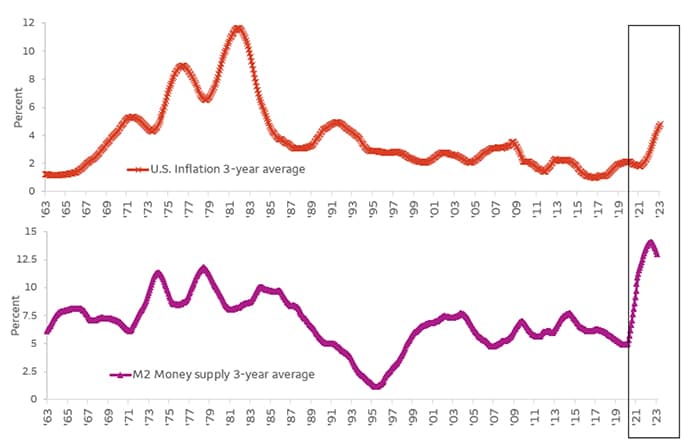 This chart shows the long-term inflationary pressures from the monetary perspective. M2 money supply consists of M1 money supply (currency at large, demand deposits, other checkable deposits plus savings accounts, time deposits under $100,000, money market mutual fund shares, overnight repurchase agreements, and Eurodollar deposits). Our view is that inflation is caused by too much money chasing too few goods. Without an abundant supply of money, there can be no inflation. We, therefore, watch the three-year average growth rate of the M2 money supply to warn us of long-term reversals in the trend of inflation. Sources: Bloomberg and Wells Fargo Investment Institute. Data as of February 28, 2023. Monthly data from January 1, 1963 to February 28, 2023. Inflation is represented by the U.S. Consumer Price Index and M2 money supply is represented by the M2 Index.
Investor implications
Volatility has been elevated in U.S. fixed-income markets over the past year, and we expect this trend to continue for the remainder of 2023. Bond yields could continue to experience sharp swings influenced heavily by incoming economic data including, inflation, unemployment, and consumer spending and sentiment. Furthermore, any additional risks in the financial sector could accelerate the flight to purchase quality securities such as U.S. Treasury bonds. The Fed now faces a trickier task—not only continuing to calibrate between elevated inflation and diminishing economic growth, but also ensuring that an abrupt tightening of financial and credit conditions does not push the economy into a deeper-than-expected slowdown.
We reiterate our preference for government securities, and more specifically U.S. Treasuries, along with our favorable view of municipal bonds as they have tended to be more resilient than other fixed-income sectors when the economy slows or when financial risks are elevated. Regarding yield-curve positioning, we continue to prefer the short and long end of the curve, where we believe investors could experience attractive yields per units of duration (a measure of a bond's interest rate sensitivity), especially if the U.S. Treasury yield curve remains inverted as expected.
Equities
Chris Haverland, CFA, Global Equity Strategist
Recent regional bank failures have weighed heavily on the broader Financials sector.
We maintain our neutral Financials sector rating, emphasizing quality, including a preference toward large universal banks over smaller regional banks.
Financials sector takes it on the chin
Despite two regional bank failures last week, we remain neutral on the Financials sector as of this writing. The sector is diversified with less than 30% in banks, roughly 20% in insurance, and the rest in diversified financials. The large banks represented in the S&P 500 Index Financials sector are well-capitalized and have passed rigorous stress tests administered by the Federal Reserve (Fed). Given post-global-financial-crisis regulatory requirements and swift action by regulators to support the banking system this month, we think it is unlikely that a large U.S. bank would experience a similar liquidity event. Most of these companies have been setting aside reserves to cover potential losses that may occur in a recession. While loan growth has been steady, capital market activity after peaking in 2021 has weakened considerably in areas such as initial public offerings (IPOs), debt issuance, and mergers and acquisitions.
The Financials sector is highly cyclical and is likely to come under pressure as a recession nears. Our downgrade of the sector to neutral in early 2022 was in anticipation of a slowing economic environment. Historically, the sector has been a market performer as the cycle ages, the Fed tightens monetary policy, and the yield curve flattens or inverts. Lower-quality, smaller regional banks with greater sensitivity to the economy and interest rates have underperformed this year (see chart). While we maintain our neutral Financials sector rating, we are monitoring the sector (and all sectors) for potential spillover effects. In the meantime, we continue to emphasize defensive positioning and quality in portfolios. In the Financials sector, this includes a preference toward large universal banks over smaller regional banks.
Regional banks have underperformed the broader Financials sector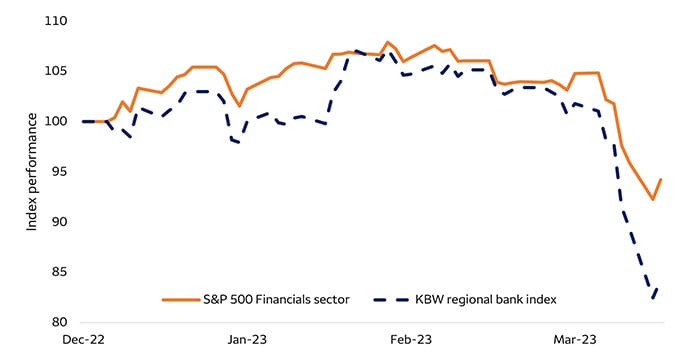 While both indexes are down in 2023, the regional bank index has underperformed the broader Financials sector benchmark. Sources: Bloomberg and Wells Fargo Investment Institute. Daily data is from December 30, 2022 – March 14, 2023. Past performance is no guarantee of future results. The index used is the S&P 500 Financials Sector Index. An index is unmanaged and not available for direct investment.
Real Assets
John LaForge, Head of Real Asset Strategy; Mason Mendez, Investment Strategy Analyst
"The resource of time is the ultimate resource." — Sunday Adelaja
Shale oil, the largest source of U.S. oil production growth, is slowing, which could indicate that supply will remain tight.
Investors' preference for capital discipline and economic, social, and governance concerns have kept U.S. production trends disciplined.
Shale oil production growth is slowing
The adoption of hydraulic fracking in the early 2000s sparked the shale revolution of the 2010s. From 2010 to 2020, U.S. oil production more than doubled, from 5 million to 12 million barrels per day — most of these extra barrels came from new shale deposits. In the end, consumers benefited greatly from the surge in shale oil production, as it kept a lid on oil and gasoline prices for many years.
About two years ago, however, U.S. consumers started facing much higher energy prices. There have been many speculations floated as to why, from global COVID-related lockdowns to the war in Ukraine. These have played their part, but U.S. shale has too, as growth has started to slow.
During the early years of the shale revolution, rich deposits allowed rig efficiency and production to grow significantly (see chart). The average production per rig grew from 35 barrels per day in 2007 to a peak of 1274 barrels per day in 2021 (chart, solid blue line). Since the peak, though, efficiency has come down sharply, and production growth has slowed (chart – dashed red line). This double whammy has led to shale suffering diminishing returns. To keep growth going, more capital investment is needed, which is not what energy investors are demanding of oil companies today. Investors today are more interested in production discipline and economic, social, and governance compliance.
Slowing U.S. shale oil production matters greatly to the direction of global oil prices because U.S. shale was one of the few areas of oil supply growth in the world that could satiate emerging market demands. As it stands today, global oil demand growth continues to outstrip supply growth by 4%. While a recession in 2023 could slow oil demand some, we remain skeptical that oil prices have much lower to go from here as supply remains a major global issue.
U.S. oil rig efficiency versus total new well production

This indicates that U.S. oil production is suffering from diminishing returns, and it will be difficult to substantially increase production without substantial capital expenditures. Sources: Energy Information Administration and Wells Fargo Investment Institute. Monthly data is from January 2007 – January 2023.
Alternatives
Mark Steffen, CFA, CAIA, Global Alternative Investment Strategist
Venture capital fundraising activity will remain constrained in 2023 as investors remain risk-averse in the aftermath of a California bank collapse.
A lack of investor confidence coupled with persistent economic headwinds will likely pressure valuations in the near-to-immediate term, eventually leading to a potentially more investor-friendly market for future venture capital funds.
Venture capital fundraising slows
Many observers cite a confluence of factors that led to the demise of a California bank on March 10, including a concentration of clients in the venture capital industry, as well as a mismatch of short-term liabilities (deposits) and long-term assets (securities). The bank's clients, largely technology-focused start-up businesses, were already facing headwinds from a growing economic downturn and a more difficult financing environment. Businesses were using existing cash at a faster pace, leading to an increase in bank deposit withdrawals. In addition to greater withdrawals, the rising level of interest rates led to realized losses on the bank's portfolio of longer-dated securities, creating a widening gap between the bank's assets and liabilities. In response, the U.S. government moved to ensure that all depositors would be made whole, thereby limiting further contagion within the banking industry.
Although the government backstop of bank deposits saved many start-up companies, their investors, and many small-to-mid-sized banks from significant losses, further bank failures may continue to impact venture capital markets. Ongoing economic uncertainty, stubborn inflation, and higher interest rates will likely impede fundraising activity in the near-to-intermediate term. While overall fundraising activity remained strong in 2022, a slowing pace was evident as the year progressed. We expect fundraising activity to remain subdued in the current environment. However, we believe a decline in valuations and capital availability should bode well for the opportunity set and potentially create a more investor-friendly market for venture capital funds set to launch during the downturn. We favor patience and maintain our neutral rating.
Venture capital funds: Capital raised and fund count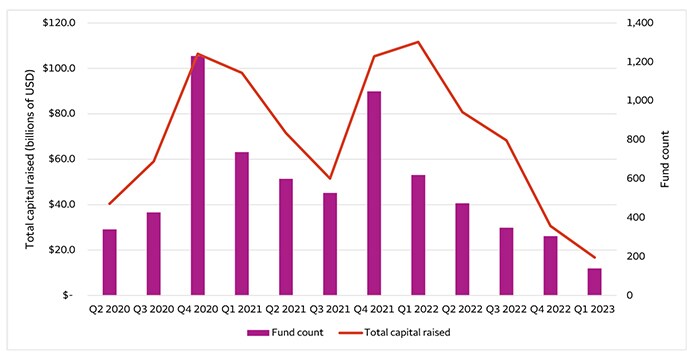 The bar chart shows that quarterly fundraising activity has declined from $105 billion in Q4 2021 to just $31 billion in Q4 2022. Similarly, the number of funds launched has declined from 1,049 in Q4 2021 to 305 in Q4 2022. The slower pace of fundraising has continued into 2023 with $17 billion raised across 139 funds. Sources: Pitchbook Data, Inc. Data as of March 14, 2023. Quarterly data is from the second quarter of 2020 to the first quarter of 2023, through March 14, 2023.