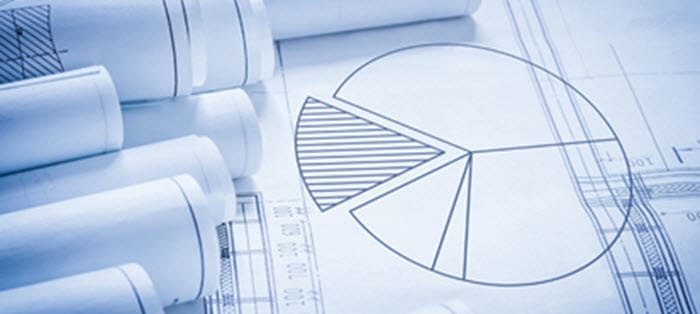 Rising Targets and Falling Earnings
---
Equities Spotlight
by Mark Litzerman, CFA, Head of Global Portfolio Management 
Recent developments and better-than-expected economic data have led us to take a slightly more constructive equity market view, especially as we look past the short term to 2021.
Although second-quarter S&P 500 earnings are expected to fall 40%, the earnings outlook has improved and consensus estimates are no longer falling. This improves the possibility of raising our earnings estimates in the future.
Two hallmarks of the current economic and pandemic crisis have been the rapid pace of change in markets and data—and the uncertainty of the impact of those changes. For equities, the sand has shifted quickly for investors as new information is digested that is often quite different from expectations. 
In our recently released 2020 Midyear Outlook report, we noted that we have become more optimistic on longer-term expectations and that we have raised our year-end equity target prices for 2020, while introducing higher targets for 2021. A question that we have heard on our 2020 S&P 500 Index price target is: "what, if anything, has changed since we previously raised this target?"
In fast moving markets such as these, the investment landscape can change quickly with new information and data. Here are some major developments since our last round of target changes in early June:
Economy—The U.S. labor market has shown sharp improvement as the May jobs report (payroll data) came in much better than was expected. Initial jobless claims also likely have peaked. Retail sales recently showed a higher-than-expected increase, suggesting that consumer wallets may be opening up sooner than was anticipated, due to pent-up demand. Consumer confidence, small business optimism, and purchasing manager index (PMI) data all seem to be bottoming and/or rebounding, which is an important sign of future activity. These improvements led Wells Fargo Investment Institute to upgrade its economic growth forecasts as the economy seems to be recovering more quickly than was expected.
Policy—We have seen a slew of additional measures undertaken by the Federal Reserve (Fed), global central banks, and government officials since early June, including the recent mention of possible infrastructure spending and additional federal stimulus bills. During the Fed's most recent meeting, we saw forecasts that policy rates may remain close to zero for years to come, which has a major and direct impact on risk premiums and valuation multiples. It also is worth noting how resolved Fed Chair Powell has been in his recent testimony about continued Fed accommodation for some time to come.
COVID-19—Headwinds do remain for the pandemic in the U.S. as several states have registered recent spikes in cases. While we have not yet seen a rise in cases that is severe enough to lead to a resumption of economic shutdowns, the potential for this is something that we are monitoring closely given the recent increases in cases. Additionally, in early June, five candidates made it to the second round of U.S. vaccine-related efforts, and recent research suggests promising treatment results using an existing drug.
Sentiment, trends, and markets—Many market and financial conditions have shown improvement since early June. These include tighter spreads (for both investment-grade and high-yield corporate bonds), steeper yield curves, higher nominal interest rates, wider equity market breadth, a U.S. dollar peak, and bottoming earnings per share revisions, to name just a few. 
In contrast to these positive developments, we are about to enter the second quarter earnings season, which we expect to represent the trough in earnings for the recession. Current consensus earnings estimates show S&P 500 earnings dropping 40% from 2019's second quarter. Nine of 11 equity sectors should reflect second-quarter earnings declines, with Financials, Industrials, and Materials expected to be the hardest hit. The good news is that earnings expectations for 2020 and 2021 have stopped falling and have settled at more optimistic levels than our own conservative estimates. As earnings results come in, we hope to see positive signs that may lead us to an upward bias for our own estimates in the weeks to come.
Consensus analysts' earnings estimates for the S&P 500 Index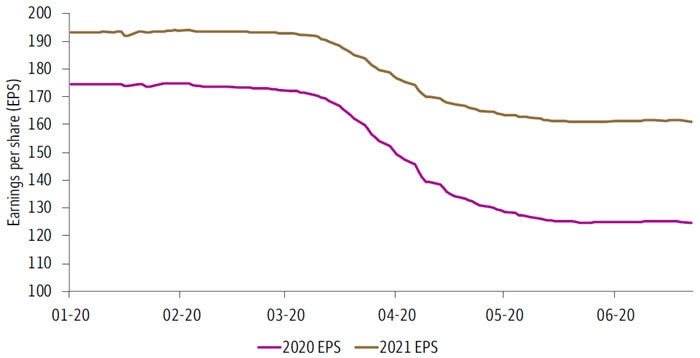 Sources: Wells Fargo Investment Institute, Bloomberg, June 2020. Data is as of June 22, 2020. 2020 and 2021 earnings per share (EPS) reflect analysts' consensus S&P 500 earnings estimates. Forecasts are not guaranteed and based on certain assumptions and on views of market and economic conditions which are subject to change.
As long as the Fed remains supportive, we believe that U.S. equity valuations can remain elevated. Even so, we expect that valuations will recede as earnings grow toward (and may eventually exceed) 2019 levels as the recovery takes hold in 2021 and 2022. A major reason that we decided to roll out year-end 2021 targets earlier than we have in the past is to help focus investors on the economic and earnings recovery that we believe lies beyond the near-term uncertainty and volatility, along with what we anticipate is the probability of further equity gains over longer time horizons.
Fixed Income
by Peter Wilson, Global Fixed Income Strategist
Emerging market (EM) bond yields have fallen sharply from decade highs, driven by the global risk-asset recovery and an intensified hunt for yield.
We remain neutral on EM debt denominated in dollars, but yields may struggle to push much lower, constrained by rising default concerns for weaker sovereigns.
Can emerging market debt yields fall further?
Like other global credit markets, dollar-denominated emerging market (EM) sovereign debt has reflected high volatility during the COVID-19 crisis. Before the coronavirus hit, JP Morgan Emerging Markets Bond Index yields of around 4.50% matched the lowest levels seen in the past decade (see chart). In early March, these yields rose to almost 7.50%, jumping from the bottom of the 10-year yield range to the top in a mere two weeks. Once Federal Reserve (Fed) support for U.S. credit markets was seen, emerging market bonds joined the rally, and EM sovereign yields swiftly returned to the 5.00% - 5.50% range.
Although the Fed is not directly supporting EM debt, investor demand is encouraged by the strong risk-appetite recovery galvanized by the Fed's actions. Further, now that U.S. Treasury yields have joined Japanese and eurozone government bond yields at levels below 1%, the global search for yield has intensified as the pool of even moderately-yielding assets is shrinking.
We remain neutral on EM debt and believe that it is reasonably valued at these levels. Yet, we doubt that EM yields can push much lower. Yields above 5% are attractive to investors, but any spread widening (increases) from here could result in capital losses that undercut total returns. Prices of weaker-credit sovereign bonds have room to fall if concern increases about defaults. We do not believe that conditions exist for the large-scale defaults seen in past EM crises, but it is likely that Argentina, Lebanon, and Ecuador—for which debt is already in restructuring—will be joined by some smaller and lower-rated sovereigns over the coming year.
EM sovereign yields—near the lower end of the past decade's range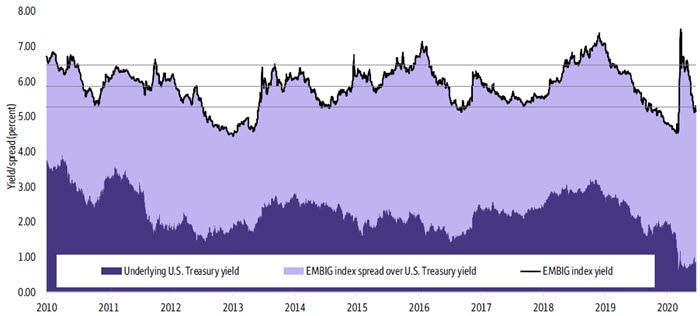 Sources: JP Morgan indices, Wells Fargo Investment Institute, June 23, 2020. The index used is the JP Morgan Emerging Markets Bond Index Global (EMBIG). See disclosures for index definition. Gray lines represent the average yield over the whole period (January 1, 2010 to June 23, 2020) and a one standard deviation band on either side of this average.
Real Assets
by Austin Pickle, CFA, Investment Strategy Analyst
"Life can only be understood backwards; but it must be lived forwards."  —Soren Kierkegaard
In this week's report, we provide a current look at our real estate investment trust (REIT) subsector guidance and how that guidance has fared.
For more details, please see our Real Assets Quarterly Guidance Report. 
A REIT is a REIT is a REIT, right? No.
A look at our REIT subsector guidance.
Publicly traded real estate investment trusts, or REITs, have long held a special allure for some investors. They tend to offer higher income distributions than most stocks, and they allow relatively easy real estate exposure without exorbitant capital requirements. REITs come in all shapes and sizes—a REIT that specializes in data centers is wildly different from a REIT that specializes in malls or office buildings. To help investors navigate "REIT land," we provide REIT subsector guidance. Let's take a look at our current REIT subsector guidance, and how it has fared.
The table below shows our current REIT subsector guidance, the inception date of that guidance, and the REIT subsector return relative to the REIT benchmark. Successful investing is all relative. Would we consider a 10% actual return for an investment to be good or bad? It depends—10% would be great if the benchmark returned -5% but bad if the benchmark returned 30%. To more accurately illustrate the success or failure of our REIT subsector calls, the returns in the table are relative. The 53.3% Infrastructure REIT "current guidance" inception to date (ITD) return means that the Infrastructure REIT index has returned 53.3% more than the REIT benchmark since we turned favorable. 
For more details on the rationale for each of our ratings and to track any future changes, please see our Real Assets Quarterly Guidance Report.
REIT subsector guidance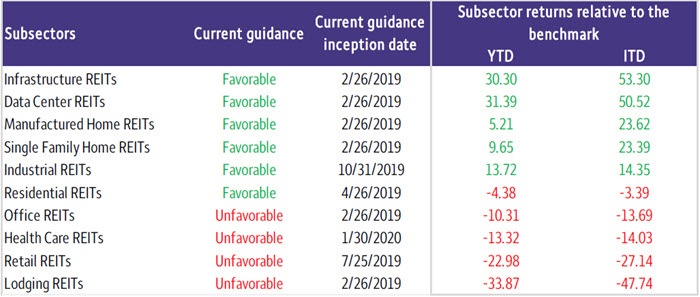 Sources: Bloomberg, Wells Fargo Investment Institute, June 23, 2020. ITD = current guidance "inception" to date. The REIT subsectors' benchmark is the total return of the FTSE NAREIT All Equity REITs Index. 
Alternatives
by Ryan McWalter, CAIA, Global Alternative Investment Strategist 
Stock correlations recently reached all-time highs, but we expect them to moderate as investors evaluate the pandemic's evolving economic impact and its effects on individual companies.
We remain favorable on the Equity Hedge strategy, and we prefer managers that maintain low-net exposure, which can offer downside protection during recessions.
Maintaining conviction in Equity Hedge amid headwinds
Stock correlations can be a good measure of the opportunity for Equity Hedge managers to separate winners from losers—and to possibly generate excess returns from long and short positioning— particularly when correlations are low. Yet, when correlations are high as they recently have been with the pandemic-driven risk off, risk on environment, company fundamentals are not necessarily reflected in stock prices. Stocks can instead be more influenced by short-term, broader market sentiment, which has been extreme as investors have struggled to forecast the coronavirus' economic fallout. While higher stock correlations are a headwind for the Equity Hedge strategy, we believe that correlations will moderate as investors parse through the actual COVID-19 impacts on the economy and individual companies. 
We continue to favor Equity Hedge managers with lower-net exposure that can tactically adjust their positioning in volatile markets and offer downside protection. Net exposure simply takes a manager's (or strategy's) aggregate long exposure and deducts the short exposure—which can provide a measure of a manager's long or short bias.  
During the last three recessions (1990-1991, 2001, and 2007-2009), the HFRI Equity Hedge (Total) Index outperformed the S&P 500 Index by an average of 9.86%. Outperformance during recessionary periods can help to smooth out an equity allocation's volatility, with the potential to limit drawdowns and enhance long-term returns. As a result, we continue to favor lower-net Equity Hedge strategies that can participate in market upside and protect capital during the bouts of volatility that can occur during economic downturns.
S&P 500 equity correlations have risen since the pandemic began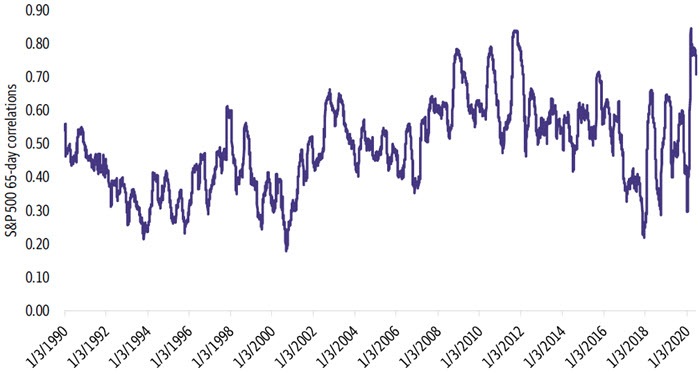 Sources: Strategas, June 24, 2020. Chart shows S&P 500 Index 65-day correlations from January 1990 through May 2020. Past performance is no guarantee of future results.