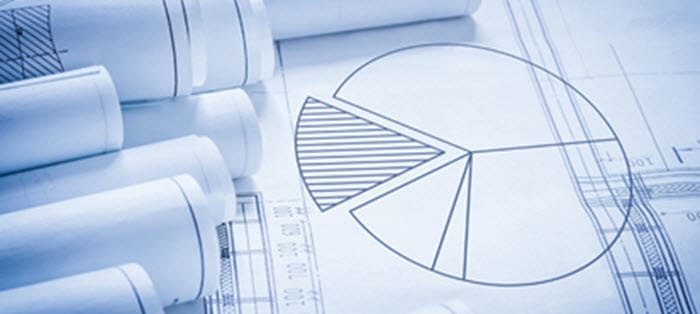 Annual checkup — What's your exposure to alternatives?
---
Alternatives spotlight
by Xinxin Liu, CFA, FRM, Global Alternative Investment Strategist
In the prolonged low-rate, low-yield environment, we believe it can be beneficial for qualified investors to ensure sufficient exposure to alternative investments, such as private capital and hedge funds.
Peak exposure to a private capital fund is typically 60%-80% of committed capital due to the drawdown structure. Qualified investors may work with their advisors and leverage our proprietary tool to create a plan in an effort to achieve the target allocation.
Alternative investments can be an important component of a diversified portfolio. It may include private equity, private debt, private real assets, and hedge funds. As companies stay private longer, as evidenced by the number of publically listed companies in the U.S. declining to 4397 in 2018 (nearly half of its peak in 1996), we believe it is more important for qualified investors to include private capital investments in their portfolios so they have full access to the entire capital market.
In the prolonged low-interest-rate environment since 2008, many sophisticated investors, such as pensions and endowments, have meaningfully increased their allocation to alternatives in an effort to enhance returns and generate alternative sources of yield. The largest endowments (those with assets greater than $1 billion) have consistently allocated close to 60% of their portfolios to alternatives in the past decade.
Similarly, Wells Fargo Investment Institute recommends that qualified investors allocate 16%-23% of their portfolio to alternatives, including private capital and hedge funds. For larger portfolios, the allocation to private capital may go as high as 28% and hedge funds up to 12%, when appropriate.
Chart 1. Sophisticated investors have increased their allocation to alternatives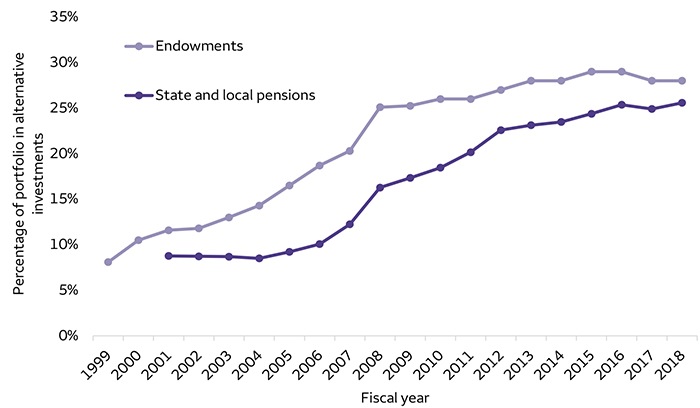 Sources: NACUBO endowment study, equal-weighted, May 26, 2020; Public Plans Database, plan size-weighted, November 9, 2020.
Assessing and planning a portfolio's exposure to alternatives is not as straightforward as for traditional assets. This is especially true with private capital. Due to the drawdown and self-liquidating structure, the capital at work at any point of the fund life is most likely below the full commitment amount, even though the committed capital is fully invested over time.
Private capital funds typically invest in highly illiquid assets, mostly through privately negotiated transactions. The fund manager only requests capital contribution from investors after investments are identified, and sometimes not until the transactions have been closed. Generally, it takes three to five years before an investor's total committed capital is called into the fund. As investments in the fund reach their growth potential and gains are realized, cash distributions (including the original cost of investment and gains) are paid out to investors. While we believe this structure promotes the best alignment of interests between the fund manager and investors, it creates challenges for investors to plan their future exposure to private capital.
Chart 2. Illustration of a $100,000 commitment to a private capital fund
Source: Wells Fargo Investment Institute, November 16, 2020. Simplified for illustration purposes, actual cash flow and account value may vary. This information is hypothetical and is provided for informational purposes only. It is not intended to represent any specific return, yield, or investment, nor is it indicative of future results.
As illustrated above, the exposure to a private capital fund commitment ramps up over the years as contributions are made, then declines gradually as the investments are realized and distributions are made to investors. In this simplified example, though every dollar of the $100,000 commitment has been contributed to the fund, the peak exposure was only slightly above $80,000 due to distribution from earlier investments.
Empirically, the peak exposure of a private capital fund is 60%-80% of the total commitment. Investors may use a staggered, multi-year commitment plan to achieve the target exposure level. We encourage investors to have discussions with their investment professionals and leverage our proprietary tool, the Private Capital Planner, to create a proactive plan that can help to align the portfolio with the allocation goal.
Equities
by Ken Johnson, CFA, Investment Strategy Analyst
Emerging Asia has outperformed, in part, due to the region's better job at containing the spread of COVID-19. We believe the region is poised for better performance as the global economy picks up.
Continued weakness in Latin America and Emerging Europe, Middle East, and Africa, (EEMA) add pressure to broader emerging market outperformance.
Asia shines bright for emerging markets
Emerging Asia accounts for 82% of the MSCI Emerging Markets Index, which has returned more than 20% year to date (as of November 18, 2020), led by China. China's equity performance can, in part, be attributed to stimulus efforts which have been targeted to boost investments and business spending. China and other emerging Asian countries have been able to contain COVID-19, allowing their economies to reopen and remain open, while other regions have struggled.
Global activity has improved, and external demand has firmed — evident by a pick-up in Chinese exports and shipments. Signs of improving domestic demand is also brewing, with auto sales back to trend growth (led by commercial auto sales). However, broader retail sales are still below pre-crisis levels, though there is potential for consumer spending to pick up in 2021. We anticipate faster economic growth in China versus the U.S.
Asia aside, Latin America and Emerging Europe, Middle East, and Africa, (EEMA) performance has been constrained by pandemic-related problems, limited resources to counter it and political uncertainties, and lower demand for commodities. Rising materials prices, world-trade recovery, and the recent vaccine news are providing a tailwind for commodity producers. However, structural issues could prolong the downturn and delay a recovery. Overall, we see the risks more balanced for emerging markets and have upgraded our view from unfavorable to neutral.
Broader emerging regions have vastly underperformed Emerging Market Asia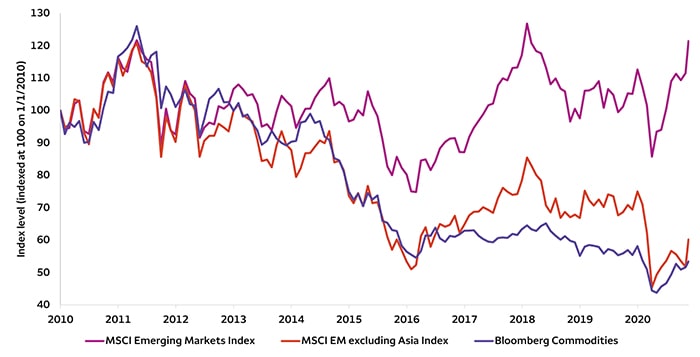 Sources: Wells Fargo Investment Institute, Bloomberg, November 18, 2020. An index is unmanaged and not available for direct investment. Past performance is no guarantee of future results. Please see the end of the report for the index definitions and risk considerations.
Fixed Income
by Peter Wilson, Global Fixed Income Strategist
Since the U.S. elections and recent vaccine announcements, markets have been torn between significant near-term political and public-health worries and more optimistic post-COVID-19 scenarios for the U.S. and global economies.
Fixed-income markets and currencies seem to have made a provisional decision to look through near-term uncertainties and to focus on the brighter outlook for later in 2021.
Bonds and currencies look beyond near-term uncertainties
Events of early November have created a market environment that is a mix of significant near-term concerns and medium-term reasons to be more cheerful. While the U.S. presidential election result remains subject to legal challenges, and the Senate race will not be decided until January 5, two vaccines with expected efficacy over 90% have been announced, and these may start to be administered early in 2021 if not sooner. Yet, until that happens, COVID-19 cases and fatalities continue to soar amid increasing restrictions and more economic damage in both the U.S. and Europe.
We looked at how selected fixed-income and currency markets reacted in the two weeks following the November 3 elections (see table below). In most markets, we observed signs of either a strong or a moderate "risk-on" response, that is, so-called perceived "safe-haven" markets tended to be weaker and "risk-friendly" markets outperformed. In the U.S., credit markets such as high yield did best. Traders and investors perceive a favorable risk/reward balance, as high yield can be expected to perform well under better macroeconomic conditions, and at the same time may be supported by Federal Reserve policy if these conditions fail to materialize.
The U.S. dollar appears generally weaker against developed currencies, as its perceived "safe-haven" attributes are less in demand, and emerging market currencies are getting tentative support from hopes of a stronger global recovery. While there is clearly room for a renewed upsurge in volatility and risk perceptions in the next couple of months, we expect these more positive trends to persist further into 2021. We maintain a favorable outlook on high-yield bonds and look for a further moderate decline in the dollar against developed market currencies next year.
Bonds and currencies point to a better outlook for risk

Sources: Bloomberg, Wells Fargo Investment Institute. Latest data as of November 13, 2020. UST = U.S. Treasury. Bund = German government bond. BTP = Italian government bond. GB = government bond. DXY = the U.S. dollar index (a weighted average dollar exchange rate index against 6 major currencies, base year 1973, calculated by ICE Futures U.S.). EMFX = Emerging market foreign exchange, represented by the JP Morgan Emerging Markets Currency Index (EMCI). HY spreads are based on the Bloomberg Barclays U.S. Corporate High Yield Bond Index and emerging market sovereign bond spreads are based on the JP Morgan Emerging Market Bond Index Global (EMBIG). bp = basis point. 100 basis points equals 1%. Yields represent past performance and fluctuate with market conditions. Current yields may be higher or lower than those quoted above. Past performance is no guarantee of future results. An index is unmanaged and not available for direct investment. Please see the end of the report for the index definitions and risk considerations.
Real Assets
by Austin Pickle, CFA, Investment Strategy Analyst
"Everyone thinks of changing the world, but no one thinks of changing himself." — Leo Tolstoy
Midstream energy companies have done little to participate in the energy transition to date.
This may be changing, as the Midstream earnings season saw an unprecedented focus on the energy transition.
Midstream and the energy transition
The energy transition has been a hot topic recently. The term "energy transition" references the quest to move away from fossil fuels — like oil and natural gas — in our energy mix towards renewable and alternative energies. This movement has been gaining momentum in recent years and there have been high profile commitments from companies, countries, and regions. Even China — perhaps the most notorious emitter — recently pledged to be carbon neutral by 2060. What have Midstream energy companies done in an effort to hedge against this existential threat to their primary business? To date, little. But that may be changing.
The group seems to be coming to the realization that even though the energy transition will likely take many decades, action is needed now to keep pace with the world around them. Or could the motivation be that investor money is flowing towards clean energy (see chart below)? Regardless of the motivation, this past earnings season saw an unprecedented Midstream focus on the energy transition. One of the largest Midstream companies went so far as to announce plans to have net zero emissions by 2050.
Midstream opportunities to contribute to a cleaner future include investments in wind and solar, reducing methane leaks, incorporating carbon capture technologies, utilizing renewable energy to power existing infrastructure, and investing in and leveraging existing infrastructure to foster the growth of renewable natural gas and hydrogen.
We expect future Midstream earnings calls to feature an increasing number of "green" commitments like these in an effort to not be left behind by the energy transition.
Midstream performance versus clean energy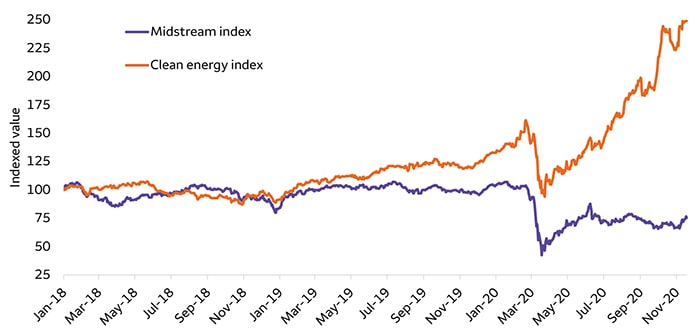 Sources: Bloomberg, Wells Fargo Investment Institute. Daily data: January 1, 2018 – November 18, 2020. Indexed to 100 as of the start date. Midstream index is the total return of the Alerian Midstream Energy Index. Clean energy index is the total return of the S&P Global Clean Energy Index. An index is unmanaged and not available for direct investment. Past performance is no guarantee of future results. Please see the end of the report for the index definitions and risk considerations.