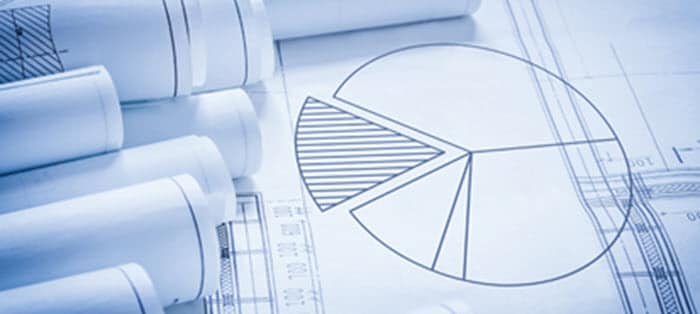 Fixed Income spotlight
Peter Wilson, Global Fixed Income Strategist
Undeniably, 2022 has been a bad year for emerging market (EM) bond returns. But, compared to long-term domestic debt and to the hit taken by developed market ex-U.S. bonds, performance has not been uniquely poor, and not driven by factors specific to emerging markets.
Things may look better this time next year. The twin headwinds of rising U.S. yields and a surging dollar may turn to tailwinds, supporting both U.S.-dollar-denominated and local-currency EM debt.
A better year for emerging market bonds in 2023
We contend here that 2023 will likely be a better year than 2022 for emerging market (EM) sovereign bonds, both U.S.-dollar- and local-currency-denominated. Skeptics may respond that it could hardly be worse! After all, year-to-date returns are -18.6% for U.S.-dollar-denominated sovereigns and -11.6% for local-currency sovereign debt (returns to the dollar-based investor) . This is a fair point, but there are important qualifications when looking at this year's returns. First, the bulk of the damage to U.S.-dollar-denominated bond returns has come from the rise in underlying U.S. Treasury yields, and not from the widening of credit spreads. The dollar sovereign's index is of relatively long duration (a measure of interest-rate sensitivity), around seven years, and negative returns for this market should be seen in the context of longer-term U.S. taxable debt year-to-date returns of -28.0%. For local-currency debt, even factoring in currency losses, this sector's -11.6% year-to-date return outperforms not only the dollar sovereigns, but also developed market ex-U.S. debt, where year-to-date returns are -22.3%, due to losses in the main currencies of euro, yen, and pound that generally exceed the losses in major EM currencies in 2022.
Emerging markets' interest rate advantage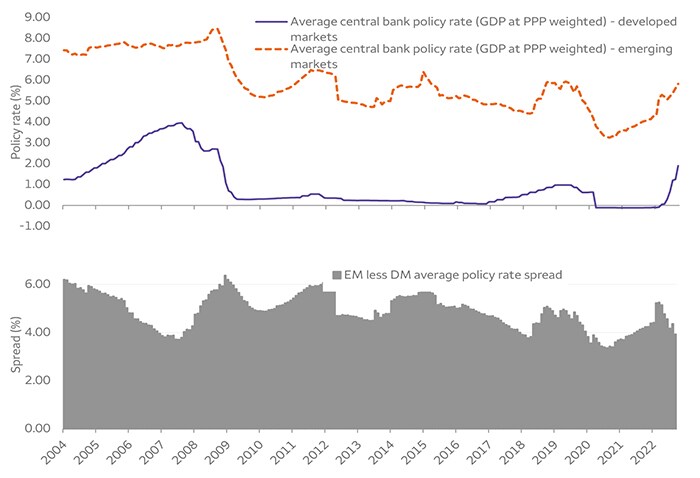 The upper panel of the chart shows average central bank monetary policy interest rates in developed market and emerging market countries from the start of 2004 through November 18, 2022.  The solid line shows the weighted-average central bank policy interest rate in 11 developed economies (using gross domestic product at purchasing power parity as weights).  The higher, dashed line represents the weighted-average central bank policy interest rate in 26 emerging economies (averaged using the same methodology). The lower panel shows the spread between emerging market and developed market policy rates (that is, between the two series on the upper panel) depicted in solid bars. Sources: International Monetary Fund (IMF), Bank for International Settlements, national central banks, Bloomberg, and Wells Fargo Investment Institute. Latest data as of November 18, 2022. The DM series is a weighted average of 11 DM central bank policy rates, using gross domestic product (GDP) at purchasing power parity (PPP) as weights. The EM series is a weighted average of 26 EM central bank policy rates, using GDP at PPP as weights. Purchasing power parity is the measurement of prices in different countries that uses the prices of specific goods to compare the absolute purchasing power of the countries' currencies.
Proactive central banks, and a larger rate cushion
The chart on the previous page illustrates a couple of reasons for this outperformance from EM currencies and local debt, and also for EM debt's generally greater resilience in recent years. EM central banks have been raising policy interest rates since mid-2020, and in aggregate rates are some three percentage points higher, reaching almost 6%, whereas develop market (DM) central banks have been playing catch-up since early 2022. Higher rates across (local) yield curves give EM central banks more policy flexibility in tackling both inflation and economic downturns, and the wider yield differential in itself provides both greater currency resilience and a larger cushion against capital losses if rates rise further.
Opportunity and risk in 2023
When we suggest better returns in 2023, we are thinking mainly of two broad drivers. Firstly, for dollar sovereigns, we believe that the headwind of higher U.S. Treasury yields (10-year Treasury yields have risen 230 basis points so far this year) will become a tailwind in 2023, as yields top out and gradually decline, in line with subsiding inflation and a more supportive Federal Reserve (Fed). It is for this reason that we have shifted our view on domestic U.S. long-Term taxable bonds to "Most Favorable". Secondly, local-currency EM debt may present the U.S.-dollar-based investor with better performance next year, if, as we expect, tamer inflation and an easier Fed result in the dollar's stellar rise peaking and partially retracing, helping EM currencies to reverse 2022's losses.
The main risk is likely a further deterioration of credit conditions. If our macro-economic forecasts are correct, then by the end of 2023 we will have passed through a moderate recession in the developed economies, the U.S., the eurozone, and the U.K. We expect U.S. credit spreads to widen from current levels in such an environment, and in that context, we maintain an Unfavorable view on domestic U.S. high-yield debt. It would be reasonable to expect EM sovereign spreads to widen also, but we believe that any such widening would be contained within historical ranges — from current levels of around 400 basis points over Treasuries, we do not see EM sovereign spreads widening significantly beyond the post-financial-crisis highs around 550 basis points (not counting the very short-lived COVID-19 spike beyond 650 basis points). Further, if spreads are widening against a recessionary backdrop, this move would likely be offset by lower Treasury yields, as we mention above; and, even if the balance of these moves results in index yields pushing slightly higher in 2023, then the current starting point for index yields, at 8% – 9%, broadly reflecting the income component of any return, provides a more robust cushion against capital losses.
Balancing duration and credit — neutral for now
In short, EM U.S.-dollar-denominated sovereign index yields are a more attractive proposition at the 8% – 9% levels seen in the fourth quarter of 2022 than at the 4% – 5% range of 2021. Balancing duration and credit, we are neutral on the sector right now; but with underlying interest rates and the dollar approaching turning points if inflation subsides next year, somewhat wider credit spreads as we move through developed economy recessions may provide an opportunity for a more positive view on the asset class.
Equities
Austin Pickle, CFA, Investment Strategy Analyst
"If you want to lift yourself up, lift up someone else." — Booker T. Washington
Developed Market ex-U.S. (DM) Equities have handily outperformed their U.S. counterparts over the past few weeks. Yet, we doubt the outperformance is sustainable.
We view the recent DM relief rally as an opportunity to lessen exposure for those who are overweight our DM allocation guidance.
Sell the DM rally
U.S. stocks have outperformed international stocks for much of the post-global-financial-crisis period. Yet, over the past few weeks, Developed Market ex-U.S. (DM) Equities have handily outperformed their U.S. counterparts. Do we expect this to be the start of sustained DM outperformance? In a word, no. Why?
There are a number of reasons. For one, the recessions in Europe, Japan, and other developed economies are likely to be more severe than in the U.S. due in no small part to the disruptions caused by the war in Ukraine, the related spike in energy costs, and those countries' dependency on energy imports. Slumping world trade should also be a drag on DM's more export-oriented economies.
Additionally, our dollar forecast calls for the greenback's recent ascent to stall but remain relatively firm throughout 2023. Historically, DM equities have failed to outperform without the support of a substantially weakening U.S. dollar. The chart below illustrates this point by plotting the U.S. Dollar Index (DXY) against the performance of the S&P 500 Index relative to our DM benchmark — the MSCI EAFE Index. A declining purple line indicates that the MSCI EAFE Index is outperforming and vice versa. Notice that DM has only consistently outperformed during periods of considerable dollar weakness.
In aggregate, DM earnings growth prospects, geopolitical risks, structural restraints, and our dollar forecast reinforces our preference for U.S. over DM equities. We view the recent DM relief rally as an opportunity to lessen exposure for those who find themselves overweight our DM allocation guidance.
DM has typically outperformed only alongside a substantially weaker U.S. dollar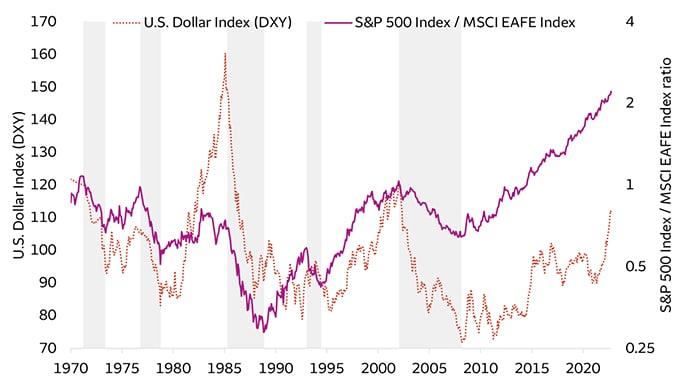 The chart plots the U.S. Dollar Index (DXY) against the relative performance of the S&P 500 Index versus the MSCI EAFE Index (our benchmark for Developed Market Equities). Shaded areas highlight periods of consistent Developed Market outperformance. These periods have only occurred alongside a substantially weakening U.S. dollar. Sources: Bloomberg and Wells Fargo Investment Institute. Monthly Data: January 30, 1970 – October 31, 2022. When the S&P 500 Index / MSCI EAFE Index line is moving higher it means that the S&P 500 Index is outperforming the MSCI EAFE Index and vice versa. Gray shading indicates periods of consistent DM outperformance. An index is unmanaged and not available for direct investment. Past performance is no guarantee of future results.
Real Assets
John LaForge, Head of Real Asset Strategy
"To be ignorant of one's ignorance is the malady of the ignorant." — Amos Bronson Alcott
Run-ups in commodity prices can lead to substitutions as demand shifts from the more expensive commodity to the cheaper one.
Europe's energy crisis could lead to further investment into new renewable projects.
Substitution in commodities
Commodities were one of the best performing asset classes in 2022. Specifically, energy had an amazing year, up 55% year-to-date , but such increases in commodity prices can eventually shift demand. This change in demand as a result of price changes is the substitution effect, and given the run-up of commodity prices, we will look at an example of substitution in history and where we have seen it in 2022.
One notable example was the substitution of crude oil for coal in electricity generation following the 1970s oil crisis. Over the decade, conflict and instability in the Middle East led to widespread shortages and rising oil prices, leaving many nations out to dry. Many countries were then forced to substitute expensive crude for cheap coal. Looking at the chart below, as the price of oil increased, the share of oil used in electricity generation decreased from a high of 21% in 1973 to a low of 9% in 1985.
In 2022, we are experiencing a similar crisis from the Russia-Ukraine war as natural gas pipelines used by Europe for electricity and heating were tapered off, creating shortages and sending prices higher. As a result, demand for petroleum products has increased, but countries are also turning to substitutes such as renewables and even coal. Germany, for example, reopened plants and increased coal production in September, despite previously attempting to reduce coal usage.
Though we do not expect long-term increases in coal usage due to widespread economic, social, and governance concerns, it can create opportunities for other substitutes. In Europe specifically, shortages and high gas prices will likely lead to increased investment into new renewable projects.
1970s Oil crisis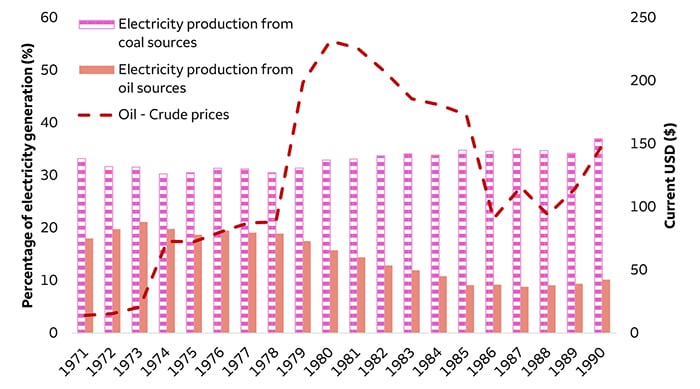 This chart shows the share of electricity production produced by coal and oil sources during the 1970s oil crisis and the decades that followed, until 1990. As the price of oil increased, the share of electricity produced from oil sources decreased and the share of coal production increased, showing that as oil became more expensive, it was substituted for cheaper coal. Sources: International Energy Agency, Our World In Data, and Wells Fargo Investment Institute. Annual data is from 1971 – 1990. Past performance is no guarantee of future results.
Alternatives
Brian Lane, Lead Analyst, Private Credit Global Manager Research
Diversified private equity allocations may generate higher risk-adjusted returns.
Concentrated private equity allocations may not be worth the risk.
Benefits of diversification in private capital
Many qualified individuals have decided to invest in private capital within their portfolios. Within the private capital allocation of a diversified portfolio, asset allocators like ourselves are trying to generate alpha (excess return). Recently, we have witnessed a trend gaining momentum in the pursuit of alpha. Many chief investment officers, whether at endowments, foundations, or large or small pension plans, are rationalizing private market exposure and holding a select group of higher conviction managers. We believe the thought process is simple, concentration plus conviction can lead to alpha and diversification waters down the return potential. While this sounds logical, it is also a risky strategy based on the allocator's edge in manager selection within private capital. The downside risk is significant. This poses the logical question: Is the concentrated strategy worth the risk?
Based on an analysis from the proprietary database of fund data of one of our partners, a Boston-based private equity manager, diversification in the private equity allocation could generate optimal results. The results of the analysis are displayed in the chart below. As you can see, the potential for a 2.0x return is higher in the concentrated portfolio, but the probability of getting less than 1.5x is also greater in the concentrated portfolio. These results suggest that a diversified U.S. buyout portfolio has a higher expected return, higher risk-adjusted return, and reducing downside exposure over short- and long-term return horizons. Although this analysis is strategy specific and is only one data point, it demonstrates the possible benefits of diversification with the private capital allocation.
Hypothetical 10-year TVPI distribution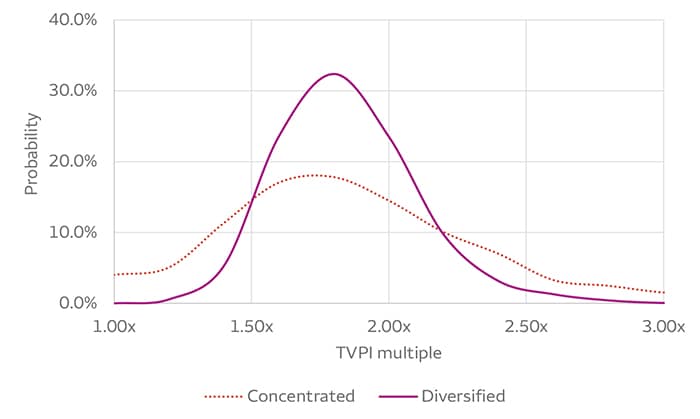 The chart displays the distribution of 10-year return multiples and associated probabilities for a concentrated and a diversified portfolio of U.S. buyout funds from HarbourVest's proprietary dataset. Historical vintages from 2004 to 2018 are used in constructing the portfolios. The concentrated portfolio has two buyout funds, while the diversified portfolio has nine buyout funds. Returns are measured as multiples of total value to paid-in capital. The chart demonstrates that the diversified portfolio has higher chances of achieving return multiples in the 1.5-2.1 times range than the concentrated portfolio.  Source: HarbourVest proprietary data set comprised of HarbourVest investment, due diligence, and monitoring data as well as third-party data. Note: Simulation parameters: Vintage years 2004 - 2018; Concentrated U.S. buyout portfolio: 2 U.S. buyout funds; Diversified U.S. buyout portfolio: 9 U.S. buyout funds. Even allocation for portfolios over three consecutive vintage years. Returns are net of underlying fund fees and carry and are gross of any additional fees and expenses. TVPI = Total Value to Paid in Multiple. The graphic and data above are based on a Monte Carlo simulation. The vintage years used in the simulation were selected based on the availability of underlying data in HarbourVest's proprietary data set. Past performance is no guarantee of future results