Key takeaways
Attacks on oil tankers carrying supplies away from the Middle East are another reminder that events can have a disproportionate impact on markets when the global economy is slow.
We have accounted for some premium in oil prices since the beginning of the year but do not anticipate that oil supplies will be disrupted significantly.
What it may mean for investors
Despite the support from global central banks so far this month, other recent global events provide investors with useful reminders that a slowing global economy, trade disputes, and geopolitical risks are reasons for some caution.
Hints by central bankers in the U.S. and the eurozone so far in June have buoyed global equity markets, especially in the U.S., but events in the background present some concern for the near-term outlook. Signs continue to point to slower global economic growth in the back half of 2019, and geopolitical concerns are not lessening. Tensions have flared suddenly in Hong Kong, as China proposed a change in Hong Kong law to allow extradition to China. The U.S.-China trade dispute remains tense, and the U.S. is threatening sanctions against Germany's gas pipeline deal with Russia. The most recent event was another attack on an oil tanker in the Gulf of Oman. 
Thanks to fears over slowing global growth, oil prices have had a rough go of it in recent months. Not today, though. Today, the world woke up to oil prices spiking 4%. What happened? The sinking of oil tankers in the Gulf of Oman is what happened. And unfortunately, we're expecting more oil price volatility in the coming months. 
To catch you up, there has been a sneaky conflict between the U.S. and Iran, which began soon after President Trump was elected. The U.S. has tightened sanctions on Iran to abandon its nuclear program completely. The U.S.'s main weapon is to cut-off U.S. allies from buying Iranian crude oil. Oil being the lifeblood of Iran's economy, one could understand that this conflict could escalate. And it appears that it finally has. Over the last month, six oil tankers have been attacked inside the Gulf of Oman.
Why now? While the U.S. has been talking a good "pressure Iran's nuclear program" game for a few years now, the real tension started roughly six weeks ago. On May 2, 2019, the U.S. formally pulled all oil waivers it had granted to its allies buying Iranian oil. The chart below shows that the U.S. tactics are working. In a few short months, Iran's oil exports have dropped by more than one million barrels per day to less than 500,000 barrels. We expect Iran must be feeling the economic pressure.  
Now, it is not clear who attacked the ships today. Iran has denied responsibility, as have the other interested parties—Saudi Arabia, the U.S., Yemen, etc. However, who did it is beside the point. The reality is that anxiety is building in the Middle East, which exports 44% of the world's crude oil. The real point is that oil prices will likely float higher this summer, alongside elevated tensions in the Middle East.    
We've been expecting Iran to evolve into a major issue this year and have reflected this in our 2019 oil targets. Our $65 West Texas Intermediate (WTI) year-end 2019 target can be broken-down into $55 supply/demand balance and $10 geopolitical premium.  Our $70 Brent oil target can be broken-down into $60 supply/demand balance and $10 geopolitical premium.  
Stay tuned for more coming from the Middle East this summer.
Chart 1. Iran's crude oil exports by region
---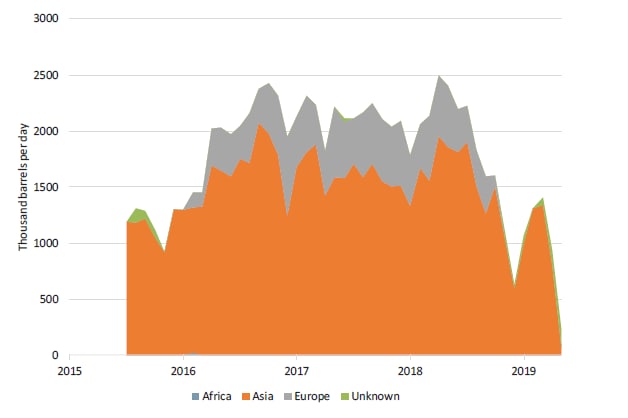 Sources: Bloomberg, Wells Fargo Investment Institute. Monthly data: July 31, 2015 - May 31, 2019.
What we believe investors should do now 
For perspective, we do not believe that global oil flows are at risk of a serious interruption and have been accounting for some geopolitical risk premium. Also, we anticipate an eventual U.S.-China trade deal, even a simple one that may not solve all the issues between the two countries. However, it is also likely that notable volatility will continue through the end of the year.
We remain neutral on U.S. large- and mid-cap equities, meaning we prefer to stay close to long-term target allocations. In order to move from neutral back toward favorable, we need to see a pullback in equities that enables meaningful appreciation toward our year-end and 12-month-ahead targets. Put another way, our strategy is to look for opportunities to rebalance when markets move significantly in either direction. On pullbacks, we will look for opportunities to allocate cash in global equities. But if markets rise steadily, we expect to trim positions toward long-term target allocations.
Although we have a neutral outlook on U.S. large-cap equities overall, we favor the Energy sector, in part because our analysis indicates that earnings should rise if, as we expect, oil prices return to our target range in the second half of the year. We view the recent pullback in Energy sector valuations, and now in oil prices, as an attractive buying opportunity.