by Sameer Samana, CFA, Senior Global Market Strategist
Key takeaways
After an almost 35% decline, the S&P 500 Index of large-cap U.S. equities has staged a sharp recovery of more than 40%.
Given the quick gains, investors may now be wondering if the worst is behind us—and if it is time to lean into equity markets.
What it may mean for investors
We believe the powerful global monetary and fiscal policy response and the earlier-than-expected economic recovery have reduced the time that history suggests markets need to fully recover after such a significant drawdown, but additional volatility lies ahead.
We advise investors to maintain recommended equity allocations within portfolios, especially on pullbacks.
Given the recent drawdown and rebound in equity markets, we thought it would be helpful to remind investors about the historical framework we use when assessing if markets have bottomed—from a technical analysis standpoint. In essence, we view the bottoming process and its gyrations as falling into one of three phases: the Breakdown, the Consolidation, and the Bullish Breakout. For more details, please see The Bottoming Process—A Step-by-Step Guide (Institute Alert, March 30, 2020).
Where are we currently?
Since March 23, the S&P 500 Index has staged a remarkable and historically atypical recovery, driven by a significant amount of monetary and fiscal measures, an economy that is rebounding earlier than most—including us—expected, and the declining odds of a scenario in which a new round of COVID-19 cases would lead to a global shutdown. The equity market's recovery has also happened much faster than we expected, and there are some conclusions we can draw from recent price action.  
First, a retest of the March lows remains very unlikely as long as policy makers remain resolute in their efforts to soften the coronavirus-related economic blow, the reopening of the global economy continues, and the uptick in new cases does not lead to a widespread shutdown or freeze consumer spending. Second, despite the market's retracement of losses, we are still in Phase 2 (the Consolidation), which is defined by markets chopping sideways in a wide trading range, and is consistent with our 2020 year-end target range of 3150-3350.  
The two signposts needed to confirm a Bullish Breakout on the S&P 500 Index would be a breakout to new all-time highs (previous all-time high was 3393.52) and the 50-day moving average crossing above the 200-day moving average, which tends to be a significant technical development known as a "golden cross" (Chart 1). Historically, these accomplishments have been reliable signals that we are at the start of a new, sustained, multi-year bull market in equities.  
The chart below shows that these two conditions for a new bull market are unmet, despite the rapid rebound in the S&P 500 Index. What's more, the pace of the recovery thus far does not preclude ongoing bouts of volatility. Such bouts of volatility are typical of Phase 2 and could be driven by upcoming U.S. political uncertainty, U.S.-China relations, geopolitics, and the ongoing spread of COVID-19; this is especially true as we approach the resistance the market is bound to encounter at the upper end of the trading range.  
Investment implications
We believe investors should stay disciplined and use time-tested strategies, such as asset allocation, dollar-cost-averaging, and rebalancing, in order to contend with these fast-moving markets. As a reminder, we continue to favor U.S. large- and mid-cap equities and the Information Technology, Consumer Discretionary, Health Care, Communication Services, and Financials sectors.
Chart 1. The S&P 500 Index with 50- and 200-day Moving Averages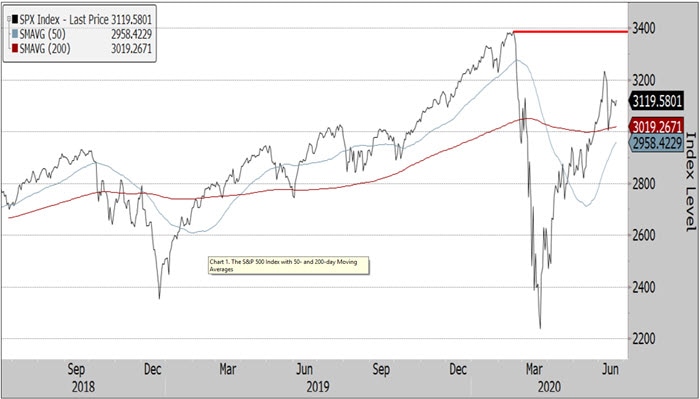 Source: Bloomberg, 6/19/20. Copyright ©2020 Bloomberg Finance L.P. SPX Index is the ticker for the S&P 500 Index on Bloomberg. An index is unmanaged and not available for direct investment. Past performance is no guarantee of future results.