by John LaForge, Head of Real Asset Strategy; Peter Wilson, Global Fixed Income Strategist
Key takeaways
A material risk of European energy shortages and rationing likely will persist through the coming winter.
The impact of the crisis on U.S. consumers and businesses is likely to come through globally higher heating costs in the coming months, but we do not expect U.S. shortages.
What it may mean for investors
We believe the European energy crisis has implications for currencies, developed market stocks and bonds, Commodities, and the U.S. Energy sector.
What do we mean by the European energy crisis? What are the causes?
Energy prices have spiked the world over in 2022, but no continent has fared worse than Europe. Chart 1 tells the story. As of September 12, natural gas prices in Europe are roughly 15 times higher than January 2020, liquefied natural gas (LNG) prices in Asia are some 9 times higher, and even in the U.S., natural gas prices have risen by nearly 3 times.
Chart 1. Selected global natural gas prices spike higher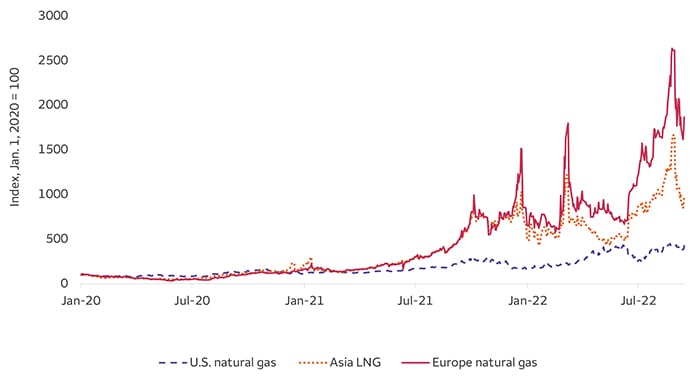 Sources: Bloomberg, Wells Fargo Investment Institute. Daily data, January 1, 2020 – September 12, 2022. Each line represents a regional natural gas price indexed to January 1, 2020 = 100. The U.S. natural gas price is represented by the generic first futures price. Asia LNG is represented by the LNG Marker swap futures price for Japan and South Korea. The Europe natural gas price is the Netherlands TTF natural gas one-month forward price.
Price is only part of the energy problem in Europe — energy dependence is the other. European Union (EU) and U.K. economies depend heavily on Russian natural gas. Before the Russian invasion of Ukraine, Russia accounted for 38% of the EU's total natural gas demand, and for Germany, the share was more than 50%. These numbers have since dropped as Russia has politicized and weaponized its energy exports. Russian exports of natural gas to Europe slowed dramatically during the first few months of invasion, and in recent weeks have essentially stopped with the closing of Russia's largest pipeline, Nord Stream1.
Now heading into the winter months of 2022, with natural gas prices high and imports low, Europe is facing the potential for a full-blown energy crisis.
Can you explain why natural gas, especially, is so important?
Germany's and the EU's manufacturing and export-oriented industrial model came to rely on extremely cheap Russian natural gas. It is in part for this reason that surging natural gas futures prices in Europe have gone hand in hand with a tumbling euro, which now trades close to parity with the U.S. dollar for the first time in 20 years.
What historical perspective do we have on Russia weaponizing its energy exports?
After the so-called "Orange Revolution" in Ukraine in November 2004, when the Kremlin-favored leader was replaced by a pro-Western candidate, Gazprom (the Russian state gas company) massively hiked gas prices at first and then eventually suspended gas flows to Ukraine. The latest cuts in Russian exports to Europe have been even more drastic (Chart 2).
Chart 2. Russian exports of natural gas to Europe fall to near 40-year lows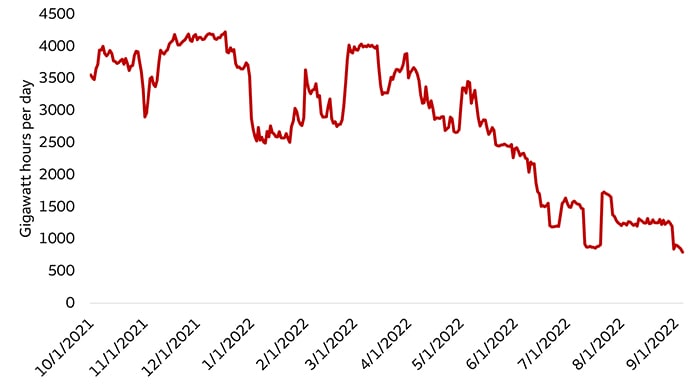 Sources: European Network of Transmission System Operators (ENTSOG), Wells Fargo Investment Institute. Daily gas flow from October 1, 2021-September 5, 2022. Russia's natural gas exports by pipeline include exports to the EU and the United Kingdom as measured by daily flow volumes at the main entry points in Germany, Slovakia and Poland.
Does Europe have enough natural gas supplies to make it through the winter?
It appears so, but we believe the ultimate answer may depend on the winter weather. The EU set a target for storage facilities to be 80% filled by October 1 and hit that target in late August. As of September 6, 2022, storage is 82.8% filled, which is about average for this time of year.
On the potential negative side, Europe often needs more natural gas than what sits in storage, often relying on continued winter production from Russia. Should the 2022 winter be colder than normal, parts of Europe may face supply crises that extend beyond simply high prices.
Where is Europe's natural gas coming from now? 
Norway has become the main supplier of natural gas to the EU, and Algeria and the Middle East have increased production to partially fill the Russian gap. The U.S. is helping, too, by exporting its natural gas to Europe in the form of liquefied natural gas (LNG). LNG has long-term potential to help replace Russian natural gas; however, much of Europe lacks the required regasification infrastructure, so its impact will likely not be significant for a few years. 
Switching fuels has also helped Europe fill its natural gas storage tanks faster than most have expected. Power plants are switching to coal, and oil where available, which has freed-up more natural gas supplies to find their way to storage.
Will Europe have to ration energy this winter?
Germany and the EU may survive without the need to ration gas usage, but it could be a close call that depends mostly on the weather to come. According to estimates by the Brussels-based economic think-tank Bruegel, a 15% reduction in demand over the coming 10 months would be needed to avoid rationing. While 15% seems reasonable, the estimate was done in July, prior to Nord Stream1 being closed. In the end, rationing may be necessary, but we expect industry to absorb the lion's share of demand reductions, with households constrained some if needed.
Doesn't Russia suffer from the loss of energy revenues?
One would think so, but Russia so far has weathered the storm quite well. In fact, Russian revenues from oil and gas are higher than ever. European dependence meant that Russian energy was largely exempt from the first rounds of sanctions that followed the February 24 invasion. So even as Russia cut back supplies to Europe, willing new buyers were easily found in Asia — China and India notably —and sky-high prices more than compensated for any fall-off in volumes. Russia's oil and gas revenues for the March to July period this year totaled almost $100 billion, more than twice the historical average for this period.
Russia's 2022 energy windfall, though, will not likely be repeated in 2023. If European gas exports stay at zero in volume terms, price increases will likely not compensate for that. Also, almost all of Russia's gas fields are oriented toward pipeline exports to Europe. To re-orient these flows toward Asia will be costly, and flip the dependency problem toward Russia.
What about the U.K. response?
In many ways, the U.K. is one of the hardest hit, despite somewhat lesser dependence on Russia gas than Germany and Italy. One problem is that the U.K.'s gas storage capacity is minimal, having been shut down in the past decade by a lack of government support to private suppliers. Brexit headwinds and a fractious and uncertain political environment make things more difficult.
That said, new British Prime Minister Truss announced a plan to cap average household energy bills for gas and electricity at GBP2,500 (2,500 British Pound Sterling) starting in October. This is less than the more than the GBP3,500 they would have paid without the intervention but still some three times more than last year's energy bills. On top of this, all households will get a one-off payment of GBP400, meaning that average monthly bills should actually fall slightly in the October to March period from current levels.
Such household aid may make a U.K. recession somewhat less likely. Moreover, energy price increases are responsible for a large part of the U.K.'s inflation rate (expected by the Bank of England to reach 13% a year), and such a price cap could reduce the headline rate by some 4 to 5 percentage points. However, such intervention, financed through borrowing, comes at a large fiscal cost. Bloomberg estimates that the cap, if in place for 18 months, could cost the U.K. Treasury as much as GBP200 billion ($230 billion) — comparable to estimates of GBP310 billion for the cost of the COVID-19 crisis — but with the difference that costs for energy support could be open-ended if wholesale prices remain elevated.
In this context, we believe the British pound sterling remains very vulnerable, and widening yield spreads between the U.K. and eurozone sovereigns indicate the bond market's reaction to the likely impact on the fiscal deficit and issuance.
What is the potential for the European energy crisis to spread globally?
Chart 1 shows that it already has spread. Asia, for example, relies heavily on LNG and must now compete with European nations for limited supplies. Among developed markets, we view Japan as acutely vulnerable, having few domestic energy resources, and Korea and Taiwan also depend heavily on imported energy. Even if the war in Ukraine is resolved, Russian energy supplies are highly unlikely to revert to former levels for many years — or ever — in the absence of major geopolitical change. The 2022 crisis may be just the prelude for an ongoing structural re-orientation of the global economy.
Could the European energy crisis spark a global financial crisis?
We see the odds of a full-blown financial crisis as low, and it is encouraging to see central bank facilities seeking to backstop that risk. Some countries, such as Sweden and Finland, have started to set up emergency liquidity facilities to help cover potential margin calls on energy derivatives, due to volatile energy prices. According to Norway's Equinor ASA, European energy traders may be facing margin calls of at least $1.5 trillion.
How does Europe's energy crisis impact the U.S. and U.S. energy policy?
Record-high U.S. gasoline prices this past summer were largely a reaction to Europe's energy problems. Americans felt the effects in other areas too, such as food.
The U.S. energy industry did benefit some as LNG exports surged to Europe, and the U.S. remains the largest producer of petroleum in the world.
As for potential changes in U.S. energy policy, it is too soon to tell. That said, the European energy crisis magnifies some of the pre-existing advantages of the U.S. — a large, relatively self-sufficient economy with abundant natural resources and comparatively low dependence on energy imports. The economic models of major competitors — notably Germany (the EU's export leader) — and of Japan have been severely weakened by this adjustment in the price of energy inputs, which is likely to be semi-permanent. It should be no surprise that the energy crisis has helped drive the dollar higher against its main competitors.
How do our investment preferences reflect the possible implications of the crisis?
We believe the impact of the crisis is broad, and we see implications in specific investment areas:
Currencies — The energy crisis is an ongoing structural shock to the manufacturing and exports of many European and Asian countries, raising industrial costs, lowering current account balances, and increasing price inflation. We expect these factors to continue to exert downward pressure on currencies such as the euro, the yen, and especially the British pound. For these reasons, we see the dollar keeping its strength in 2023.
Developed market (ex-U.S.) bonds (unfavorable) — Currency weakness is also one reason why we expect low or even negative returns to developed market (ex-U.S.) bonds. But we also expect surging inflation driven by energy costs to encourage central banks to be more aggressive in raising rates, and this should push yields higher and bond prices lower. Investors also may demand higher yields to compensate for sovereign credit risk as a result of very large government borrowing to cap household energy costs, particularly in the U.K.
Developed market (ex-U.S.) equities (most unfavorable) — Weakness in developed international economies compared to the rest of the world, coupled with lower earnings growth and the developing energy crisis, likely will remain a drag on developed-market performance.
Commodities (favorable) — We have been favorable on Commodities for most of the last two years. Should the energy crisis de-escalate, it could hurt commodity prices in the short-term. We would see lower commodity prices as a buying opportunity for investors, as we expect commodity shortages to support price gains over the coming decade.
U.S. Energy sector (favorable) – In the current environment, a tight supply backdrop may offset concerns around Energy's typical demand sensitivity to a recession. Critical to our favorable view, Energy companies continue to guide for capital discipline characterized by a focus on deleveraging and shareholder returns rather than production growth. We see continued momentum for earnings and cash flow generation within our commodities price outlook.