Geostrategic realignments
---
by Michael Taylor, CFA, Investment Strategy Analyst;
U.S.-China tensions are fostering geostrategic realignments. Building unanimity among a group of nations is challenging and is leading to a series of multilateral alliances.
Key takeaways  
U.S.-China tensions are fostering geostrategic realignments around issues like trade and technology.
Biden appears to be continuing a tough-on-China stance but is doing so multilaterally.
We believe supply-chain reconfigurations will bolster emerging market recoveries and present investment opportunities. We currently favor emerging market equities, but selectivity is key.
Evolving geopolitics in a post-pandemic world
In its first 100 days, the Biden administration started to design its foreign policy. In the wake of COVID-19, U.S.-China tensions are fostering a geopolitical strategy based on coalition building and defensive posturing around a host of issues including technology and trade. Yet, building unanimity against China among a league of nations with conflicting priorities is challenging. Each country must weigh the trade-off of confronting China with the economic and political consequences. Such compromises have led to a series of multilateral alliances that vary by issue or focus. Below, we discuss the evolving geopolitical landscape and the implications for investors.
Staying tough on China
The pandemic accelerated existing U.S.-China tensions. President Biden appears to be continuing President Trump's tough-on-China stance but is doing so with the help of allies. Beijing's top-down enforcement of the Uighurs in Xinjiang and crackdown on Hong Kong election laws have raised political controversy that has arisen since China joined the Word Trade Organization in 2001 and grew global supply chains there. But U.S. shortages of medical equipment and pharmaceuticals during the pandemic exposed the risks of relying on China-centric supply chains. Now, China's control of rare earth metals and its proximity to Taiwan's world-leading semiconductor industry are raising concerns.
Chart 1. Rare earth reserves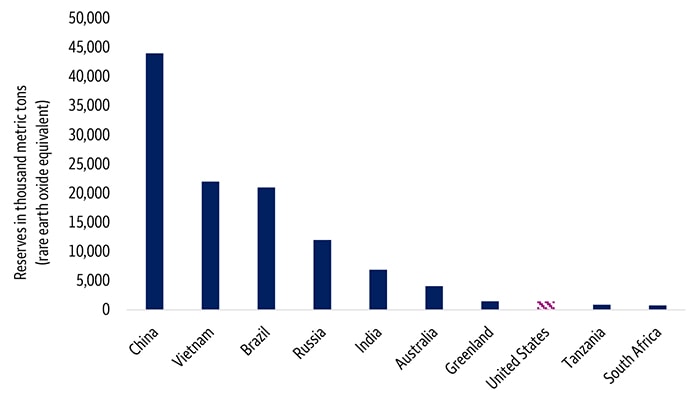 Sources: Wells Fargo Investment Institute and Statista, May 9, 2021. Data as of December 31, 2020.
Last month, the Senate Foreign Relations Committee backed the Strategic Competition Act by an overwhelming majority (21-1), demonstrating strong bipartisan support toward pressing China on human rights and economic competition. Public sentiment mirrors this view. A recent Pew study found that 89% of Americans describe China as a competitor (55%) or an enemy (34%). The same survey showed that negative views of China have risen significantly since 2018.
Japan's rejuvenation
Japanese military and diplomatic influence is growing in Asia. Also, Japan's Prime Minister Suga was the first foreign leader to visit the Biden White House, and the two leaders signed a joint statement that Taiwan's security affects both countries. Taiwan has become a focal point in the technology-decoupling debate, as it produces more than half the world's semiconductors. China's chip-making technology lags the West by generations; Beijing sees the strategic advantage of Taiwan's capabilities. One "Made in China 2025" self-sufficiency objective is to manufacture 70% of chips for domestic use. Meanwhile, the U.S. is expanding Taiwan's production to the U.S.
EU treads carefully
European Union (EU) leaders share concerns about China. Yet, trade with China is vital for EU members. EU leaders recognize that economic relations with China present a double-edged sword. The EU appears amenable to a tougher stance on social issues like human rights and climate change. We expect both sides to tread this line carefully.
The Five Eyes (sidebar 2) has condemned Beijing's treatment of Uighurs, military maneuvers in the South China Sea, suppression of voting rights in Hong Kong, and threats against Taiwan. The alliance is coalescing around technology — Chinese cyber threats and 5G networks.
China is pushing back. Trade relations with Australia have deteriorated. New Zealand, which depends on China for nearly one-third of its exports, has eschewed confronting Beijing directly. As Japan's influence in Asia grows, it's poised to join the Five Eyes alliance, reinforcing its leadership role regionally and globally.
Investment implications
While we favor emerging markets, we believe that selectivity is key, as emerging Asia and Latin America will likely outperform other regions. International reliance on trade with China may prompt more supply-chain relocations to markets outside of China, like Vietnam and India, but reconfigurations are logistically difficult and time-consuming. Looking ahead, we believe South and Southeast Asian markets are well positioned to supply China's dual circulation goals in coming years, and these markets should continue to offer attractive opportunities. Our expectations for dollar depreciation against emerging market currencies should help bolster returns.
We hold favorable equity guidance on the emerging Asia Pacific region. Looking ahead, multinationals may exit Hong Kong for other regional locales like Singapore.
The long-term impact of China's digitalized economy
---
by Michelle Wan, CFA, Investment Strategy Analyst; Gary Schlossberg, Global Strategist
China's latest Five-Year Plan maintains a high priority on digitalization and other technology investments. Neighboring emerging markets could benefit both as suppliers to China's rapidly growing tech sector and as multinationals gradually diversify regional supply chains serving the global market.
Key takeaways  
The ten-fold increase in China's e-commerce between 2017 and 2019, part of a broader expansion of China's technology sector, is creating opportunities for foreign multinationals and other suppliers operating in neighboring Asian economies.
China's regionally dominant position may create challenges for other Southeast Asian countries. However, we believe that risk-aware global companies are intent on reallocating supply chains over time.
Emerging Asia's challenges and opportunities
In March 2021, the Chinese government issued its 14th Five-Year Plan. This plan confirmed China's strategy of increasing spending on research and development, digitalizing its economy, and promoting dual circulation. This may change the trading dynamic within Asia, but in our view, evolutionary changes to Asia's trading dynamic likely will follow over a long-term horizon extending beyond the next three to five years.
Digitalization and a turn to domestic focus
With the trade war and risks of a U.S.-China decoupling in the background, China's ambitious plan shows determination to become self-reliant in technology.
Increased investments in technology should transform China's existing manufacturing industries. Beijing hopes to accomplish this by developing digitalized production capacity, which in turn could reduce exposure to supply-side disruptions. As China aims to achieve dual circulation, self-reliance in technology could also help satisfy growing domestic demand.
Digitization and local consumption have been growing rapidly in recent years. A recent study confirms the trend:
China's live streaming e-commerce market size in 2019, at the equivalent of $5.7 trillion, was more than 10 times its size in 2017.
The entire size of China's digital economy grew 59% from 2016 to 2019.
China's online medical services grew about 2.7 times from 2015 to 2019.
A supportive domestic market could increase China's resilience to global changes. Additionally, China's inward-looking strategy and strong domestic demand growth may offer room for alliance in its regional supply chain. These dynamics could add to emerging markets' attractiveness for investors seeking growth beyond the next three to five years.
A growing regional supply-chain powerhouse
China's past efforts have made it dominant in regional trade and as the main global supply chain hub. Chart 2 illustrates changing supply-chain activity, measured by the dollar value of intermediate goods trade within Asia. In 2000, Japan was the largest regional trading hub, overtaken by China in 2010. By 2019, China's trade was more than double Japan's. However, emerging Asia, excluding China, collectively dwarfs China in the regional supply chain, accounting for 57% of total intermediate goods trade compared to China's 30% share.
Chart 2. Asian supply-chain activity, selected years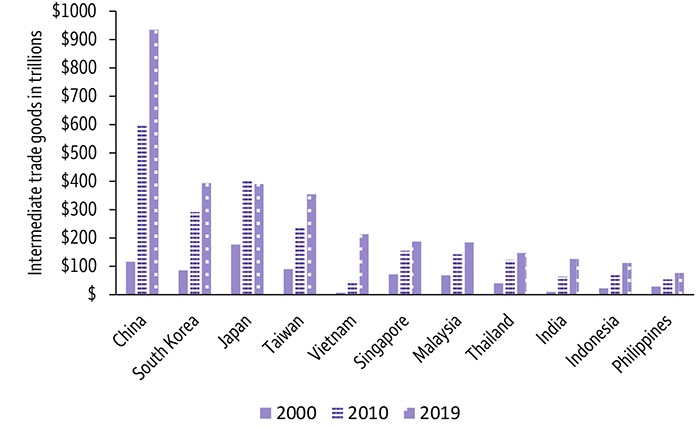 Sources: The Economist Intelligence Unit, UN Comtrade data, and Wells Fargo Investment Institute. Data as of December 31, 2019.
China's "Made in China 2025" plan and Thousand Talents Program have raised concern by leading some companies to shift their supply chains out of China. A survey of over 3,000 companies globally showed that almost half of those in North America intended to re-shore or move to South Asia. Intentions to relocate elsewhere in Asia are broad-based across industries, according to the survey, with the exception of the staples and household and personal product sectors. Such changes will take years, in our view, but should benefit smaller countries in emerging market economies in Asia over the next decade or two, keyed to progress in overcoming China's considerable logistical, infrastructure, and labor efficiencies.
Southeast Asian countries remain important players in the region. We expect technology hardware and equipment to strengthen in the more advanced emerging economies of South Korea and Taiwan. We believe short-term prospects will be supported by strong demand for semiconductors and other high-tech equipment as an economic reopening is supported by increased vaccination rates, improving consumer sentiment, and a global economic recovery.
Even though China aims to achieve self-sufficiency in technology, we expect that process to take a long time. China had success in building up technology in solar panels, LCD displays, and smartphones in past years. However, it had access to foreign technology and components. Barriers to entry for the semiconductor industry are much higher. Despite power shifts within the Asian markets, we believe emerging markets remain a favorable place for investors in the short and long run.
China boosts the green revolution
---
by Tony Miano, Investment Analyst; Paul Christopher, CFA, Head of Global Market Strategy
China's rising demand for renewable energy reflects the priorities of a rising middle class and the government's strategy to reduce foreign energy dependence. China's recent efforts in clean and renewable energy reflect a global trend, which may bode well for renewable energy efforts in the U.S. as well.
Key takeaways  
China exhibits a deep desire for clean energy, both from the government as well as the public at large.
China faces energy independence struggles in its domestic fossil fuels industry, furthering the push toward domestic green energy.
We believe China's acceptance of green energy is a tailwind to the global green energy trend in advanced economies.
Opportunities as China seeks to control greenhouse gasses
The Chinese government's energy policy recently made headlines following a pre-Earth Day joint statement from the U.S. and China reiterating their commitment to work together in battling climate change. Many view China's green energy efforts as vital to the global cause, as China is the largest contributor to global greenhouse gases (GHG), responsible for over one-quarter of GHG emissions. While China has made great strides on the green energy front, the motivations and impacts of its green energy policies deserve a closer look.
Changing dynamics and their motivations
While China is a significant contributor to GHG, the Chinese government has been aggressive in its renewable energy efforts. Significant investments in domestic renewables have resulted in some of the strongest green energy growth of any country in recent years. This growth is driven not just by green energy but also by other renewables, like nuclear power. Nuclear power generation could rise more than 40% from 2020 to 2025, equivalent to roughly 20 new reactors. The U.S., by comparison, has launched only two new reactors since 1996.
The primary drivers of China's policy transformation are two-fold. First, and most simply, is the public demand in China to tackle climate change. China is a rapidly growing economy, and as such, its citizens are growing more educated and more in tune with global issues. Significant portions of the Chinese populace, similar to or even greater than other developed nations, are concerned about the threat of climate change and want to see the government take action.
This leads to a "two birds with one stone" situation where the Chinese government is able to tackle issues raised by its citizens while also addressing our second driver, energy independence. China finds itself in a similar situation to the one faced by the U.S. in the 1970s, dependent upon energy imports. The OPEC oil embargo on the U.S. in 1973 and the oil crisis following the Iranian Revolution demonstrated the fragility of foreign energy dependence, and the U.S. has spent the past 30 years developing domestic energy to break this dependence. As Chart 3 demonstrates, China's fossil fuel production is well outpaced by its consumption in every source. China does have significant stores of coal, but coal is generally viewed as one of the most environmentally harmful fossil fuels, leading most developed nations to move away from it. As China establishes itself as a global military and economic power, we believe green energy may be a key component of energy supply-chain stability for China.
Chart 3. Chinese energy production and consumption by type for 2018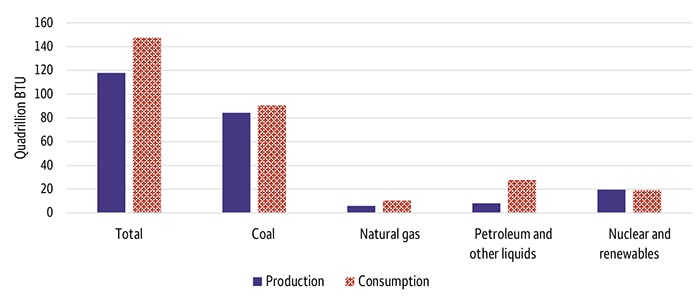 Source: "China Primary Energy Data," U.S. Energy Information Administration, accessed May 3, 2021
What does this mean for global green energy?
The Chinese government has clearly realized its need for green energy and has attempted to capitalize on it as a global trend. China has consistently been the world's largest producer of key green energy technology, including solar panels, wind turbines, and electric vehicles. Green energy investment has been not only domestic but also across the globe through a variety of financing products. China has consistently been among the top investors in clean energy, even including environmental concerns and funding in its long-term infrastructure goals through the Belt and Road Initiative.
The strength of China's green energy efforts must leave some with questions of how best to invest in this growing trend. While the number of American Depositary Receipts representing securities of Chinese companies has grown and direct investment is possible through some exchange-traded funds and mutual funds, there are still risks associated with investments in Chinese companies, as we saw in the de-listing or ban of direct investment in some Chinese companies in 2020. We view Chinese green energy efforts more holistically in terms of their impacts on global green energy efforts. We believe that the factors driving Chinese green energy will provide added momentum for global green energy efforts and a positive for U.S.-based green energy companies. We reiterate our favorable views on the Materials and Industrials sectors in the U.S., both of which we feel will be positively impacted by the enhanced materials production required by a significant shift to green energy. In addition, our tactical overweight to commodities is another way to invest in the green energy theme, because industrial metals are essential in the construction of renewable energy equipment.