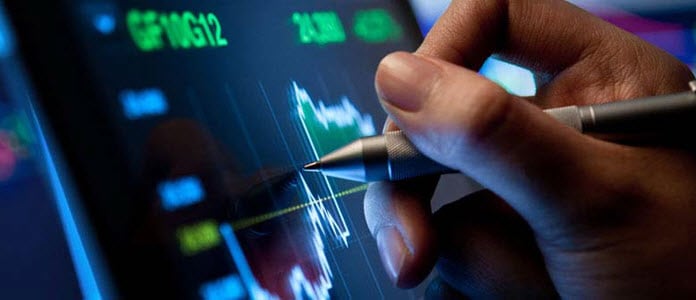 Bond prices have tended to fall as bond yields rise
---
Luis Alvarado, Investment Strategy Analyst
The inverse relationship between price and yield of fixed-income securities since 1955
Market prices of existing bonds and interest rates have tended to move in opposite directions. When rates have increased, the market prices of existing bonds have tended to decrease. When rates have dropped, prices have tended to increase. The overall low-rate environment of the past decade encouraged issuers to issue bonds with longer-dated maturities, and this increased the duration. A higher duration makes bond prices more sensitive to changes in the levels of interest rates.
After multiple years of high single-digit or low double-digit positive returns in bonds, fixed-income investors may have unrealistic expectations about performance. We believe the current environment — with short, intermediate, and longer-term rates rising — is likely to continue to drive negative performance in fixed-income. This may come as a shock to investors who may have experienced strong positive bond returns over the past 30 years.
What it may mean for investors
We expect bond yields to rise gradually through the end of 2022 and most likely to peak by year-end. Our 2022 year-end target range for both the 10-year and 30-year U.S. Treasury yield is 3.00% – 3.50%, and our target range for the federal funds rate is 2.25% – 2.75%. We are neutral on U.S. Short Term Taxable Fixed Income, most favorable on U.S. Intermediate Term Taxable Fixed Income, and most unfavorable on U.S. Long Term Taxable Fixed Income.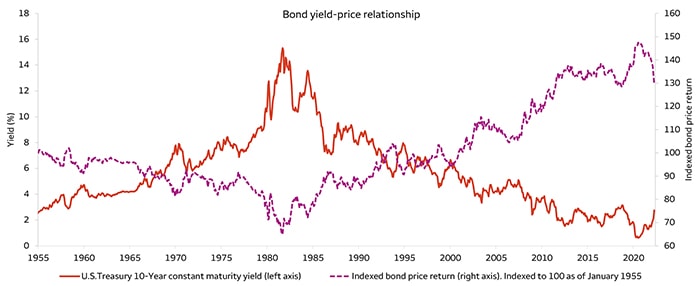 Sources: Wells Fargo Investment Institute, Bloomberg and Morningstar Direct, as of May 10, 2022. Monthly data from January 1, 1955, to April 30, 2022. Yield on the 10-year Treasury Constant Maturities plotted against the cumulative price return of the Ibbotson Associates Intermediate Term U.S. Government Bond price return series indexed to January 1, 1955. Yields represent past performance and fluctuate with market conditions. Current yields may be higher or lower than those quoted above. An index is unmanaged and not available for direct investment. Past performance is no guarantee of future results.