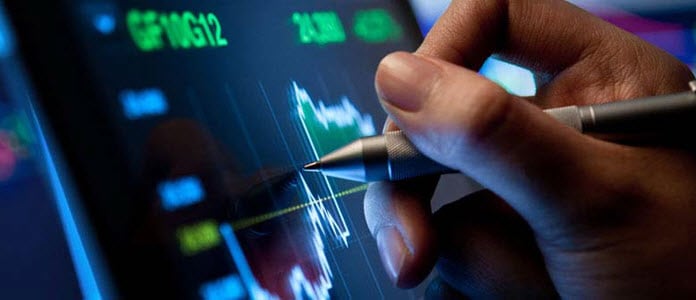 Our portfolio guidance for early-stage recovery
---
Global Equity Strategy Team
S&P 500 Index and our tactical (6 to 18 month) guidance changes since the 2020 bear market
Entering last year's bear market, our guidance was cautious, focusing investors on high-quality sectors (strong cash positions, lower debt levels). Since the market low last March, we've made five sets of guidance changes to help investors position portfolios for potential early-cycle opportunities:
April to September 2020 (1-3) — We upgraded High Yield Taxable Fixed Income to neutral on April 9, then to favorable on August 7. Also on August 7, we upgraded Materials to neutral and downgraded Financials to neutral. On September 14, seeing improved economic conditions, we upgraded U.S. Small Cap Equities to neutral and downgraded U.S. Taxable Investment Grade Fixed Income to unfavorable.
November 19, 2020 (4) — We upgraded Emerging Market Equities to neutral, Materials to favorable, and Industrials to neutral, while downgrading Information Technology to favorable. In fixed income, anticipating rising long-term rates, we downgraded U.S. Short-Term Taxable Fixed Income to most unfavorable and U.S. Long-Term Taxable Fixed Income to unfavorable.
January 19, 2021 (5) — As we revised our U.S. economic growth forecast higher, we again upgraded U.S. Small Caps and Emerging Markets — this time to favorable —and downgraded U.S. Mid Caps to neutral and Developed Market (ex-U.S.) to most unfavorable. We upgraded Industrials and Financials to favorable, Energy to neutral, and Consumer Staples and Utilities to unfavorable.
What it may mean for investors
We expect the Federal Reserve's accommodative stance to last through 2021, which should support risk assets, especially equities. In addition, we believe single-party government is likely to boost fiscal spending, a key ingredient for reflation. Cyclical sectors and markets have tended to perform well early in a bull market, and we have seen this play out so far in 2021 in U.S. Small Cap Equities, Emerging Market Equities, and the Materials and Industrial sectors — all of which we upgraded in 2020.
Download a PDF version of this report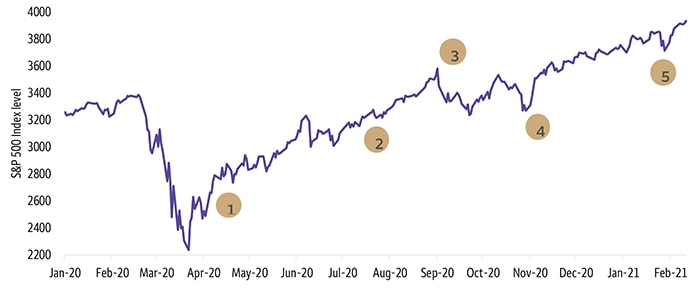 Sources: Wells Fargo Investment Institute, Bloomberg, as of February 12, 2021. The S&P 500 Index is a market-capitalization-weighted index considered representative of the U.S. stock market. An index is unmanaged and not available for direct investment. Past performance is no guarantee of future results.