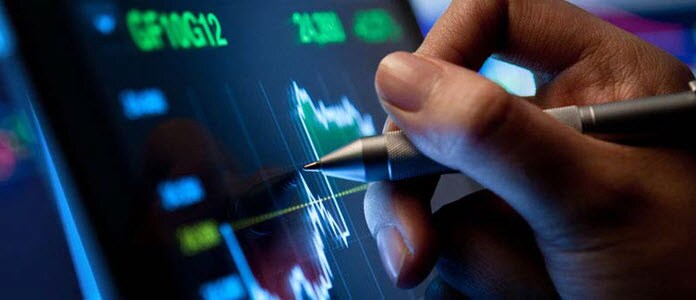 Recession storm clouds gather — but hope on the horizon
---
by Austin Pickle, Investment Strategy Analyst
Stocks have historically bottomed, on average, four months before recession end.
The chart shows the average performance of the S&P 500 Index before and after recessions since 1948. On average, the S&P 500 Index has bottomed about four months before the end of a recession. As the economy weakens, our current preference for quality and more defensive positioning in equity portfolios remains in effect.
Once we believe the recession appears to be fully priced in to market valuations, however, we likely will begin to position for the early cycle recovery we see emerging in 2024. In 2024, we foresee the end of the recession, a global economic rebound, and easing credit conditions — in short, an ideal environment for risk assets.
What it may mean for investors
While we believe it is important to plan for an early-cycle 2024 recovery, it is too early to position for that eventuality. We believe risks in the system are building and that recession storm clouds are gathering. We believe it unlikely that equities will surge meaningfully higher without a period of volatility first.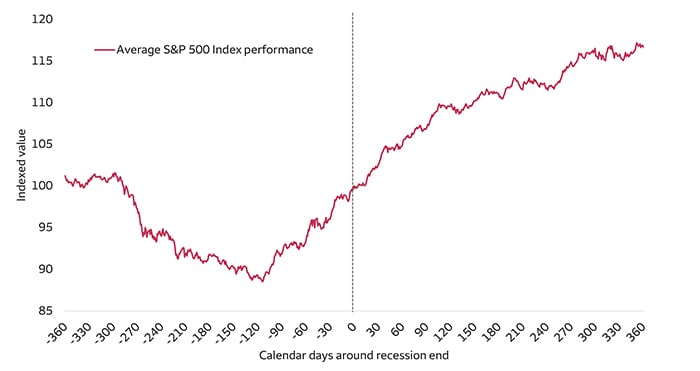 A dashed vertical line at time "0" indicates the end of the recession. The chart illustrates that stocks typically bottom about 4 months prior to the end of the recession before beginning a sustainable rally.  Sources: Bloomberg and Wells Fargo Investment Institute. Indexed to 100 as of the end of every recession since 1948. Data as of May 2, 2023. Past performance does not guarantee future results. An index is unmanaged and not available for direct investment. Please see end of report for recession end dates and index definitions.