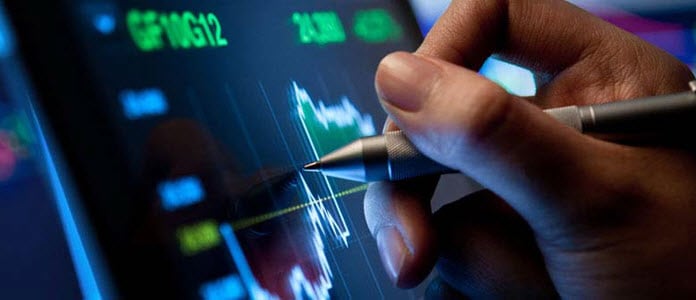 How stocks have performed when the Fed has raised rates
---
Chris Haverland, CFA, Global Equity Strategist
S&P 500 Index performance before and after the first Fed rate hike
The Federal Reserve (Fed) is poised to raise the federal funds rate in 2022. While a handful of rate hikes over the next year or two would represent a shift in Fed policy, we wouldn't consider policy restrictive and we don't expect the initial rate increase to derail the economic recovery.
A Fed rate hike could add volatility to equity markets, however. Early rate hikes do not necessarily indicate the end of a business cycle. However, they could signal a move from early-cycle dynamics to mid-cycle drivers. The chart shows that, historically, the S&P 500 Index has risen in the 12 months prior to and the 12 months after the first rate hike, with lower average returns after the initial move.
What it may mean for investors
As the bull market matures, we are putting more emphasis on high-quality companies with consistent and stable earnings growth. We are most favorable on U.S. Large Cap Equities — with a 2022 year-end target range of 5100–5300 for the S&P 500 Index, indicating a 6% to 10% increase over year-end 2021 levels.
Also, in mid November, we shifted allocations from U.S. Small Caps (neutral) to U.S. Mid Caps (favorable). Mid-cap firms are generally higher in quality than small-cap firms, with stronger balance sheets, adequate cash levels, and favorable return on equity.
Download a PDF version of this report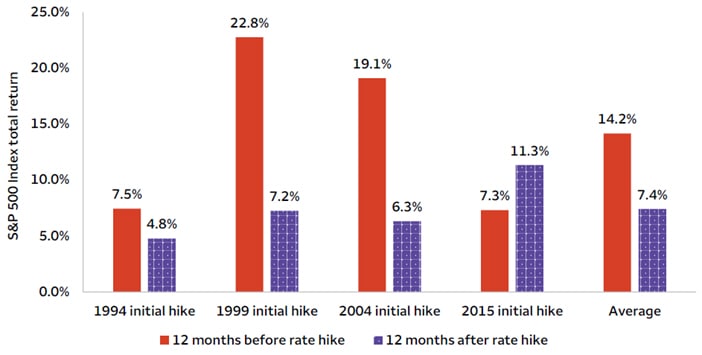 Sources: Wells Fargo Investment Institute and Bloomberg, January 3, 2022. Rate hike dates: February 4, 1994; June 30, 1999; June 30, 2004; and December 16, 2015. An index is unmanaged and not available for direct investment. Past performance is no guarantee of future results.