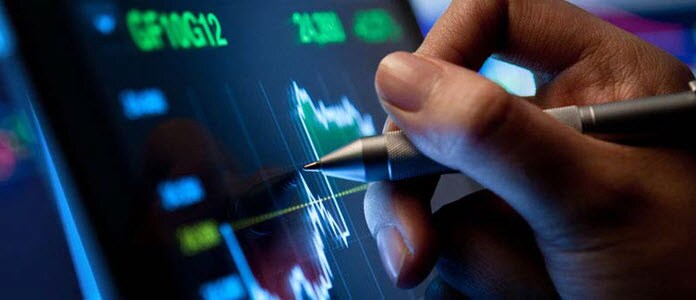 The impact of rising rates on the national debt
---
By Douglas Beath, Global Investment Strategy Analyst
Rising interest rates are just beginning to make their mark on the U.S. Treasury's interest payments
The U.S. national debt currently exceeds $30 trillion, more than 100% of gross domestic product (GDP), according to Congressional Budget Office (CBO) projections. While debt levels (orange slashed line) are high from a historical perspective, we believe it likely that the U.S. can support a meaningfully higher debt level given its dominant global economic position and the dollar's role as the world's primary reserve currency.
Interest on the debt is another concern. Ultralow interest rates reduced the cost to finance the federal budget (purple line) from a high of 15.4% in 1996 to the 2022 CBO projection of just 6.8%. The latest CBO projections show the debt service increasing to over 13% by 2032, assuming modestly higher interest rates.
What it may mean for investors
Even with higher interest rates, we believe interest expense costs should remain manageable, but the larger share of the budget going to debt service may potentially limit the assistance that the federal government could provide if any new crises should arise. We believe that rising government debt levels may also result in more volatile equity prices than in the past 14 years, but we still expect equities to potentially return more than bonds.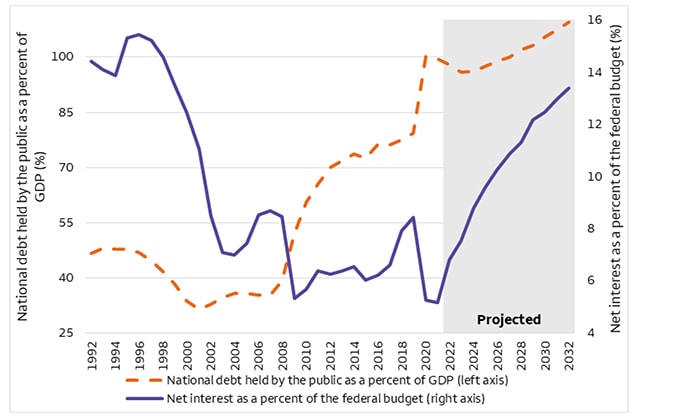 The chart shows marketable federal debt as a percentage of GDP against the interest payments the U.S. government makes as a percentage of the federal budget. The chart highlights that the federal debt shot higher in 2020, and while falling slightly since then, has stayed at historically high levels. It also shows that with rising interest rates, the federal government is projected to pay significantly more over the next decade to service its debt. Source: Congressional Budget Office, as of May 2022. Projection from Congressional Budget Office from 2022 to 2032. Monthly data from January 1, 1992, to December 31, 2021. GDP = gross domestic product.