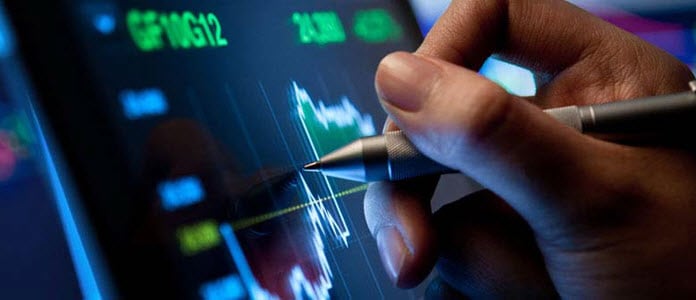 U.S. natural gas has gone global
---
by Austin Pickle, CFA, Investment Strategy Analyst
U.S. liquefied natural gas exports from 2015 through 2021
The U.S. is the world's largest producer of natural gas — by far. Other regions are not as resource-rich and rely heavily on imports to meet demand. To benefit from this demand and to offload excess capacity, U.S. facilities have been built in the past few years to liquefy and export natural gas via special container ships.
The expansion of the U.S. liquefied natural gas (LNG) market is relatively new and continues to grow. The chart shows that LNG exports have gone from essentially nil in 2015 to a substantial source of demand for U.S. natural gas today. With U.S. natural gas no longer landlocked, its price has become increasingly susceptible to the global supply-and-demand story. That story right now is of supply crunches in key markets in Europe and Asia, where prices have surged and in some cases are five times that of the U.S.
What it may mean for investors
With exceptional overseas demand for U.S. liquefied natural gas, inventories relatively tight in the U.S. (and worse abroad), and producers reluctant to ramp up production, U.S. natural gas prices appear susceptible to further spikes — especially if the upcoming winter proves particularly cold.
Download a PDF version of this report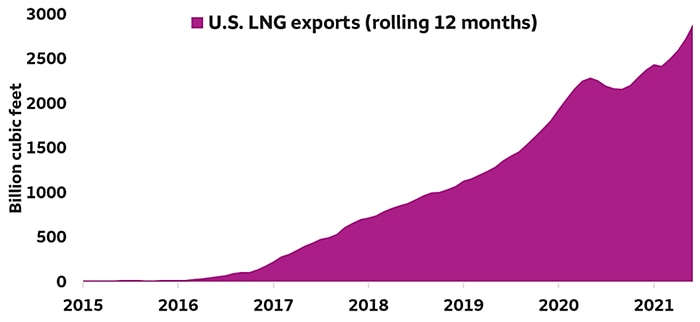 Sources: Bloomberg, Department of Energy (DOE), Wells Fargo Investment Institute. Monthly data: January 31, 2015 - June 30, 2021.