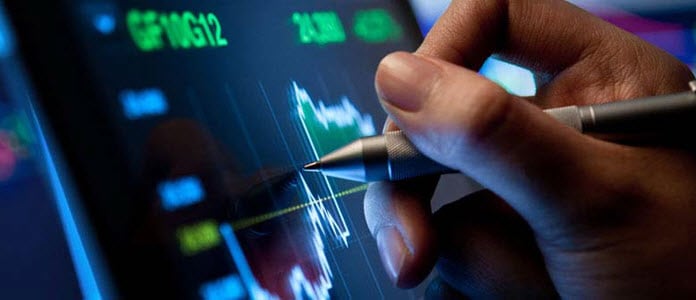 Renewable energy's breakout year
---
by John LaForge, Head of Real Asset Strategy; Austin Pickle, CFA, Investment Strategy Analyst
Fund flows into sustainable/renewable funds (top) and S&P 500 Energy and Materials sector weightings (bottom)
The declining black line (bottom chart) shows that investors have been slowly exiting Energy sector stocks for about a decade. Some blame the rise of renewables, but the real culprit — in our opinion — has been the commodity bear super-cycle, which began in 2011. Since 2011, nearly all commodity prices have fallen. The Materials sector (purple line) has largely suffered the same fate as Energy over the last decade.
In recent months, however, Materials have begun to rally, while Energy continues to fade. We think this new divergence of fates may be tied to investors' increasing appetite for renewables-related stocks. The orange line (top chart) shows that money flows into renewable exchange-traded funds (ETFs) and mutual funds have tripled to $3 billion over the last year.
What it may mean for investors
We believe that some of the 2020 rush of money into renewables likely came from selling traditional energy stocks. While fossil fuels still generate 80% of U.S. energy, seeing investors put such serious skin in the green stock game is a positive sign for the future of renewables-related investing.
Download a PDF version of this report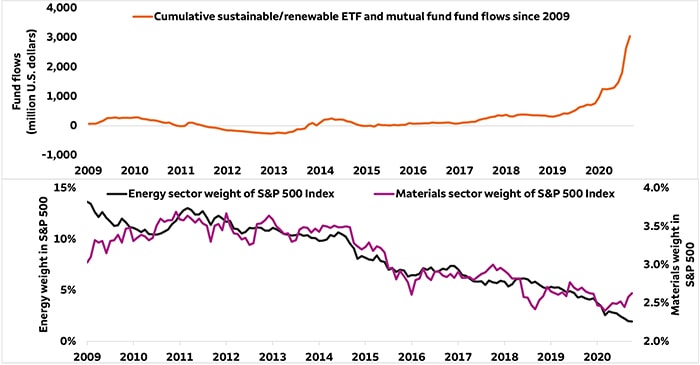 Sources: Bloomberg, © 2020 - Morningstar. All Rights Reserved1, Wells Fargo Investment Institute. Fund flows calculated by summing cumulative flows for the 22 funds which Morningstar categorized as "Sustainable Investment –Renewable Energy" as of October 26, 2020. Energy sector is the S&P 500 Energy sector. Material sector is the S&P 500 Materials sector. Past performance is no guarantee of future results. An index is unmanaged and not available for direct investment.