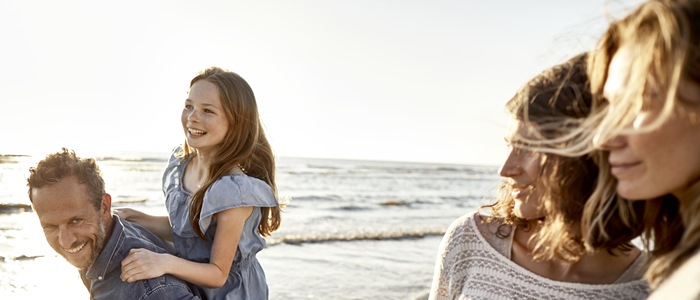 For most investors, spending and investing follows a circular pattern: a focus on discretionary spending in younger years, followed by a greater emphasis on saving — for retirement, a home down payment, or children's education — and then a return to discretionary spending once any long-term debts are paid off. The effect this pattern has on the economy and on financial markets largely depends on the forces that shaped each generation's perspective on saving and investing. 
Despite the differences among generations, many will follow the same progression of marriage, children, and homeownership — milestones that affect their spending, saving, and investing decisions.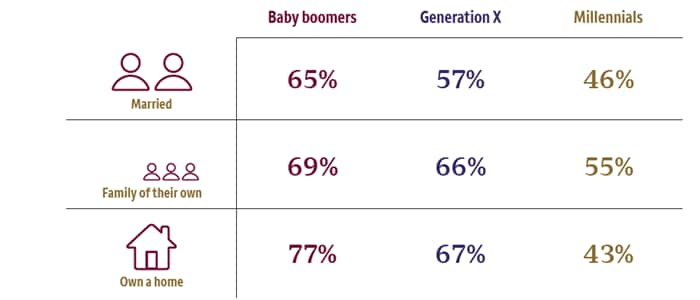 Sources: Pew Research Center, February 14, 2019, and apartmentlist.com

The effects of generational change
According to the U.S. Census Bureau, there are approximately 324 million individuals residing in the U.S., spanning six generations. Each generation has often-noted differences; yet individuals from the various generations interact frequently — in the workplace, in the financial markets, and on social media.
Changing workplace: Millennial workers have surpassed the number of baby boomer workers, making millennials the largest demographic in the U.S. workforce, as well as globally. With many baby boomers working longer (either by choice or necessity), Generation X in the middle of their working lives, and millennials in the early stages of their careers, most employers now have to adapt to the work preferences of these three generations. 
Shifting consumer patterns: Looking ahead, we anticipate a shift in consumer spending patterns. As more baby boomers enter retirement, we expect their spending on things such as recreation and health care to increase. The average income of Generation Xers is the highest among the generations. Despite spending on consumer staples to support their households, and in some cases their young adult children and aging parents, some still have the ability to spend on discretionary and luxury items. Meanwhile, millennials are forming households and starting families, increasing their contribution to consumer spending. 
Changing preferences in asset selection: Events such as a market correction, or even a recession, might provide an opportunity for newer investors to buy assets at lower prices, while established investors might see these same events as threats to their wealth. Younger participants often have a higher allocation to equities for growth, while older participants often tend to emphasize fixed income for income and reduced volatility. However, due to today's low interest rates and longer working lives, baby boomers may need to maintain a higher allocation to equities during their retirement years than prior generations.
Baby boomers: The wealth holders
A generation making a difference 
The dramatic increase in birth rates following World War II created one of the largest generations in U.S. history. The zeal that many baby boomers brought to marches and rallies as college students in the 1960s was eventually matched by the enthusiasm they carried into the workforce. Homeownership rose and overall demand for goods and services was driven higher as this large cohort began to earn and spend. This generation, perhaps more than any other before it or any since, has embodied the American dream, effecting change along the way. 
Generation X: The sandwich generation
Adept and adaptable 
Generation X was introduced to personal computers in school or the workplace, but some may be old enough to remember the pre-digital age. This group is sometimes referred to as the sandwich generation because many Generation Xers are caring for aging parents while also saving for their children's education costs. Meanwhile, some Generation Xers are still repaying their own student loans. This group tends to be technologically adept and self-sufficient, as many were raised as latchkey kids and learned to fend for themselves early in life. 
Millennials: The largest generation
A demographic growing in importance 
Millennials' importance is borne out of the role they are playing in shaping our economic and political future. The oldest members of this generation have been in the workforce for over a decade, while many of the youngest are now joining the workforce. 
Millennials grew up in a fast-paced environment with a wide variety of family dynamics and backgrounds. Technology seems innate to them, and they are active participants in the sharing and freelance (or gig) economies. This is an ethnically diverse generation. Millennials appear to thrive amid ethnic diversity and enjoy being interconnected globally. Making a positive social impact is a key aspiration for them. Many value organizations with missions that speak to a greater purpose than just the bottom line. 
Planning the next step of the financial journey
Investing is a dynamic endeavor, and each generation must strive to match its actual asset allocation with its investment objectives, risk tolerance, and cash-flow needs. Investors from each generation must also plan for unanticipated financial events as they continue along their financial life cycle.