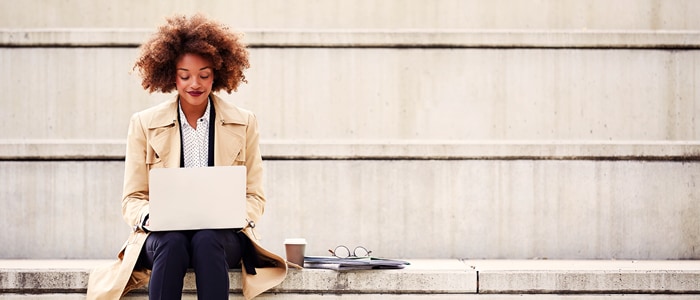 An objective evaluation of investment returns requires understanding the mix of assets in a portfolio. This mix is an important component of establishing return expectations. For example, if the portfolio is composed mostly of high-quality bonds, we would expect, over time, lower returns (and lower volatility) than what we likely would experience investing in an all-equity portfolio. 
In other words, investing in a mix of equities and fixed income, and perhaps other asset groups, alters the risk and return investors should expect from their portfolio. A healthy balance between a mix of asset classes can potentially reduce risk and increase expected return. 
Question 1: Given that global equities have outperformed other asset classes during the recovery, should investors simplify their portfolio's allocation?
Historically, domestic large-cap stocks have tended to outperform a globally diversified portfolio in periods of increased positive momentum in the U.S. economy relative to international economic conditions. 
Different macroeconomic factors in the U.S. economy, such as gross domestic product (GDP) growth, low interest rates, central bank intervention, and healthy consumer sentiment have been positive influences for domestic large-cap equities in particular. However, the economic environment can change abruptly, likely affecting market conditions. Attempting to time market corrections to preserve the value of portfolios can be difficult. 
Question 2: If investors have a long investment horizon, why not invest in the asset class that has had the highest return over time?
Over longer time periods, we have seen equities outperform fixed income and small-cap equities outperform large-cap equities. At times, international equities have outperformed domestic stocks. 
Patterns of returns are largely unpredictable over shorter time periods, with some asset classes rising to the top of the group one year only to fall to the bottom the next. Many investors would be uncomfortable with the volatility that equities have experienced over the past 15 years, yet investing solely in this asset group would have yielded the highest returns (see chart on page 8 of full report).
For many investors, a middle-of-the-group performance, such as what we've seen with the globally diversified Moderate Growth and Income portfolio, may be a good option for balancing risk and return. 
Performance results for the Moderate Growth and Income Four-Asset-Group (MGI 4AG) and 60% equities/40% fixed income portfolios are hypothetical and for illustrative purposes only. Hypothetical results do not represent actual trading, and the results achieved do not represent the experience of any individual investor. In addition, hypothetical results do not reflect the impact of any fees, expenses, or taxes applicable to an actual investment. The indexes reflect the historical performance of the represented assets and assume the reinvestment of dividends and other distributions. An index is unmanaged and not available for direct investment. Hypothetical and past performance do not guarantee future results. See "Composition of portfolios" at the end of this document.

Question 3: How can investors assess their portfolio's return?
An important step of successful investing is to work with an investment professional to monitor and evaluate the portfolio to make sure investors remain on track with their investment plan. 
It's easy to tell when one asset class performs better than another (for example, large-cap equities performed better than a diversified portfolio over several of the past few years), but by focusing only on return, we are not evaluating the portfolio on a risk-adjusted basis, nor are we taking the investor's specific circumstances and constraints into consideration. 
Investors may want to evaluate their portfolio from several perspectives. Bear in mind that none of these benchmarks are perfect. Each tells us different things about the portfolio. See the full report for a discussion of blended, simple, and goals-based benchmarks. 
Question 4: What role does diversification play?
In economics, there is something called "opportunity cost," which essentially means the value of the option that investors give up by choosing one alternative over another. 
Say an investor chooses a diversified portfolio of stocks, bonds, real assets, and alternative investments. Over a particular investment horizon, the expected return of this mix of assets may be lower than that of certain single-asset classes, such as U.S. large-cap stocks. The opportunity cost of holding a diversified portfolio is the difference in expected return. The benefit is lower expected risk over time. 
We believe a portfolio is well served when investors stay focused on achieving their investment goals and do not move into an asset simply because it has been a recent top performer.
Question 5: Why do globally diversified portfolios appear to be a good choice going forward?
Many investors look to their investment account statement to gauge how their portfolio performed. Most tell us they look at two things: what went up and what didn't. They don't like owning investments that performed poorly and often feel like they do not own enough of what performed well.
We believe it is important to construct a portfolio that has risk and return characteristics in harmony with personal circumstances and financial goals. Investment professionals can use our forward-looking capital market assumptions (CMAs), which are based on historical asset return and risk relationships, to help develop an appropriate investment portfolio mix.