by Tracie McMillion, CFA, Head of Global Asset Allocation Strategy; Sameer Samana, Senior Global Market Strategist

Study shows that strategic asset allocation has been, by far, the biggest determinant of portfolio return variability (the year-to-year variation in returns).
How you divide your money among the major asset classes—stocks, bonds, and cash—is called your asset allocation. "Strategic" asset allocation has a 10- to 15-year time horizon, while "tactical" asset allocation has a 6- to 18-month time horizon.
A 2010 study of simulated portfolios, as published in The Journal of Wealth Management, showed that strategic asset allocation accounted for 79% of the variation in a portfolio's return. By comparison, factors like security selection, market timing, and tactical asset allocation each accounted for less than 10% of portfolio performance.

What it may mean for investors
Each of an investor's financial goals has different attributes and priorities, including the time horizon and the need for liquidity, income, or growth. As a result, each goal has a unique investment objective—and a distinct combination of assets that is most likely to help achieve the goal. Establishing this combination (or strategic allocation) is one of an investor's most important decisions. Given our outlook for increased volatility in the next 12 months, we believe now may be a good time for investors to ensure that their investments are appropriately aligned with their goals.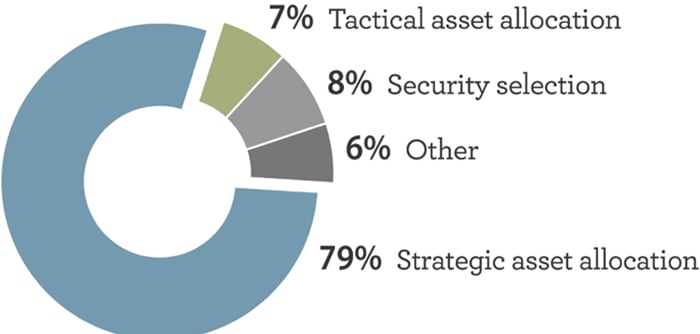 Sources: Wells Fargo; The Journal of Wealth Management, Vol. 8, No. 3, "Strategic Asset Allocation and Other Determinants of Portfolio Returns," August 2005, data updated February 2010. Asset allocation, including strategic and tactical asset allocation, do not guarantee investment returns or eliminate risk of loss.