The Internal Revenue Service (IRS) requires Wells Fargo to issue IRS Form 1099-SA if you took a distribution from your Wells Fargo HSA during the previous tax year. We've provided a description of some of the fields on the form below. Refer to Frequently Asked Questions for more helpful information about HSA tax forms and filing.

Box 1 – Gross distribution. This box shows the total amount distributed from the account during the tax year shown on the form.
Box 2 – Earnings on excess contributions. This box shows the earnings on any excess contributions distributed from an HSA or Archer MSA by the due date of the income tax return.
Box 3 – Distribution code. This code identifies the type of distribution that occurred. Please see the reverse side of your IRS Form 1099-SA for official IRS code definitions.
Box 5 – HSA, Archer MSA, MA MSA. This box shows the type of account that is reported on this IRS Form 1099-SA.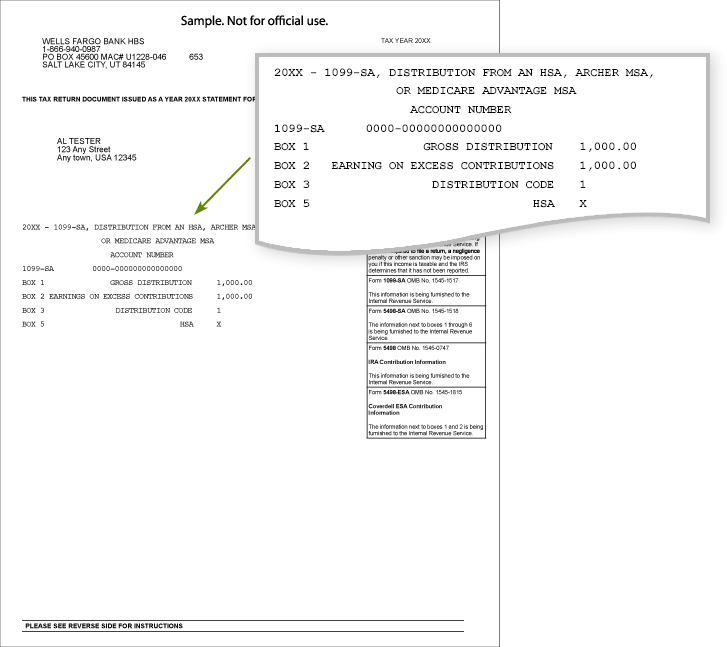 All information provided here is intended as a convenient source of tax information. This information is general in nature, is not complete, and may not apply to your specific situation. You should consult your own tax advisor regarding your tax needs. Wells Fargo makes no warranties and is not responsible for your use of this information or for any errors or inaccuracies resulting from your use.