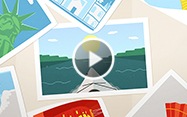 You're starting to build momentum in your career, and you might be on more solid footing financially — both for expenses today and for your needs in the future. While you're still years away from retirement, you still can begin to build on what you've worked hard to save.
Investing your savings in the right type of account is one way to do that. Traditional and Roth Individual Retirement Accounts (IRAs) are two accounts that may help you reduce your tax bill as you save for retirement.
Traditional IRAs and Roth IRAs
Even if you have a retirement plan at work, you can still contribute to an IRA. There are two main types of IRAs and each offers distinct advantages.

A Traditional IRA offers tax-deferred growth. You pay taxes only on investment earnings when you take the money out, presumably during retirement, and your contributions may be tax deductible. It may be wise to place funds with a high turnover ratio, or frequent trading, into your Traditional IRA, because you can defer paying taxes on potential earnings until retirement. A Roth IRA offers tax-free growth, although your contributions are not tax deductible. Investment earnings are withdrawn tax-free in retirement, provided certain conditions are met.

Deciding which IRA is right for you depends on some assumptions, including your tax situation and when you will need the funds. Some investors choose to have both a Traditional IRA and a Roth IRA. That way, there is both tax-deferred and tax-free income in retirement, as well as funds (in the Roth) not subject to required minimum distributions.
What's the right move for you?
Your 30s are the perfect time to start saving for retirement. Maximize your peak earning potential with tax-advantaged investment accounts.