Leveraging your personal assets can help you secure a loan or line of credit at a lower interest rate. The value of these assets – such as your home, car, personal savings, or CD – helps determine the rate of your loan or line of credit. Loans leveraging your assets are often referred to as secured loans or collateral loans.
Here are a few assets that can help you access necessary funds.
Your home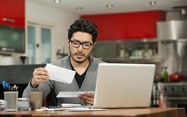 The equity in your home can help you access additional finances two ways: through a home equity loan or line of credit, or through a cash-out refinance.
Typically, a home equity loan or line will lend you 80% of a home's current appraised value minus what is owed on mortgages. Also, the interest on your payments could be tax-deductible.  (Consult your tax advisor)
A home equity loan can provide one-time access to a lump sum at a fixed interest rate to help pay for a major expense. If you have recurring payments, such as for home improvement, consider a home equity line of credit. The line of credit can provide ongoing access to available equity, but remember: it may be subject to fluctuating interest rates throughout the term of your loan.
A cash-out refinance replaces your current mortgage with another loan that pays off your current mortgage's balance, and uses your home's equity to provide funds for other purposes. This option can be considered when interest rates have dropped substantially and if you intend to stay in your home for several more years.
Your vehicle
Your vehicle could be used as collateral to access funds. Auto refinancing, free and clear auto financing, and cash out refinancing are alternative options for accessing cash. Refinancing your auto loan can pay off by freeing up cash in your monthly budget. Free and clear auto financing allows you to borrow against your lien-free vehicle's value to access money for debt consolidation or other financial goals. Cash out refinancing means applying for a new loan to pay off an existing car loan and receiving extra cash after it's paid. On average, Wells Fargo customers who refinanced their cars received $4,987 or more.
Your CD or savings accounts 
Many people are surprised to realize that they can use their CD or Savings account to secure a loan. Wells Fargo customers who use their Wells Fargo CD or savings account as security for the loan or line of credit can typically qualify for a loan within hours and have the funds by the next business day. A fixed term, fixed rate loan makes it easy to budget for monthly payments. A variable rate line of credit replenishes as it is paid down, without reapplying, and you only pay interest on the amount you owe.
The terms of your line or loan depend on many factors including verification of collateral, income and credit approval. Speak with a Wells Fargo agent to discuss your secured loan options.