Life is full of surprises, some of which can prove costly. A leaky roof, car repair, or uninsured medical expense can have a big impact on your current finances and possibly put your ability to save for the future at risk.
Even if your emergency fund can't cover these unanticipated expenses, there are financial tools to get back on track.
Personal line of credit

A Wells Fargo personal line of credit offers a simple and convenient way to help you handle ups and downs in monthly cash flow, and gives you access to a source of funds for emergencies.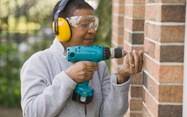 These lines of credit require no collateral or balance transfer, and they don't charge cash advance fees like other types of credit. They also offer low minimum payments with an option to pay in full at any time to reduce interest costs.
Personal loan
A Wells Fargo personal loan gives you access to funds at a potentially lower interest rate than some other forms of credit to pay for unplanned expenses. These loans are fixed-term, fixed-rate, so you know exactly how much you'll pay each month and for how long. Minimum loan amounts begin at $3,000.
Home equity account

A home equity account isn't just for home improvement. It can be used to finance many unplanned expenses, including car troubles and is an alternative to higher interest rate financing options. You have the option to choose a home equity loan for a fixed rate and payment, or a home equity account that allows you more flexibility for recurring expenses.
Health savings accounts (HSAs)

A supplement to standard health insurance, an HSA is a tax-free method of saving for medical care. You can use this account for any medical expense, even those not covered by traditional health insurance, and remaining funds can be transitioned to retirement savings after the age of 65. To get an HSA in 2014, you must have a health insurance policy with a deductible of $1,250 or more per year. Individuals can contribute up to $3,300 per year to the account and families can contribute up to $6,550 per year.
By taking advantage of these tools, you can reduce the impact of unplanned expenses and stay in control of your financial life.