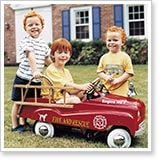 It's important to learn as much as you can about three proven ways to protect your family's financial security: insurance planning, education funding, and financial education. First, let's consider insurance planning.
When the unexpected happens
Major concerns for parents are the continued ability to make the mortgage and car payments, affording their children's educational expenses, enjoying a comfortable retirement and generally making ends meet in the event of the loss of a major household income earner.

That's where life insurance comes in. Recent research indicates that 62% of all people in the United States are covered by some type of life insurance. Life insurance coverage remains an important part of a family financial plan, and life insurance can generally be purchased directly through carriers, their agents, and brokers who may represent several insurers.
Types of life insurance
While there are various types of life insurance policies available, insurance that provides coverage for an identified time-frame – commonly called term life insurance – typically offers coverage at the lowest cost. There are generally two types of term life insurance – term and simplified term life insurance. The key differences between the two include:
Coverage limits
Medical exam, and age and health requirements
Length of policy coverage
A financial planner can help you determine which type of coverage makes sense for you and your family.
Smart money tips
Meet with a financial planner to determine your family's current, ongoing, and potential future needs to build an accurate picture of the type and amount of life insurance coverage you may need.
Consider purchasing life insurance for each income earning member of your family.
Don't wait to purchase a life insurance policy. Early planning can mean lower premiums due to age and good health.
Consider convertible life insurance policies with an option to continue coverage after the contract's initial term to protect future insurability.
Review your employee benefits package for low-cost disability and life insurance options. You may be eligible for a base amount of life insurance at no cost to you and with no medical exam required.