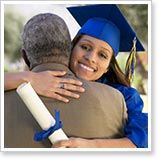 It's important to know about the three proven ways to protect your family's financial security: insurance planning, education funding, and financial education. Learn more about education funding below.
Smart money tips
Remember, it's never too late to start saving! Even a small amount saved can help offset college costs.
Start as early as possible to take advantage of the following:
Save and invest using smaller, more convenient amounts
Increase your money's growth significantly with compounded interest
Reduce or eliminate the need to borrow
Save regularly:
See saving as a current need — not a future wish — by paying yourself first
Set up an automatic transfer so you won't miss the money
Tools and accounts
Consider these flexible, tax-advantaged ways to save and invest for education expenses:
Education Savings Accounts (ESAs), with FDIC-insured savings and time accounts (CDs) offered by Wells Fargo Bank, N.A., a member of the FDIC, or a Wells Fargo Advisor WellsTrade® online brokerage account
A variety of 529 College Savings Plans, available through Wells Fargo Advisors
Savings Accounts and Time Accounts (CDs)
Take a look at the range of Student Financial Tools available online.
Find a Loan Tool
Private student loans: For undergraduate education, medical and graduate school, and technical training
Wells Fargo Student Loan for Parent: For parents or sponsors who want to help cover college education expenses can borrow up to $25,000 annually. This loan is available if the student is enrolled less than half-time, or didn't complete the FAFSA and can be used in addition to Federal Stafford Loans.
Home Equity Loans
What to expect in the loan process and what you'll need to get started
In-depth information
For more information about tax-advantaged ways to save and invest for education, ask a banker for the helpful brochure Educational Funding Opportunities.
For more information about education, ask a banker for the brochure Student Loan Solutions for College.