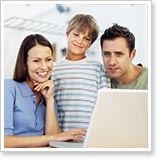 Everyone — from adults to children — can benefit from increasing their familiarity with money and how it works. Learn more about financial education below.
Smart money tips
A financial education delivers benefits at any stage of life:
It will build valuable money management habits with your children and lay the foundation for lifelong financial responsibility and security
It will help you take control of your finances and show your children how to put their money to work earlier in life
Tools and accounts
The Hands on Banking® program provides easy-to-understand free, fun online financial education for everyone from fourth graders to adults. This information can be found online at handsonbanking.org.
Learn how to:
Budget and use money management tools
Use credit responsibly
Invest for the future
Online Credit Card Education is also very popular.
Learn about:
Credit card basics
Establishing and managing credit
Managing your Wells Fargo College Visa® Credit Card
Wells Fargo's financial education tools include: