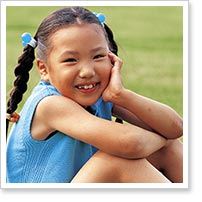 Wells Fargo can help you prepare now for your child's future. As you're early in the education process, take this time to continue planning for their financial future - it can make a big difference later. See our suggestions below for children between the ages 5 to 12 years old.
For additional guidance, feel free to contact a Wells Fargo Banker and they will be happy to assist you.
Financial needs and actions to take
Introduce your child to saving by setting aside money for what's important to them
Help your child open a savings account
Establish or adjust an education savings plan to meet your savings goals
Review your life insurance to make sure your coverage meets your family's changing needs
Products and services to consider
Put your plan into action with these resources:
Insurance
Education savings and funding
Money management tools and accounts
The Hands on Banking® financial education program with a session designed just for children ages 9-12
Open a Wells Fargo savings account, with waived monthly service fee for your child. Parents can sign-up for no charge convenient Online Statements. It's easy to do at any Wells Fargo banking location or at Wells Fargo Online®.
Junior Agent® Saver Club designed to help kids ages 5-12 learn the basics of savings
Free online transfers between Wells Fargo accounts. Transfer your child's allowance, gifts, and money from odd jobs by creating a savings matching program.