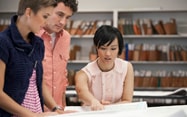 A business plan is vital to the success of any enterprise. It describes all aspects of your business – what it does, the financing it has or needs, its future plans, and your strategy for making it all work.
Your business plan is useful for you and your employees, but it can also be crucial for obtaining funding, because banks and lenders may want to see one before they decide to fund your business. A basic business plan outline could include the following:
Cover page and table of contents: 

List the business name, logo, and contact information for the owner. Also, organize your plan with a table of contents and page numbering.

Executive summary

: Give a brief description of your organization to get people interested. It may be best to wait to draft this section until after you've completed the rest of the business plan.

Market analysis

: Describe your industry, target market, and competitors.

Company description: 

Explain how your business will meet customer needs and how it will compete with similar businesses.

Organization and management structure

: List who does what in the company, who the owner is, profiles of your management team, and information about your board of directors, along with relevant past experience.

Marketing and sales plans

: Explain how you plan to market your business and generate sales. It helps to

research your competition

when drafting this section.

Service or product: 

Describe your product or service and any copyrights, trademarks, or patents you have.

Funding requests: 

Outline current and expected funding needs for the next five years. Include a budget that shows how you expect to use invested capital and any long-term financial strategies.

Financial projections: 

Include past and projected income statements, balance sheets, and cash flow statements.

Appendix: 

Attach extra documents, such as tax returns, your resume, research, leases or contracts, letters of recommendation, etc.
Revise your business plan as circumstances change to keep it updated, and modify it for different readers, such as employees and lenders.
Business insights from experts
Discover our comprehensive resource library, offering guidance and information to help you start, run and grow your business.
Information and views provided are general in nature and are not legal, tax, or investment advice. Wells Fargo makes no warranties as to accuracy or completeness of information, including but not limited to information provided by third parties; does not endorse any non-Wells Fargo companies, products, or services described here; and takes no liability for your use of this information. Information and suggestions regarding business risk management and safeguards do not necessarily represent Wells Fargo's business practices or experience. Please contact your own legal, tax, or financial advisors regarding your specific business needs before taking any action based upon this information.
Wells Fargo and Company and its affiliates do not provide tax or legal advice. Please consult your tax and legal advisors to determine how this information may apply to your own situation. Whether any planned tax result is realized by you depends on the specific facts of your own situation at the time your taxes are prepared.
All credit decisions are subject to approval.
Deposit products offered by Wells Fargo Bank, N.A. Member FDIC.