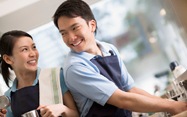 When it comes to funding your startup, there are a wide variety of options available, from using money out of your own pocket to applying for a loan. Be sure to do your research and planning before determining which funding option makes the most sense based on your needs and situation. Here's a look at eight potential avenues for finding backing: 
Traditional bank loans: The majority of entrepreneurs turn to banks to fund their business. If you plan to apply for a bank loan, be sure to have a clear outline as to how the money will be spent, since many banks will want to see a strong business plan before they approve a loan. 
Small Business Administration (SBA) funding: The SBA offers flexible loans through banks and other lending institutions to businesses that qualify.
Self-funding: This requires dipping into your own assets to fund your business. You could refinance your home or borrow money from your savings, investment portfolio, or retirement fund. Keep in mind that there may be penalties or fees given to those who make early withdrawals from certain retirement funds. 
Family and friends: If your family or friends offer up their funds, be sure to have them sign a contract, determine whether it is a loan or investment, and maintain consistent communication with them. Whether as a loan or investment, they should also recognize that there is financial risk that could cause the loss of some or all of their funds.
Credit cards: Many businesses are funded, at least initially, with credit cards. And while this could be a good option if you want to move quickly, it can prove unwise if you start mixing your business and personal expenses. Be sure to have a plan about how and when you will pay off your balance.
Crowdfunding: Crowdfunding occurs when a large group of people donate money in an effort to take a business idea to the next level. 
Venture capitalists: This is a funding source in which wealthy investors, investment banks, and other financial institutions invest in a business or idea they believe has long-term potential, in exchange for a percentage of ownership of the company. 
Angel investors: These are typically wealthy individuals who provide funding for a startup because they're looking for a high return on investment. Unlike venture capitalists, angel investors may use their own money to fund startups they consider to be potentially profitable. 
Diligent research and planning will help you determine which avenue to pursue when you're looking to fund your new business.
Business insights from experts
Discover our comprehensive resource library, offering guidance and information to help you start, run and grow your business.
Information and views provided are general in nature and are not legal, tax, or investment advice. Wells Fargo makes no warranties as to accuracy or completeness of information, including but not limited to information provided by third parties; does not endorse any non-Wells Fargo companies, products, or services described here; and takes no liability for your use of this information. Information and suggestions regarding business risk management and safeguards do not necessarily represent Wells Fargo's business practices or experience. Please contact your own legal, tax, or financial advisors regarding your specific business needs before taking any action based upon this information.
Wells Fargo and Company and its affiliates do not provide tax or legal advice. Please consult your tax and legal advisors to determine how this information may apply to your own situation. Whether any planned tax result is realized by you depends on the specific facts of your own situation at the time your taxes are prepared.
Wells Fargo Bank, N.A. Member FDIC.
Equal Housing Lender