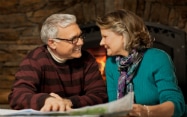 During your working years, your employer may have provided you with a regular paycheck. After retirement, it is an adjustment to manage your retirement income and expenses. Here are some ways to manage your monthly income in retirement.
Determine your sources of retirement income
Before you retire, think about where your money will come from when you stop working. Start by assessing your stable sources of income.
Social Security provides a stable source of benefits for eligible retired workers. The amount you receive each month depends on your eligibility, the number of years you paid Social Security taxes, and when you begin collecting benefits.
Some retirees have a pension from a past employer. You can choose to take pension benefits as a lump sum, in payments, or a combination of both. Pension funds can also be rolled into an Individual Retirement Account (IRA).
Consider annuities as an option
An annuity can provide you with guaranteed lifetime income and help you increase tax-deferred savings as part of your overall retirement savings plan. Guarantees are based on the claims-paying ability of the issuing insurance company.
Immediate annuities are funded with a single premium, and payments can begin as soon as 30 days. With a deferred annuity , assets have the potential to grow on a tax-deferred basis until you're ready to withdraw the money.
Annuities are either fixed or variable. With a fixed annuity, your payments have a fixed rate of return guaranteed by the insurance company. If you choose a variable annuity, benefits paid will be dependent on the underlying investments.
Choose your withdrawal methods
After you've identified your income streams, decide how and when you'd like to receive your money. Because your needs will likely change, flexibility and variety will help you adjust when the unexpected happens. You can:
Receive fixed payments from Social Security, pensions, and many annuities at regular intervals. You can also choose this approach for withdrawing from an investment account.
Withdraw a percentage of your invested assets' total value at scheduled intervals (monthly or quarterly). The amount will vary due to market volatility.
Plan to withdraw interest and dividends only, leaving the principal amount untouched. The principal can continue to produce income and will be available to you in later life or to your beneficiaries.
Rebalance your assets systematically to maintain your desired asset allocation as you withdraw regular payments.
Revisit your decisions regularly to ensure they're meeting your needs. A Financial Advisor can help make sure you are firmly in control of your retirement income.
Empower yourself with financial knowledge
We're committed to your financial success. Here you'll find a wide range of helpful information, interactive tools, practical strategies, and more — all designed to help you increase your financial literacy and reach your financial goals.
Guarantees are based on the claims-paying ability of the issuing insurance company. Guarantees apply to minimum income from an annuity; they do not guarantee an investment return or the safety of the underlying investment choices. Withdrawals of earnings are subject to ordinary income tax. In addition, a federal 10% penalty may apply to withdrawals taken prior to age 59½ and surrender charges generally apply.
Fixed annuities may have a higher initial interest rate which is guaranteed for a limited time period only. At the end of the guarantee period, the contract may renew at a lower rate.
Insurance products are offered through nonbank insurance agency affiliates of Wells Fargo & Company and are underwritten by unaffiliated insurance companies.
Variable annuities are long-term investments suitable for retirement funding and are subject to market fluctuations and investment risk.
These articles have been prepared for informational purposes only and are not a solicitation or an offer to buy any security or instrument or to participate in any trading strategy. The accuracy and completeness of this information is not guaranteed and is subject to change. Since each investor's situation is unique, you need to review your specific investment objectives, risk tolerance, and liquidity needs with your financial professional(s) before a suitable investment strategy can be selected. Also, since Wells Fargo Advisors does not provide tax or legal advice, investors need to consult with their own tax and legal advisors before taking any action that may have tax or legal consequences.
Investment and Insurance Products are:
Not insured by the FDIC or any Federal Government Agency
Not a Deposit or Other Obligation of, or Guaranteed by, the Bank or Any Bank Affiliate
Subject to Investment Risks, Including Possible Loss of the Principal Amount Invested
Retirement Professionals are registered representatives of and offer brokerage products through Wells Fargo Clearing Services, LLC (WFCS). Wells Fargo Advisors is a trade name used by WFCS and Wells Fargo Advisors Financial Network, LLC, Members SIPC, separate registered broker-dealers and non-bank affiliates of Wells Fargo & Company. Discussions with Retirement Professionals may lead to a referral to affiliates including Wells Fargo Bank, N.A. WFCS and its associates may receive a financial or other benefit for this referral.
Wells Fargo Bank, N.A. is a banking affiliate of Wells Fargo & Company.