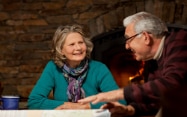 Whether you're planning to spend your retirement days launching a second career or golfing, the choices you make can have an impact on your quality of life for years to come. Taking care of your physical, mental, and financial well-being empowers you to make the most of your retirement years.
Keep Active
After you spent years in the workforce, retirement is an adjustment in many ways, including its effect on your activities and relationships. Staying active, whether traveling, fitness, or other activities, can be enriching for your health and happiness. Nurturing your own interests may even strengthen your marriage or other relationships by allowing you and your spouse or partner to grow as individuals as well as together.
Volunteering for a cause or organization that you feel passionate about is another great way to keep active in retirement. If volunteering is not interesting for you, consider learning a new language or skill. These kinds of engaging activities can help mitigate cognitive decline. Consider setting new goals, and make sure that some of your activities involve interacting regularly with other people. The presence of a strong social network may also help your quality of life and longevity.
Save on health care expenses
Medicare covers only a percentage of health care expenses. If you decide to get Medicare Supplement Insurance (or "Medigap") to provide more coverage, be sure to compare prices, which can vary widely.
Also compare prices for medical care and procedures; you may be able to save hundreds of dollars simply by going to a different provider and asking the right questions. Using your insurer's preferred in-network providers and pharmacies may also help reduce costs.
Finally, make prevention a priority. The Affordable Care Act requires Medicare and most other insurance plans to provide wellness visits, screenings, flu shots, mammograms, and other preventative care for free, depending on your age.
Taking charge of your physical, emotional, and financial health is more important than ever as you make the transition to retirement. You have the opportunity to find new purpose and meaning, so take healthy steps to help ensure you thrive during this new life phase. 
Empower yourself with financial knowledge
We're committed to your financial success. Here you'll find a wide range of helpful information, interactive tools, practical strategies, and more — all designed to help you increase your financial literacy and reach your financial goals.
This is your brain on retirement – not as sharp, studies are finding, "Washington Post, October 29, 2015
These articles have been prepared for informational purposes only and are not a solicitation or an offer to buy any security or instrument or to participate in any trading strategy. The accuracy and completeness of this information is not guaranteed and is subject to change. Since each investor's situation is unique, you need to review your specific investment objectives, risk tolerance, and liquidity needs with your financial professional(s) before a suitable investment strategy can be selected. Also, since Wells Fargo Advisors does not provide tax or legal advice, investors need to consult with their own tax and legal advisors before taking any action that may have tax or legal consequences.
Investment and Insurance Products are:
Not insured by the FDIC or any Federal Government Agency
Not a Deposit or Other Obligation of, or Guaranteed by, the Bank or Any Bank Affiliate
Subject to Investment Risks, Including Possible Loss of the Principal Amount Invested
Retirement Professionals are registered representatives of and offer brokerage products through Wells Fargo Clearing Services, LLC (WFCS). Wells Fargo Advisors is a trade name used by WFCS and Wells Fargo Advisors Financial Network, LLC, Members SIPC, separate registered broker-dealers and non-bank affiliates of Wells Fargo & Company. Discussions with Retirement Professionals may lead to a referral to affiliates including Wells Fargo Bank, N.A. WFCS and its associates may receive a financial or other benefit for this referral.
Wells Fargo Bank, N.A. is a banking affiliate of Wells Fargo & Company.