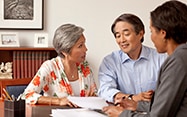 Many retired Americans depend on Medicare, a form of health insurance from the federal government, to cover their health care costs. But even those who don't plan on accessing Medicare for several years can benefit from learning how this program will impact their future retirement expenses.
Who is eligible for Medicare?
U.S. citizens or permanent U.S. residents over the age of 65 are eligible. They also must have worked at least 10 years in a job that withheld Medicare taxes from their paycheck. Some workers with a disability or certain chronic diseases may also be eligible.
What medical expenses does Medicare cover?
Medicare consists of four parts. Enrollees may participate in one or more of them.
Part A covers doctor's visits, hospital stays, lab tests, and hospice care. You can go to any doctor or hospital that accepts Medicare for this coverage. Many people over age 65 (and some who are younger but meet program criteria) qualify for free Part A coverage. You can check your eligibility at Medicare.gov. If you buy Part A, the standard cost in 2018 is up to $422 a month. The 2018 deductible for a hospital stay is $1,340 for each benefit period.
Part B covers services needed to diagnose, prevent, or treat illness. It also covers ambulance and mental health services. Premiums vary by income; the lowest in 2018 is $134.00 a month per person. The deductible is $183 a year.
Part C, also known as Medicare Advantage, is offered through Medicare-approved private insurance companies. Out-of-pocket costs and rules around details, such as referrals and emergency care, vary by company. All offer the same benefits as Parts A and B, except hospice care, which is covered by Medicare even for those in a Medicare Advantage Plan. Some plans may also offer extra coverage for vision, hearing, and dental. Most include Part D coverage for prescription drugs. Premiums and deductibles vary depending on the company providing the plan.
Part D, Medicare's prescription drug coverage, is administered through private insurers. Different Part D plans cover different drugs, so be sure that the prescriptions you need are covered under the plan you choose. Premiums and deductibles vary.
When should you sign up to receive Medicare benefits?
Sign up for benefits three months before you turn 65, regardless of when you want to receive Medicare benefits. At that time, you'll also be asked to decide if you want to enroll in Part B coverage. Though your Medicare coverage can be changed, waiting to enroll can cause delays in obtaining it, as well as potentially higher monthly premiums.
How can you make changes to your Medicare coverage?
Review your Medicare coverage annually to ensure it still meets your needs. Consult your plan administrator for the dates of your annual Open Enrollment Period, which is the time you can make changes to your plan.
Understanding your Medicare coverage choices can help you make smart decisions about your health care during retirement.
Empower yourself with financial knowledge
We're committed to your financial success. Here you'll find a wide range of helpful information, interactive tools, practical strategies, and more — all designed to help you increase your financial literacy and reach your financial goals.
Source: www.medicare.gov
These articles have been prepared for informational purposes only and are not a solicitation or an offer to buy any security or instrument or to participate in any trading strategy. The accuracy and completeness of this information is not guaranteed and is subject to change. Since each investor's situation is unique, you need to review your specific investment objectives, risk tolerance, and liquidity needs with your financial professional(s) before a suitable investment strategy can be selected. Also, since Wells Fargo Advisors does not provide tax or legal advice, investors need to consult with their own tax and legal advisors before taking any action that may have tax or legal consequences.
Investment and Insurance Products are:
Not insured by the FDIC or any Federal Government Agency
Not a Deposit or Other Obligation of, or Guaranteed by, the Bank or Any Bank Affiliate
Subject to Investment Risks, Including Possible Loss of the Principal Amount Invested
Retirement Professionals are registered representatives of and offer brokerage products through Wells Fargo Clearing Services, LLC (WFCS). Wells Fargo Advisors is a trade name used by WFCS and Wells Fargo Advisors Financial Network, LLC, Members SIPC, separate registered broker-dealers and non-bank affiliates of Wells Fargo & Company. Discussions with Retirement Professionals may lead to a referral to affiliates including Wells Fargo Bank, N.A. WFCS and its associates may receive a financial or other benefit for this referral.
Wells Fargo Bank, N.A. is a banking affiliate of Wells Fargo & Company.
0218-03244