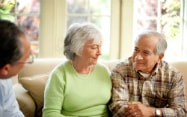 Today, Americans are living longer — and staying healthier. That's great news, and it also means retirement is lasting longer. You may need sufficient resources to fund the lifestyle you want for 20 or more years after you stop working. Learning about retirement income planning and savings plans is a great way to start planning for a source of retirement income.
Time it right
Because of longer life expectancies, sound financial choices — before and during retirement — are more essential than ever. Saving early and regularly is just one step. Not spending too much of your retirement savings too early or too quickly is another. For example, although you can withdraw from an Individual Retirement Account without penalties beginning at age 59½, you might consider whether that's the best plan. If you are likely to live another quarter century, you may want to consider what other options may be available before deciding to withdraw your funds.
Plan accordingly
Anticipating a long life means taking the long view in your retirement planning. Make retirement income projections that strike a balance between the risk of spending your funds too quickly (leaving yourself little to live on in later years) and spending them too slowly (unnecessarily reducing your retirement standard of living).
Ask the right questions
In addition to understanding your expected longevity, answering the following questions can bring clarity to your retirement income needs:
At what age do I want to retire?
When do I want to begin claiming any Social Security benefits for which I'm eligible?
Are my invested assets properly allocated?
Are my investment expectations realistic?
Am I managing current debt wisely?
How will inflation impact my portfolio and ability to live the life I want in retirement?
What medical expenses, including long-term care, can I expect to encounter?
Answering these questions might require some research, but your reward may be greater confidence as you approach and enter retirement. A Financial Advisor can work with you to devise an appropriate retirement planning strategy that accounts for your unique goals and needs.
Every step you take today to plan for a long life can help you enter retirement with that much more confidence. Given how many retirement years you're likely to have, it's time well-spent.
Empower yourself with financial knowledge
We're committed to helping with your financial success. Here you'll find a wide range of helpful information, interactive tools, practical strategies, and more — all designed to help you increase your financial literacy and reach your financial goals.
These articles have been prepared for informational purposes only and are not a solicitation or an offer to buy any security or instrument or to participate in any trading strategy. The accuracy and completeness of this information is not guaranteed and is subject to change. Since each investor's situation is unique, you need to review your specific investment objectives, risk tolerance, and liquidity needs with your financial professional(s) before a suitable investment strategy can be selected. Also, since Wells Fargo Advisors does not provide tax or legal advice, investors need to consult with their own tax and legal advisors before taking any action that may have tax or legal consequences.
Investment and Insurance Products are:
Not Insured by the FDIC or Any Federal Government Agency
Not a Deposit or Other Obligation of, or Guaranteed by, the Bank or Any Bank Affiliate
Subject to Investment Risks, Including Possible Loss of the Principal Amount Invested
Retirement Professionals are registered representatives of and offer brokerage products through Wells Fargo Clearing Services, LLC (WFCS). Wells Fargo Advisors is a trade name used by WFCS and Wells Fargo Advisors Financial Network, LLC, Members SIPC, separate registered broker-dealers and non-bank affiliates of Wells Fargo & Company. Discussions with Retirement Professionals may lead to a referral to affiliates including Wells Fargo Bank, N.A. WFCS and its associates may receive a financial or other benefit for this referral.
Wells Fargo Bank, N.A. is a banking affiliate of Wells Fargo & Company.
0420-03490