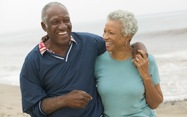 Without a steady paycheck from an employer, you'll need to make the assets you've saved — along with Social Security and any pensions you may have — last throughout your retirement years. Here are a few tips to help you stay on track:
Develop a Plan
Achieving the right balance to help ensure your income needs are met throughout retirement requires a comprehensive retirement income plan that addresses:
How you'll pay for current living expenses without outliving your assets over time

What asset allocation and diversification strategies will help your investments outpace inflation

How you'll help protect your assets from the impact of market volatility

How to align your withdrawal strategy, budget, spending needs, lifestyle goals, and priorities
Diversify Your Retirement
How you allocate your assets across various asset classes during the retirement accumulation phase can have a profound impact on the savings you have upon entering retirement. However, once in retirement, your focus may need to include an allocation strategy designed to meet specific income objectives, including:
Guaranteed income:

To help protect against outliving your assets by providing steady guaranteed income for life through pensions and annuity products.

Stablity:

Stable income with principal preservation to help protect against market volatility through fixed income investments such as bonds.

Growth:

Providing a combination of growth and income to help offset inflation through investments that can provide appreciation and dividend income.
Consider Working with a Financial Advisor
Developing your retirement income strategy can be a complicated process. Determining the optimal balance across guaranteed, stable, and growth strategies requires experience and deep knowledge of the financial markets. A financial advisor can help you create an income stream designed to support your lifestyle in retirement. Together, you and your advisor can help determine a retirement income strategy that fits your needs.
Review Your Plan Regularly
As your circumstances, goals, and the financial markets change, it's important to review your strategy and investment portfolio regularly to help ensure you remain on track to meet your goals. Successful retirement planning begins with understanding how economic changes may impact your investments.
By taking these steps to mitigate potential investment risks, you can better help secure your future. With these plans in place, you may spend less time worrying and more time looking forward to your retirement years.
Saving enough for retirement?
Find out with My Retirement Plan, an online tool that makes it easy to see if you are on track.  After you answer a few questions, My Retirement Plan will calculate your retirement savings goal and recommend personalized next steps.
Guarantees are based on the claims-paying ability of the issuing insurance company. Guarantees apply to minimum income from an annuity; they do not guarantee an investment return or the safety of the underlying investment choices.
Investments in fixed-income securities are subject to market, interest rate, credit, and other risks. Bond prices fluctuate inversely to changes in interest rates. Therefore, a general rise in interest rates can result in the decline in the bond's price. Credit risk is the risk that an issuer will default on payments of interest and/or principal. This risk is heightened in lower-rated bonds. If sold prior to maturity, fixed-income securities are subject to market risk. All fixed-income investments may be worth less than their original cost upon redemption or maturity.
This article has been prepared for informational purposes only and is not a solicitation or an offer to buy any security or instrument or to participate in any trading strategy. The accuracy and completeness of this information is not guaranteed and is subject to change. Since each investor's situation is unique, you should review your specific investment objectives, risk tolerance and liquidity needs with your financial professional to help determine an appropriate investment strategy. Also, since Wells Fargo Advisors does not provide tax or legal advice, investors need to consult with their own tax and legal advisors before taking any action that may have tax or legal consequences.
Asset allocation and diversification are investment methods used to help manage risk. They do not guarantee investment returns or eliminate risk of loss including in a declining market.
Investment and Insurance Products are:
Not Insured by the FDIC or Any Federal Government Agency
Not a Deposit or Other Obligation of, or Guaranteed by, the Bank or Any Bank Affiliate
Subject to Investment Risks, Including Possible Loss of the Principal Amount Invested
Investment products and services are offered through Wells Fargo Advisors. Wells Fargo Advisors is a trade name used by Wells Fargo Clearing Services, LLC (WFCS) and Wells Fargo Advisors Financial Network, LLC, Members SIPC, separate registered broker-dealers and non-bank affiliates of Wells Fargo & Company.
Retirement Professionals are registered representatives of and offer brokerage products through Wells Fargo Clearing Services, LLC (WFCS). Discussions with Retirement Professionals may lead to a referral to affiliates including Wells Fargo Bank, N.A. WFCS and its associates may receive a financial or other benefit for this referral. Wells Fargo Bank, N.A. is a banking affiliate of Wells Fargo & Company.
0420-04046