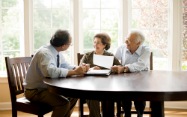 Retirement is a gateway to a new life. It promises a greater freedom — which you've worked decades to earn — without the pressure of workplace demands. Who better to help you prepare for this transition than actual retirees with firsthand experience of the costs, risks, and financial rewards of retirement? Advice from those who have been there can help you gauge whether you're prepared for retirement.
Learn from others
Turn to the people you know best, such as close family members and friends, who are already retired. You can learn a lot from their experiences, including what worked for them — and what didn't. Be inquisitive and honest about your own situation and concerns. Preparing for retirement is an exciting but potentially scary process. Most retirees are happy to share their experiences.
Spark the conversation with general, open-ended questions, such as:
Are things different than you expected?
What are your favorite and least favorite aspects of retirement?
What was your most significant lifestyle change?
Apply the advice to your own plan
The more people you talk to, the more you'll learn about retirement and what it's really like. You'll also get suggestions and ideas that might not be specifically about money but can contribute to your overall financial health. For example, you might learn ways to stay healthy (and keep health care costs lower) with specific exercise regimens. You may learn new strategies for keeping your mind agile or for building a social network that could lead to a second career.
Prepare for the unexpected
Open and honest conversations with retirees can also help you prepare for potential financial challenges. You may gather tips for adjusting your finances to help ensure that your money lasts as long as you need it in retirement. The issue gets even more pressing as life expectancies increase and retirements last longer than ever before. At the same time, most people now retire without pensions — another major change in the retirement landscape.
Those factors make it more important than ever to have a plan for your retirement, and it's never too late to get that process started. You can create a financial strategy for retirement, even if retirement is near. You can start from where you are today.
That's where a Financial Advisor may be able to help. A Financial Advisor's experience and expertise can start you on your way to a savings strategy. 
Empower yourself with financial knowledge
We're committed to your financial success. Here you'll find a wide range of helpful information, interactive tools, practical strategies, and more — all designed to help you increase your financial literacy and reach your financial goals.
These articles have been prepared for informational purposes only and are not a solicitation or an offer to buy any security or instrument or to participate in any trading strategy. The accuracy and completeness of this information is not guaranteed and is subject to change. Since each investor's situation is unique, you need to review your specific investment objectives, risk tolerance, and liquidity needs with your financial professional(s) before a suitable investment strategy can be selected. Also, since Wells Fargo Advisors does not provide tax or legal advice, investors need to consult with their own tax and legal advisors before taking any action that may have tax or legal consequences.
Investment and Insurance Products are:
Not insured by the FDIC or any Federal Government Agency
Not a Deposit or Other Obligation of, or Guaranteed by, the Bank or Any Bank Affiliate
Subject to Investment Risks, Including Possible Loss of the Principal Amount Invested
Retirement Professionals are registered representatives of and offer brokerage products through Wells Fargo Clearing Services, LLC (WFCS). Wells Fargo Advisors is a trade name used by WFCS and Wells Fargo Advisors Financial Network, LLC, Members SIPC, separate registered broker-dealers and non-bank affiliates of Wells Fargo & Company. Discussions with Retirement Professionals may lead to a referral to affiliates including Wells Fargo Bank, N.A. WFCS and its associates may receive a financial or other benefit for this referral.
Wells Fargo Bank, N.A. is a banking affiliate of Wells Fargo & Company.
0818-04823