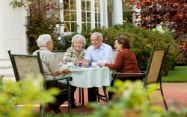 Relationships with family and friends can give you a retirement support system as you face the changes that come with leaving the workforce. Here are some tips to strengthen your retirement support system.
Talk to your spouse or partner
Start retirement conversations early. Talk about goals, how you'll spend your time, where you'll live, and how much money you'll need. Talk about how to best use your retirement savings to cover anticipated expenses. You and your spouse may look at your retirement years differently and not even know it.
Cultivate friendships (old and new)
Social interactions contribute to a healthy life, and when work ends, retirees may feel isolated. If that is a concern, consider using retirement and the time leading up to it to make new connections and revitalize old ones. Volunteer, join new clubs or groups, take a class, or make travel plans.
Besides improving your mood, socializing can keep you mentally sharp.
Strengthen family ties
Family relationships can be an important source of support for retirees. If those relationships need work, reach out and strengthen bonds with immediate or extended family members. Consider starting new traditions that bring family members together regularly. An annual beach trip or Sunday family dinners can provide great opportunities to connect.
If you plan to move closer to adult children or grandchildren in retirement, discuss the idea with them first. To make the transition a smooth one, set parameters based on mutual agreements. Remember that you will still want to pursue your own interests and make new friends, so be certain that your new location will suit those needs.
If you establish — and maintain — positive connections with a strong network of family and friends, you'll have a support system that you can call on throughout your retirement.
Empower yourself with financial knowledge
We're committed to helping with your financial success. Here you'll find a wide range of helpful information, interactive tools, practical strategies, and more — all designed to help you increase your financial literacy and reach your financial goals.
AARP, "Close Friends and Loving Relationships Keep the Brain Strong," February 14, 2017.
This information is provided for educational and illustrative purposes only and is not a solicitation or an offer to buy any security or instrument or to participate in any trading strategy. Investing involves risk, including the possible loss of principal. The accuracy and completeness of this information are not guaranteed and are subject to change. Since each investor's situation is unique, you should review your specific investment objectives, risk tolerance, and liquidity needs with your financial professional to help determine an appropriate investment strategy.
Investment and Insurance Products are:
Not Insured by the FDIC or Any Federal Government Agency
Not a Deposit or Other Obligation of, or Guaranteed by, the Bank or Any Bank Affiliate
Subject to Investment Risks, Including Possible Loss of the Principal Amount Invested
Investment products and services are offered through Wells Fargo Advisors. Wells Fargo Advisors is a trade name used by Wells Fargo Clearing Services, LLC (WFCS) and Wells Fargo Advisors Financial Network, LLC, Members SIPC, separate registered broker-dealers and non-bank affiliates of Wells Fargo & Company.
Retirement Professionals are registered representatives of and offer brokerage products through Wells Fargo Clearing Services, LLC (WFCS). Discussions with Retirement Professionals may lead to a referral to affiliates including Wells Fargo Bank, N.A. WFCS and its associates may receive a financial or other benefit for this referral. Wells Fargo Bank, N.A. is a banking affiliate of Wells Fargo & Company.
Wells Fargo and Company and its affiliates do not provide tax or legal advice. Please consult your tax and legal advisors to determine how this information may apply to your own situation. Whether any planned tax result is realized by you depends on the specific facts of your own situation at the time your taxes are prepared.
0420-03492