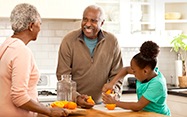 One way you can help your children maintain their financial footing is by initiating a positive, productive conversation about money. They can benefit from hearing what you've learned about money and how to manage it. Use these suggestions to talk with your adult children about money and help them avoid financial mistakes.
Start the conversation
Money can be a sensitive subject, but opening up about your own experiences can ease the tension and stimulate conversation. If it's appropriate for your family, include your children's partners or spouses in the discussion.
Talk about financial plans you have made, what has worked for you, and why.
Share an anecdote about the financial help that your parents provided or how you were able to save for your first car or house.
Talk about money mistakes you've made, what you learned, and what you wish you had done differently.
Ease into questions
When it's time to ask questions, focus on understanding your children's financial goals to keep the discussion future-oriented and free of judgment.
If they have debt, talk with them about their plans to pay it off.
Discuss their long-term savings strategies, such as if they have a qualified employer sponsored retirement plan (QRP), such as a 401(k), 403(b), or governmental 457(b).
Ask if there is anything specific they would like you to help with going forward.
Make an action plan
If they are willing, you can be involved in your adult children's planning. Guide them to take specific, concrete steps, such as:
Consulting with a financial professional; you can even recommend that they meet with yours
Establishing and maintaining a budget; perhaps give them software to help with budgeting
Paying off high-interest debt by a specific date; inspire them with a conversation about what they could do with the money they won't have to dedicate to debt repayment
Saving and investing for retirement; talk about the gift they have in being able to work toward this goal even as young adults
Provide constructive help during setbacks
During difficult times, young adults may be especially reluctant to talk about money, but your support could be a critical resource in helping them reach their goals. Being involved will also help you  be comfortable about their futures.
Remembering these guidelines may make the discussion a little easier to navigate:
Be sensitive to the idea that young adults may be reluctant to have conversations about money.
Listen and be encouraging.
Getting your children on the right financial track may be one of the greatest gifts you can give them. The first step is starting the conversation.
Empower yourself with financial knowledge
We're committed to your financial success. Here you'll find a wide range of helpful information, interactive tools, practical strategies, and more — all designed to help you increase your financial literacy and reach your financial goals.
These articles have been prepared for informational purposes only and are not a solicitation or an offer to buy any security or instrument or to participate in any trading strategy. The accuracy and completeness of this information is not guaranteed and is subject to change. Since each investor's situation is unique, you need to review your specific investment objectives, risk tolerance, and liquidity needs with your financial professional(s) before a suitable investment strategy can be selected. Also, since Wells Fargo Advisors does not provide tax or legal advice, investors need to consult with their own tax and legal advisors before taking any action that may have tax or legal consequences.
Investment and Insurance Products are:
Not insured by the FDIC or any Federal Government Agency
Not a Deposit or Other Obligation of, or Guaranteed by, the Bank or Any Bank Affiliate
Subject to Investment Risks, Including Possible Loss of the Principal Amount Invested
Retirement Professionals are registered representatives of and offer brokerage products through Wells Fargo Clearing Services, LLC (WFCS). Wells Fargo Advisors is a trade name used by WFCS and Wells Fargo Advisors Financial Network, LLC, Members SIPC, separate registered broker-dealers and non-bank affiliates of Wells Fargo & Company. Discussions with Retirement Professionals may lead to a referral to affiliates including Wells Fargo Bank, N.A. WFCS and its associates may receive a financial or other benefit for this referral.
Wells Fargo Bank, N.A. is a banking affiliate of Wells Fargo & Company.