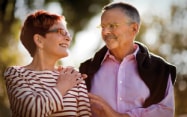 It's easy to avoid discussing money with your parents, and in some families, the subject is almost taboo. The topic doesn't become easier to broach as parents and children age, but it can become more important. Adult children with their own financial responsibilities will have questions, including how well-prepared their parents are for retirement. Adult children also need to know at what point their parents may need help, either financially or with managing their retirement income.
Though parents may be reluctant to talk about retirement and money, it's an important conversation adult children can initiate. Here are six steps to having the retirement conversation with parents.
Set the stage
Money and aging are sensitive topics. Introduce the subject of your parents' retirement at a time when you can have a peaceful, rational, and face-to-face conversation about their plans for the future.
Get support
Consider including siblings or other relatives — or at least telling them about your plans to gather the facts about your parents' financial future. A trusted financial professional can also be an educated and unbiased resource to guide the conversation, diffuse any tension, and keep topics on track.
Make your motivations clear
Tell your parents that you want to know about their plans in case they need help in the future. Your goal is to understand their wishes and resources, not to take control. Explain that you're there to help — and acknowledge that the subject is sensitive.
Ask the right questions
The focus should be on gathering information, not giving advice. Instead of telling your parents what they "should" be doing, try framing statements with "I." For example: "One of the things I'd like to know about ... " or "I'm concerned about ... "
Follow those introductory phrases with questions like:
What are your plans for retirement? Are you confident you are on the right path?
What are your planned sources of retirement income?
Do you have any sources of debt? If so, what are they?
What type of insurance coverage do you have (life, long-term care, Medicare)?
If you were unable to live in your current location, where would you want to go?
Have you considered if you could maintain a household alone if necessary?
Are you now working with an investment planning professional?
Locate documents
Ask about your parents' important documents, including where the originals are stored and if they are up-to-date (including beneficiary designations). Make a list of the following:
Bank accounts, wills, trusts
Health and long-term care insurance policies
Investments, pensions, Social Security
Durable power of attorney, health care proxy, living will
Keep the conversation going
Ideally, this will not be a one-time discussion. The subject will likely become more comfortable for everyone. You can continue to provide your parents with information and ideas to help them manage their finances. Ask regularly about their plans and concerns, and tell them you're available if they'd like help addressing certain issues. Keep a list of the things you know about your parents' finances and what you need to learn.
Approach these conversations with love and respect, and the results may surprise you. You may even want to share some of your own plans so it's not all about your parents.
Empower yourself with financial knowledge
We're committed to helping with your financial success. Here you'll find a wide range of helpful information, interactive tools, practical strategies, and more — all designed to help you increase your financial literacy and reach your financial goals.
These articles have been prepared for informational purposes only and are not a solicitation or an offer to buy any security or instrument or to participate in any trading strategy. The accuracy and completeness of this information is not guaranteed and is subject to change. Since each investor's situation is unique, you should review your specific investment objectives, risk tolerance and liquidity needs with your financial professional to help determine an appropriate investment strategy. Also, since Wells Fargo Advisors does not provide tax or legal advice, investors need to consult with their own tax and legal advisors before taking any action that may have tax or legal consequences.
Investment and Insurance Products are:
Not Insured by the FDIC or Any Federal Government Agency
Not a Deposit or Other Obligation of, or Guaranteed by, the Bank or Any Bank Affiliate
Subject to Investment Risks, Including Possible Loss of the Principal Amount Invested
Retirement Professionals are registered representatives of and offer brokerage products through Wells Fargo Clearing Services, LLC (WFCS). Wells Fargo Advisors is a trade name used by WFCS and Wells Fargo Advisors Financial Network, LLC, Members SIPC, separate registered broker-dealers and non-bank affiliates of Wells Fargo & Company. Discussions with Retirement Professionals may lead to a referral to affiliates including Wells Fargo Bank, N.A. WFCS and its associates may receive a financial or other benefit for this referral.
Wells Fargo Bank, N.A. is a banking affiliate of Wells Fargo & Company.
0420-03492