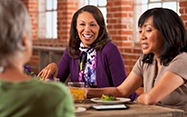 Approaching retirement age but have no interest in retiring? These tips can help you find the second career that is right for you.
Define your passions
For most people, a second career in retirement is about generating income and doing something they enjoy. So you owe it to yourself to consider your passions and how they may translate into a potential career. Start by brainstorming answers to these questions:
What activities make you feel most energized?
What do you enjoy doing so much that you lose track of time?
If money didn't matter, what would you do with your days?
Do you have any talents or things you create that you share with loved ones?
Do you have a unique or unusual idea you could turn into a money maker?
Next, create a list of your skills and talents, as well as hobbies and experiences that make you feel fulfilled. Any of these could be a starting point for your next act. After you define and narrow your areas of focus, research jobs, volunteer work, or entrepreneurial opportunities that could set you on the path to your new calling.
Realize the value in a second career
If you decide to embark on a second career, realize that moving into a new kind of work can take time and patience — as it does at any stage of life. Transformations require persistence and creativity. Ultimately, the payoff goes beyond dollars and cents.

Access resources
Plenty of help is available for second-career seekers. Start with these sites for suggestions and resources:
RetirementJobs.com highlights companies suited to older workers and helps match potential workers with jobs.
Encore.org focuses on topics such as personal fulfillment, social impact, and continued income.
YourEncore.com pairs veteran-level experts with food, consumer product, and life sciences companies that have research and development challenges.
As you start your journey, remember that flexibility and patience are key. Not all first plans will be instantly successful; keep adjusting your strategy with the insights gained and lessons learned. Eventually this knowledge — and some patience — will lead to the second act you seek.
Empower yourself with financial knowledge
We're committed to your financial success. Here you'll find a wide range of helpful information, interactive tools, practical strategies, and more — all designed to help you increase your financial literacy and reach your financial goals.
These articles have been prepared for informational purposes only and are not a solicitation or an offer to buy any security or instrument or to participate in any trading strategy. The accuracy and completeness of this information is not guaranteed and is subject to change. Since each investor's situation is unique, you need to review your specific investment objectives, risk tolerance, and liquidity needs with your financial professional(s) before a suitable investment strategy can be selected. Also, since Wells Fargo Advisors does not provide tax or legal advice, investors need to consult with their own tax and legal advisors before taking any action that may have tax or legal consequences.
Investment and Insurance Products are:
Not insured by the FDIC or any Federal Government Agency
Not a Deposit or Other Obligation of, or Guaranteed by, the Bank or Any Bank Affiliate
Subject to Investment Risks, Including Possible Loss of the Principal Amount Invested
Retirement Professionals are registered representatives of and offer brokerage products through Wells Fargo Clearing Services, LLC (WFCS). Wells Fargo Advisors is a trade name used by WFCS and Wells Fargo Advisors Financial Network, LLC, Members SIPC, separate registered broker-dealers and non-bank affiliates of Wells Fargo & Company. Discussions with Retirement Professionals may lead to a referral to affiliates including Wells Fargo Bank, N.A. WFCS and its associates may receive a financial or other benefit for this referral.
Wells Fargo Bank, N.A. is a banking affiliate of Wells Fargo & Company.
0420-03493