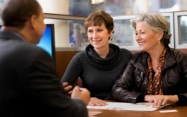 For some retirees, moving in with their children is part of the long-term plan. For others, financial, health, or other concerns make it necessary. Regardless of the reason, proactive communication can help parents and children find a mutually beneficial arrangement. Consider these guidelines when talking to your children about your future plans.
Schedule a time to discuss before making any decisions
Though moving in with children may happen because of an unexpected event, the decision should be made after a discussion that includes everyone involved. Schedule a time when all parties can dedicate their focus on a rational and respectful exchange of ideas. Steer clear of emotionally charged or stressful events, like family gatherings or holidays.
Consider financial, emotional, and legal logistics
To help ensure your conversation includes a discussion of financial, emotional, and legal issues, you may want to ask the following questions:
What are the reasons for the move?
What are the benefits to each person?
What challenges — including emotional ones — may arise?
What other options exist?
Is the move financially feasible for both the children and parents?
How much privacy and independence will each party maintain?
Can children continue working if parents need close care? If not, who will take the role?
Who will contribute to expenses and how much?
Does a new or revised household budget need to be created?
Under what conditions may it be necessary to seek professional at-home health care, assisted living, or nursing care in a facility? How will such costs be handled?
Be diligent with documentation
Moving in with your children inherently ties you together financially. It can be helpful if both parties are transparent about financial issues, including estate planning matters and legal circumstances. To do so, gather financial information and estate papers, including:
Retirement accounts, including pensions and annuities
Insurance policies, including medical and dental coverage
Liabilities, including loans and credit card debt
Estate documents, such as wills and trusts
Contact information for professional advisors, including your lawyer, accountant, and financial advisor
Other documents detailing your wishes, including a health care directive, living will, health care power of attorney designation, and financial power of attorney
Make copies of the documents, confirm they are up-to-date and legally binding. Keep them in a secure location, like a safety deposit box.
Retirees can move in with their children happily and successfully, provided the family is united on a plan. Any changes should be discussed as early as possible. Honest conversation can be key to navigating this sensitive subject.
Empower yourself with financial knowledge
We're committed to your financial success. Here you'll find a wide range of helpful information, interactive tools, practical strategies, and more — all designed to help you increase your financial literacy and reach your financial goals.
These articles have been prepared for informational purposes only and are not a solicitation or an offer to buy any security or instrument or to participate in any trading strategy. The accuracy and completeness of this information is not guaranteed and is subject to change. Since each investor's situation is unique, you need to review your specific investment objectives, risk tolerance, and liquidity needs with your financial professional(s) before a suitable investment strategy can be selected. Also, since Wells Fargo Advisors does not provide tax or legal advice, investors need to consult with their own tax and legal advisors before taking any action that may have tax or legal consequences.
Investment and Insurance Products are:
Not insured by the FDIC or any Federal Government Agency
Not a Deposit or Other Obligation of, or Guaranteed by, the Bank or Any Bank Affiliate
Subject to Investment Risks, Including Possible Loss of the Principal Amount Invested
Retirement Professionals are registered representatives of and offer brokerage products through Wells Fargo Clearing Services, LLC (WFCS). Wells Fargo Advisors is a trade name used by WFCS and Wells Fargo Advisors Financial Network, LLC, Members SIPC, separate registered broker-dealers and non-bank affiliates of Wells Fargo & Company. Discussions with Retirement Professionals may lead to a referral to affiliates including Wells Fargo Bank, N.A. WFCS and its associates may receive a financial or other benefit for this referral.
Wells Fargo Bank, N.A. is a banking affiliate of Wells Fargo & Company.