Roger Smith, 64, feels better about his prospects for retirement nowadays. That's because of proactive steps he's taken, such as making extra payments on his mortgage, to reduce his financial obligation in his golden years.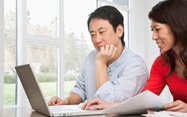 He credits these steps in part to a retirement planning session at his manufacturing company, Sew-Eurodrive, in Greenville, South Carolina. As an employee of a company whose retirement plan is run by Wells Fargo Institutional Retirement and Trust, he has access to regular financial education sessions.
"I now have more confidence, since I have a plan," said Smith, who, with his wife, Wanda, sought additional help from Wells Fargo. "We've set up our plan so that I can keep most of my money from the 401(k) account throughout retirement and use the rest to pay the mortgage and our other bills." 
Importance of a 'planning mindset'
Smith's newfound confidence about life after retirement bears out results from the 2018 Wells Fargo Retirement study, which found that a "planning mindset" is one of the keys to retirement savings. The annual survey was based this year on a Harris Poll of 1,003 retired Americans and 2,560 working Americans ages 21 or older.
The study found differences between the retirement savers who answered "yes" to each of four statements below and those who didn't. Those who answered "yes" had the planning mindset that measurably lowered financial stress and was associated with better financial health:
"I am able to work diligently toward a long-term goal."
"I prefer saving for retirement now, to ensure I have a better life in retirement."
"It makes me feel better to have my finances planned out in the next 1-2 years."
"In the past six months, I have set and achieved a goal or set of goals to support my financial life."
Among the planners, 79 percent were more likely to report "thriving" lives overall, and 64 percent were more likely to report "thriving" financially. That's compared to the 56 percent of those outside this group who reported a "thriving" life overall — just 36 percent of them reported "thriving" financially, too.
Those opinions bear out in bottom-line savings. Those with this planning mindset saved 3.1 times more in their retirement plan balances than those without it. Men with a planning mindset, for example, saved a median of $150,000, versus the $60,000 savings among men without the planning mindset. Women with a planning mindset saved a median of $75,000 for retirement; women without that mindset saved a median of $30,000.
Planning: not just for the rich
Wells Fargo's latest retirement study shows that planners are found at all income levels. Thirty-three percent of workers found to have a planning mindset come from households making less than $75,000 per year. Sixty-six percent of planners make more than $75,000.
"Regardless of income, establishing a retirement plan and living a life focused on financial goals may deliver a myriad of benefits, including less stress and higher savings — the foundation for building a successful retirement," said Joe Ready, head of Wells Fargo Institutional Retirement and Trust.
Generation X woes
Gen Xers were more likely than other generations surveyed to report they were "struggling" or "suffering" in their financial lives, despite having saved more money than millennials. Generation X has a median of $100,000 saved, versus $15,000 among millennials. Baby boomers have saved a median of $250,000.
Only 45 percent of Gen Xers surveyed said they have a detailed plan to guide them as they near the pre-retirement phase of their working lives. One key stressor is "unmanageable" debt. And 30 percent said they "still carry scars" from the financial crisis.
"Our findings highlight the unpredictability of life — and retirement — and that many workers are concerned about running out of money in their golden years," said Fredrik Axsater, head of Strategic Business Segments for Wells Fargo Asset Management. "Together with employers, we seek to improve the journey to help employees feel confident about their retirement, rely on a more predictable income in retirement, and enjoy the positive new chapter in life."
"Sixty-eight percent of workers in the Wells Fargo survey said they have access to a 401(k), and 92 percent said they feel "more secure" about retirement because they have "contributed to" or "are contributing" to a 401(k).
A great new chapter
Marietta Castellano, a Wells Fargo Institutional Retirement and Trust relationship manager, met Smith after a retirement education session at Sew-Eurodrive. She sought him out to explain that Wells Fargo could help him prepare for meeting his financial obligations, like his monthly mortgage payment, after he stops working in a few years.
Planning for retirement has helped his outlook on retirement, Smith said, and he's looking forward to spending more time with his bluegrass band, traveling to nursing homes, and writing some of his own music.
"Every time Roger sees me, he gives me a big hug," Castellano said. "This was a great ending for him."
Smith said he now regularly encourages others to plan — and plan earlier — for retirement. "We're put on this earth to help someone," Smith said. "We'd be in good shape if everyone helped someone once a day. If sharing my story will help someone, I'm all for it."
Here are a few tips to keep top of mind when it comes to retirement planning.
1. Make savings automatic
Employees of companies with auto-enrollment and auto-increase features in their 401(k) plans, and built-in default-saving rates of 6 percent or higher, save 30 percent more when compared to plans without automatic features, based on an analysis of all 401(k) plan records kept by Wells Fargo as of 12/31/2017. Wells Fargo Institutional Retirement and Trust has also found such features increase 401(k) plan health by 48 percent as measured by its Plan Health Index – a measure of 401(k) plan participation, a savings rate of 10 percent or more including company match, and diversified investments.
2. Increase annual contributions with salary
Many employees start out with small contributions to their 401(k) plans but forget to increase the percentage of their regular contributions with salary increases. Some 401(k) plans feature automatic deferral increase on an annual basis for participants on an opt-in or opt-out basis.
3. Start saving early in your career
The earlier you start saving, typically the more you'll have for retirement. For example, someone who starts saving at 35 may have only two-thirds the nest egg at retirement of someone who began at 25. It is never too early to start saving. (Based on 7% annual rate of return. This example is for illustration purposes only and is not intended to represent the return of any specific investment. Estimates are based on the assumptions note, do not guarantee or imply a projection of actual results, and do not include the effect of taxes or fees. Wells Fargo institutional Retirement and Trust cannot guarantee results under any savings or investing program, including a regular investment program, and cannot guarantee that you will meet your retirement savings goal.)
4. Diversify investments in retirement accounts
Investing in a variety of asset classes can help balance risk and return. Being too hesitant to invest in stocks, especially early in one's career, may miss the potential higher long-term return stocks have historically provided compared with fixed-return investments. The difference between a long-term investment return of 5 percent versus 7 percent can have as detrimental an effect as starting saving 10 years later. But being too aggressive with stocks, especially in the years approaching retirement, can risk losing those hard-earned gains. Please keep in mind that diversification does not guarantee profit or protect against loss in declining markets.
5. Take advantage of digital tools
Online income estimators can show hypothetical results of current savings rates, as well as what changes to savings rate, investment returns, retirement age, and Social Security payments could mean for retirement. These interactive tools can help form the beginning of a plan to help avoid surprises later.
Please note that the information provided may not be the experience of other customers and is not a guarantee of future performance of success. This communication is being provided for informational purposes only and is not and should not be construed in any manner as any solicitation or offer to buy or sell any securities or participate in any trading strategy. 
Investments in retirement plans do not guarantee a profit or return on principal and may lose value.
Not all retirement plans have the features discussed above. Please refer to your retirement plan documents for more information about the specifics of your plan.
Source: Wells Fargo Institutional Retirement and Trust
About The Harris Poll
The Harris Poll, one of the longest-running surveys in the U.S. tracking public opinion, motivations and social sentiment since 1963, is now part of Harris Insights & Analytics, a global consulting and market research firm delivering social intelligence for Wells Fargo and other companies.
About the Survey
On behalf of Wells Fargo, The Harris Poll conducted 3,563 online interviews of 2,560 working Americans 21 or older and 1,003 retired Americans, surveying attitudes and behaviors around planning, saving and investing for retirement from Aug. 6–20, 2018. Working Americans are age 21 or older and working full-time (or at least 20 hours if they are working part-time) or self-employed. Retired Americans self-identified as retired regardless of age. Both working and retired Americans are the primary or joint financial decision-makers for their households. The findings were weighted as needed to represent the population qualifying to be included in the survey. Figures for education, age, gender, race, ethnicity, region, household income, investable assets, marital status, employment, number of adults in the household, and propensity to be online were weighted where necessary to match their actual proportions in the population.
All investing involves risk, including the possible loss of principal. There can be no assurance that any investment strategy will be successful.
Recordkeeping, trustee and/or custody services are provided by Wells Fargo Institutional Retirement and Trust, a business unit of Wells Fargo Bank, N.A.
Wells Fargo Asset Management (WFAM) is the trade name for certain investment advisory/management firms owned by Wells Fargo & Company. These firms include but are not limited to Wells Capital Management Incorporated and Wells Fargo Funds Management, LLC. Certain products managed by WFAM entities are distributed by Wells Fargo Funds Distributor, LLC (a broker/dealer and Member FINRA).
This material is for general informational and educational purposes only and is NOT intended to provide investment advice or a recommendation of any kind—including a recommendation for any specific investment, strategy, or plan.
This article first appeared in Wells Fargo Stories.

Empower yourself with financial knowledge
Wells Fargo Stories is an online journal focused on our team members, our customers, and our communities. You'll find real stories about how we help our customers succeed, invest in our communities, and live Wells Fargo's vision and values, every day.
Products to consider:
Investment and Insurance Products are:
Not Insured by the FDIC or Any Federal Government Agency
Not a Deposit or Other Obligation of, or Guaranteed by, the Bank or Any Bank Affiliate
Subject to Investment Risks, Including Possible Loss of the Principal Amount Invested
Investment products and services are offered through Wells Fargo Advisors. Wells Fargo Advisors is a trade name used by Wells Fargo Clearing Services, LLC (WFCS) and Wells Fargo Advisors Financial Network, LLC, Members SIPC, separate registered broker-dealers and non-bank affiliates of Wells Fargo & Company.
Deposit products offered by Wells Fargo Bank, N.A. Member FDIC.
CAR-0319-04941