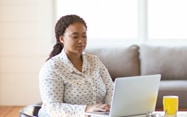 The end of the year presents an opportunity to close the chapter on one period of life and start anew. The same thing applies to your finances. Here are three moves investors should consider before year-end.
1. Consider year-end stock donations. If you intend to donate to charitable organizations, consider how much to gift in order to receive tax benefits. If you're able to itemize your deductions and you've held an appreciated stock for more than one year, you could consider donating it to the charity directly. Your charitable deduction will be recognized at fair market value (subject to certain Adjusted Gross Income limitations), and you avoid paying capital gains tax on the appreciation. The charity you gift the stock to will benefit by gaining an asset it can sell for cash or keep for the future.
2. Schedule a portfolio checkup. If you have a Financial Advisor, schedule a year-end meeting to review your current financial standing, goals, and the implications of pending economic changes.
If you haven't already, make your Financial Advisor aware of life events that took place over the course of the year, including marriage, divorce, births, deaths, starting a business, taking a new job, and buying or selling property.
Discuss how to help ensure that your portfolio is aligning toward your financial goals — new and existing — and managing risk.
Ask your Financial Advisor how he or she views changes to the economy and how that may impact your investment recommendations. For example, potential interest rate increases have the potential to impact several asset classes, including Treasuries, bond markets, and stocks, especially for companies significantly impacted by changes in interest rates.
3. Focus on your retirement savings. If you've changed jobs or retired, talk with your Financial Advisor about the options for your savings in your qualified employer sponsored retirement plan (QRP), such as a 401(k), 403(b), or governmental 457(b). Check on the year-to-date status of your retirement contributions to confirm that you have maximized your annual tax benefits.
Empower yourself with financial knowledge
​​We're committed to helping with your financial success. Here you'll find a wide range of helpful information, interactive tools, practical strategies, and more — all designed to help you increase your financial literacy and reach your financial goals.
IRS Publication 526 Cat. No. 1505A "Charitable Contributions"
Investment and Insurance Products are:
Not Insured by the FDIC or Any Federal Government Agency
Not a Deposit or Other Obligation of, or Guaranteed by, the Bank or Any Bank Affiliate
Subject to Investment Risks, Including Possible Loss of the Principal Amount Invested
QRP distributions are subject to ordinary income tax and may be subject to an IRS 10% additional tax if taken prior to age 59½.
Traditional IRA distributions are taxed as ordinary income. Qualified Roth IRA distributions are not subject to state and local taxation in most states. Qualified Roth IRA distributions are also federally tax-free provided a Roth account has been open for more than five years and the owner has reached age 59½ or for their disability, using the first time homebuyer exception or taken due to their death. Distributions from Traditional and Roth IRAs may be subject to an IRS 10% additional tax if distributions are taken prior to age 59½.
Investment products and services are offered through Wells Fargo Advisors. Wells Fargo Advisors is a trade name used by Wells Fargo Clearing Services, LLC (WFCS) and Wells Fargo Advisors Financial Network, LLC, Members SIPC, separate registered broker-dealers and non-bank affiliates of Wells Fargo & Company.
WellsTrade® brokerage accounts are offered through WFCS.
Wells Fargo and Company and its affiliates do not provide tax or legal advice. Please consult your tax and legal advisors to determine how this information may apply to your own situation. Whether any planned tax result is realized by you depends on the specific facts of your own situation at the time your taxes are prepared.
CAR# 0820-01960