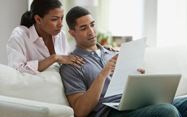 Why Invest Internationally?
Because international investment returns can move in a different direction than U.S. market returns, investing internationally could help mitigate against some of the risks associated with a U.S.-based portfolio.
Just like the adage about not putting all of your eggs in one basket, investing overseas may spread your portfolio's risk.
Crossing risky waters
As with any investment, international opportunities can present risk and unique concerns. Although emerging markets can offer stronger growth opportunities, they are often more volatile than developed markets. As examples of a couple kinds of risks when considering international investments:
Political risk. Many parts of the world are undergoing immense changes, including the Middle East, parts of Asia, and Latin America. Investors in developed countries also have to be aware of potential political risks.
Currency / liquidity risk. Different parts of the globe experience trouble with their currencies as a result of events investors can't foresee or control. Investing overseas requires you to closely follow news and trends from various regions and keep a keen eye on potential currency fluctuations.
The percentage of your portfolio you invest internationally will depend on your risk tolerance and your long-term investment plan. An experienced financial professional can help you decide what's right for you.
ETFs and Mutual Funds
Exchange-traded funds (ETFs) and mutual funds are two popular options for many investors looking overseas for opportunities.
ETFs are traded on a stock exchange, either in the U.S. or in other countries and regions. ETFs are usually tied to an index of securities such as equities, bonds, and commodities. They are attractive to investors for their relatively low and stable costs, tax efficiency, and the ability to trade them like individual stocks.
ETFs differ from mutual funds, which pool money together from thousands of small investors to buy larger quantities of stocks, bonds, or other securities with those funds. The term "mutual fund" is popular in the U.S. and Canada, but similar tools in other regions may have different names. For example, in the United Kingdom, the term is open-ended investment company (OEIC); in Western Europe this tool is referred to as a SICAV, which roughly translates to Collective Investment Scheme Common.
Empower yourself with financial knowledge
We're committed to your financial success. Here you'll find a wide range of helpful information, interactive tools, practical strategies, and more — all designed to help you increase your financial literacy and reach your financial goals.
Mutual Funds and Exchange Traded Funds (ETFs) are sold by prospectus. Please consider the investment objectives, risks, charges and expenses carefully before investing. The prospectus, which contains this and other information, can be obtained by calling your Financial Advisor. Please read it carefully before you invest.
Investment and Insurance Products are:
Not Insured by the FDIC or Any Federal Government Agency
Not a Deposit or Other Obligation of, or Guaranteed by, the Bank or Any Bank Affiliate
Subject to Investment Risks, Including Possible Loss of the Principal Amount Invested
Investment products and services are offered through Wells Fargo Advisors. Wells Fargo Advisors is a trade name used by Wells Fargo Clearing Services, LLC (WFCS) and Wells Fargo Advisors Financial Network, LLC, Members SIPC, separate registered broker-dealers and non-bank affiliates of Wells Fargo & Company.
WellsTrade® and Intuitive Investor® accounts are offered through WFCS.
Wells Fargo Wealth Management provides products and services through Wells Fargo Bank, N.A., and its various affiliates and subsidiaries. Wells Fargo Bank, N.A. is a bank affiliate of Wells Fargo & Company.
Wells Fargo and Company and its affiliates do not provide tax or legal advice. Please consult your tax and legal advisors to determine how this information may apply to your own situation. Whether any planned tax result is realized by you depends on the specific facts of your own situation at the time your taxes are prepared.
Exchange Traded Funds seek investment results that, before expenses, generally correspond to the price and yield of a particular index. There is no assurance that the price and yield performance of the index can be fully matched.
Diversification does not guarantee profit or protect against loss in declining markets. Asset allocation does not assure or guarantee better performance and cannot eliminate the risk of investment losses.
Past performance does not indicate future results.
Investing in foreign securities presents certain risks that may not be present in domestic securities. For example, investments in foreign and emerging markets present special risks, including currency fluctuation, the potential for diplomatic and potential instability, regulatory and liquidity risks, foreign taxation, and differences in auditing and other financial standards.
This information is provided for educational and illustrative purposes only and is not a solicitation or an offer to buy any security or instrument to participate in any trading strategy. Investing involves risk, including the possible loss of principal. Since each person's situation is different, you should review your specific investment objectives, risk tolerance, and liquidity needs with your financial professional before selecting a suitable savings or investment strategy and to see how this information may apply to your specific situation.
Deposit products offered by Wells Fargo Bank, N.A. Member FDIC.